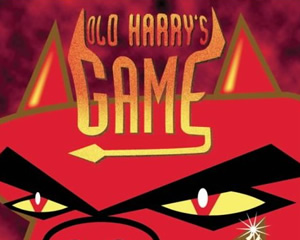 Old Harry's Game is a BBC Radio 4 sitcom written, directed and starring Andy Hamilton all about humanity, as seen through the eyes of one of its greatest observers - Satan.
The Prince of Darkness has a lot on his plate. He was thrown out of Heaven for trying to rebel against God (or Nigel to give him his real name), although Satan claims it was more of a, management restructuring. After the proposal, there was a lot of thunder, lightning, f-ing and blinding. Satan came to find he had horns, goat legs, and was in a place that was much, much hotter.
Satan's time in Hell is mainly spent punishing sinners that arrive into his domain. Sinners tend to be divided into different sections. There is the 'Writer's Block', where authors are punished by demonic versions of their own creations, 'The Pit of Zealots', where every religious fundamentalist is pressed up against a black gay atheist, and the 'Pope Enclosure', where the worst Popes in history (i.e. nearly all of them) are forever eight months pregnant.
Also in Hell, you get to see many famous people for who they really were. In the land of the living, we consider Jane Austin to be a polite lady who wrote several great books. In Hell, it is revealed that she was actually an incredibly violent thug. Not only that, but Oscar Wilde is a Millwall supporter, Goliath is smaller than Janette Krankie, and Mahatma Gandhi is a drunk. The latter of which is being punished forever by being made to wait at a bar where the barman never quite catches your eye.
However, due to increased rates of sinning and the rising number of non-believers, Hell is becoming increasingly overcrowded and Satan himself is becoming cynical and world-weary - or rather underworld-weary.
Amongst the people in Hell include Professor Richard Whittingham (James Grout), a good man who did nothing wrong in his life, and is only in Hell because he did not believe in God. When he first arrives in Hell, he thinks that it is not real, and it takes him some time to realise the awful truth. Most of the show's early episodes consist of arguments between the Professor, who believes humanity is basically good, and Satan, who is constantly trying to prove that humans are fundamentally bad.
Another notable resident in Hell is Thomas Quentin Crimp (Jimmy Mulville), who killed the Professor and himself in a car crash. The head of a privatised water company during his time alive, Thomas is the evilest human being ever to have existed, having lied, cheated, stolen, murdered and adulterated during his life. When Thomas defends himself by saying that he did not kill millions of people like Hitler, Satan usually claims that it was only because he never got around to it. Thomas is therefore given special punishments, such as being turned into a form of amoebic dysentery in the bowels of Robert Maxwell.
In the first series, Satan is assisted by a demon called Gary (Steve O'Donnell), but after Thomas persuaded him to overthrow Satan as ruler of Hell, Gary was removed from his post and was replaced by Scumspawn (Robert Duncan), a stupid and sycophantic demon who gets his name due to the fact he is horribly ugly. Scumspawn's main problem however is that he is too kind to everyone, in particularly Thomas, who tries to use him to in an attempt to get less punishments.
James Grout, who played Professor Whittingham, left the programme after series five because of ill-health, and thus it was written into the show at this time that the Professor finally made it into Heaven. It was during the fifth series that Old Harry's Game began to develop more detailed plots, with the focus shifting to the concern about the overcrowding of Hell. With God (David Swift]) not wanting to do anything about the problem, it is up to Satan to try to do the impossible and make people good. In series six, a new character, historian Edith Barrington (Annette Crosbie) arrived in Hell, believing that she was murdered. She agrees to let Satan discover the truth about her death if she can write Satan's biography.
Old Harry's Game is a series full of devilish topical gags, with Satan taking on the guise of many famous people, such as Simon Cowell and Gabby Roslin. Hell is also shown to be getting ready to punish those yet to have died, with for example, the demons currently getting ready to torment Jeffery Archer.
The series has won much critical acclaim, having won the British Comedy Award for 'Best Radio Comedy' in 1998 and 'Best Radio Comedy' at the Sony Awards in 1999. The fact that the show is currently preparing for its seventh series, which is a massive and rare achievement for a radio sitcom, is another sign of the show's success. The series may also be coming to television, with Sky1 developing a pilot.
On the basis of the above we think it safe to say Old Harry's Game is the one of the greatest radio sitcoms ever made, certainly one not to miss - just make sure you don't end up in the eternal horror of its setting.