Jon Richardson
Jon Richardson: It's Not Me, It's You
Stand-up
2:30pm (40 mins)
20-28 Aug 2011
12
This is a 2011 show that has now finished.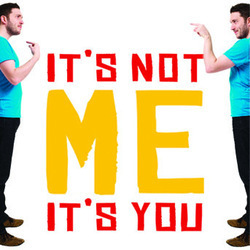 Show details
Stand-up show starring Jon Richardson performed on the following days in August 2011...
Mon
Tue
Wed
Thu
Fri
Sat
Sun
03
4
5
6
7
8
9
10
11
12
13
14
15
16
17
18
19
20
21
22
23
24
25
26
27
28
29
30
31
1
2
Venue details
What has left Jon single for the last eight years? Join the star of Channel 4's 8 Out Of 10 Cats in reading extracts from his book. 'A neurotic genius' (Radio Times).
Share this show
Reviews
Full press release
2009 Edinburgh Comedy Award nominee, star of Stand Up For The Week, Have I Got News For You, Live At The Apollo and new team captain on Channel 4's 8 Out Of 10 Cats, Jon Richardson returns to Edinburgh this year with a brand new literary show. Jon will be reading extracts from his debut book It's Not Me It's You (released by HarperCollins June 23rd) at the Pleasance Ace Dome from 20th - 28th August at 2.30pm.
Is your filing faultless? Your CDs, apostrophes, cutlery all in the right places? Can you eat a biscuit in the correct way? Then Jon Richardson (single for seven years and counting) could be your ideal man...
Living alone in a one bedroom flat in Swindon, 28 year old Jon has had far too much time on his hands to think. In fact to obsess. About almost everything. Jon's obssessive compulsive personality disorder has seen him arrange the coins in his pockets in ascending size and colour code his bookshelves. It takes him less than 90 seconds to locate a receipt for a pair of shoes he bought in 1997. Over to the filing cabinet and R for receipts, S for shoes.
But Jon doesn't want to be like this, in fact he would quite like to share his life with someone. But who could that someone be? Someone like himself, a quarrelsome perfectionist only with breasts and less body hair? Absolutely not. But who exactly is Jon looking for and where will he find her? Faced with a loveless future filled with his own peculiar quirks and perfectionism, Jon sets about his search for The One. The question is, will he mind her keeping the knives to the left of the forks in the cutlery drawer or organising the CDs by genre and not alphabetically?
Jon's recent TV credits include; Stand Up For The Week (C4), 8 Out Of 10 Cats (C4), Channel 4's Comedy Gala live at The 02, Live At The Apollo (BBC One), Have I Got News For You (BBC One), The Graham Norton Show (BBC One), Michael McIntyre's Comedy Roadshow (BBC One), Never Mind The Buzzcocks (BBC Two), Grumpy Young Men (Comedy Central), Richard Bacon's Beer And Pizza Club (ITV4), The Bubble (BBC Two) and Walk On The Wild Side (BBC Two).
Jon Richardson will also be touring the UK in autumn 2011.
---
Tweets by RonJichardson