The Old Guys: The familiar unfamiliar
Roger Lloyd-Pack and Clive Swift are two names with which any comedy fan will be familiar. Roger cemented his name in the comedy history books with his portrayal of the utterly clueless Trigger in Only Fools And Horses, while Clive Swift will always be remembered as Richard, the poor, long-suffering husband of Hyacinth Bucket in Keeping Up Appearances. The pair were exemplary at playing great supporting characters, but as far as their comedic roles stood, they were to a certain extent, despite their obvious talents, always the bridesmaids.
However, all that changed when they were somewhat surprisingly cast as reimagined older versions of David Mitchell and Robert Webb's Mark and Jeremy from Peep Show in the BBC One sitcom The Old Guys, the brainchild of Peep Show creators Sam Bain and Jesse Armstrong. Their fellow Peep Show writer, creator of Back, and co-writer of The Thick Of It and Veep, Simon Blackwell, also contributed to the series.
You may well be asking: 'Peep Show had a spin-off?! Why have I never heard about this?'
Well, it wasn't an official spin-off: more a spiritual sequel.
Starring the aforementioned accomplished sitcom actors, The Old Guys follows two single, somewhat immature, long-term male friends - in a state of arrested development - living together through friendship and strife. Sound familiar?
Despite this on-paper obvious similarity, at first glance you'd be forgiven for missing that this is a reimagined Peep Show. The Old Guys is a much cosier affair: there are no first-person perspective cameras and the material is somewhat less Channel 4 and a little more BBC One - although that doesn't mean that the show lacks an edge. Filmed in front of a live studio audience, inevitably adding a certain warmth and charm, the form also gives a completely different feel to the team's writing. For the first time, we see Mark and Jez's characteristic dialogue performed in front of an audience.
Whilst the great studio audience debate wages on, with some critics still fiercely opposed to the use of what was previously a comedy staple, it's worth noting that a laughter track - that's real, genuinely recorded audience laughter - is something that's always proved a little trickier for a script that nudges towards surreal humour. However, it's far from impossible to pull off (as sitcoms such as Father Ted have proved) and for The Old Guys it works well. In fact, the show needed a live audience. The ambience that studio audience laughter creates can never be underappreciated. A single camera affair would have been far too bleak, too modern and perhaps just too similar to its Channel 4 cousin.
Roger and Clive's performances also bring a totally different perspective to their Peep Show counterparts. Roger's Tom is far more confident in his childish misdemeanours than Jeremy, while Clive's Roy is a lot more level-headed than Mark - yet still possesses his slightly bizarre outlook on relationships with women:
'Remember when we helped her with the big shop and she invited us in for tea as a thank you?' Tom asks Roy.
'Do I Remember?' Roy replies, 'I've still got the Viscount biscuit wrapper in my box of precious things.'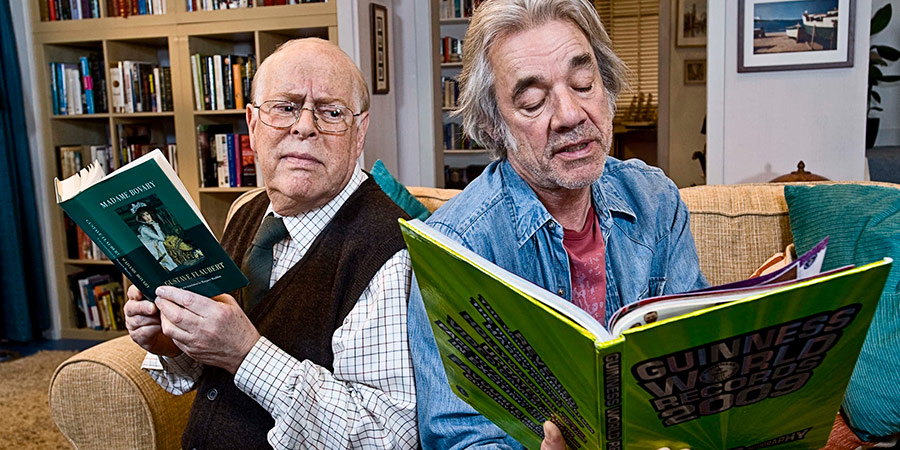 It's terrific to see Clive Swift, in particular, handling a more risqué script than that of Keeping Up Appearances. Roy is a responsible, albeit fairly boring, pensioner. His wife left him years ago and ever since he's been forced to put up with living in the company of Tom, his maladjusted best friend.
Tom (Lloyd-Pack), meanwhile, never really got a grip on life, and after his wife died cohabiting with Roy just seemed like his best option. And just like Mark and Jeremy, the two can't fathom why they still maintain their friendship, as Roy discusses with Tom:
'It's an accident that we even know each other, it was the wives, Penny and Fiona, the witches of Prestwick.'
'Yeah, and they don't speak to each other anymore, cos mine's dead and yours is in Chislehurst. Which is practically the same thing.'
The pair spend a lot of their time in the local café, run by the highly amusing Rajan (Vincent Ebrahim), who has a slightly surreal manner that Tom in particular doesn't quite trust. In the final episode he delivers two slices of cake to Tom and his future son-in law, Steve (Justin Edwards) declaring merrily:
'Ginger Cake! One's gluten free, the other one's packed with gluten. The question is who's going to ride the gluten tiger?'
Roger's performance as Tom is especially endearing. He's a complex character and the relationship he shares with his daughter, Amber (Katherine Parkinson) is quite charming in its own dysfunctional way. He has a very particular assured self-confidence: cynical, yet enthusiastic. There's a brilliant episode where Roger Allam guest stars as a therapist who is helping Roy with some issues. Tom strongly objects to this, so he confronts him, resulting in a rant of epic and somewhat ill-informed proportions.
Tom has an essence of Jeremy Usborne about him, but what The Old Guys does particularly well is nod to Peep Show without making any comparisons too obvious - The Old Guys has its own identity. You could easily watch the entire series without being aware of its semi-spin-off status.
But Tom is much more than a rehashed Jez; nor is he some kind of youthful-minded Owen Newitt (Lloyd-Pack's deranged farmer from the classic Richard Curtis sitcom, The Vicar Of Dibley), although he is briefly reunited with Trevor Peacock (Dibley's Jim Trott), in an episode where the duo visit a hospital and somehow end up in a morgue manhandling a dead body... "no, no, no, no, no, no, yes".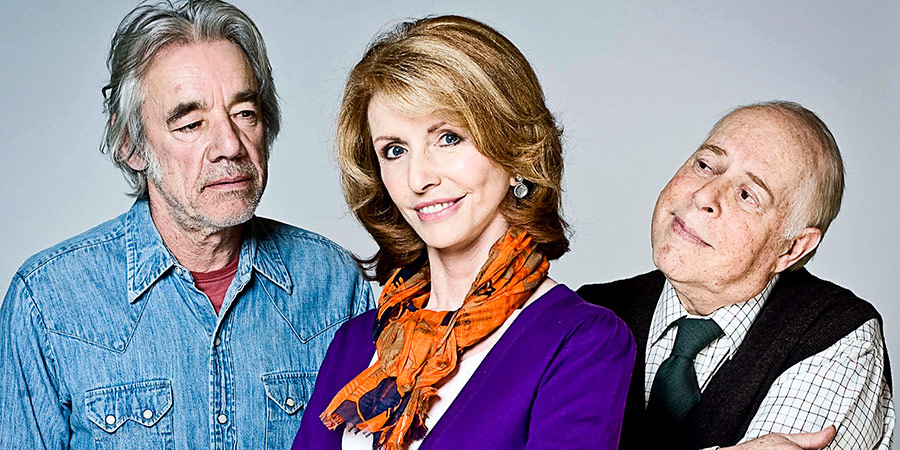 Tom and Roy, in their ridiculous teenage boy approach to women regularly fight over the affections of snooty neighbour Sally, played by Jane Asher - behaviours that Mark and Jeremy should definitely have grown out of, never mind "the old guys". In one episode they simply cannot get over the fact that she's having a shower in their house. Eventually, they turn to viewing the situation more as a kind of crisis:
'Stay warm and I'll make a pot of tea.' Swift's Roy recommends.
'It's like the Blitz isn't it? But a brilliant, sexy Blitz,' Tom replies. A line you could easily imagine Robert Webb's Jez uttering.
The idea for a senior version of Peep Show had been kicked around for years. In its early stages (2005) a script for one episode was used for the BBC Three-led competition The Last Laugh, which was an initiative to encourage young comedy writers into the business. Hopefuls were given the first 13 scenes of a variety of scripts and were tasked with writing the rest. But, The Old Guys found its own feet a few years later in 2009 where it debuted on BBC One (a second series followed in 2010).
Unfortunately the comedy slipped largely under the radar, and a third run nearly-but-not-quite came to pass. Reminiscing on Twitter recently, Simon Blackwell described Series 3 as 'decommissioned' - apparently ordered and then axed before being filmed.
Of course, that leads us to the inevitable sadness in watching The Old Guys now, as both Roger Lloyd-Pack and Clive Swift have since passed away: Lloyd-Pack died in 2014 and Swift in 2019. A certain poignancy lies in the fact that their last big project never quite reached its true potential, or earned the cult status of its older - or younger (depending on which way you want to look at it) - twin, Peep Show.
As for Peep Show itself, the question of that original Channel 4's comedy returning is one fans followed throughout its nine series run, apparently cancelled and recommissioned on multiple occasions, and again since it bowed out triumphantly with an expertly crafted ninth series in 2015. Every time the question is asked, the answer is more or less the same, as explained by David Mitchell in the Metro:
'We've always said maybe in 20 years' time we'll return to them and see what's happened to them. Or maybe in 40 years' time when they're in an old people's home.'
So, there you have it. Peep Show and The Old Guys may yet be reimagined once more, but in the meantime, it's worth checking out this overlooked gem of a sitcom.
Where to start?
Series 2, Episode 1 - Quiz
Tight Peep Show-style exchanges and surreal moments are in abundance in this witty episode scripted by Simon Blackwell, in which Tom and Roy become determined to win a pub quiz.
And a special mention for Series 2, Episode 3 - Tom Moves Out.
In this episode Tom finally gets a place of his own. However, due to a lack of basic furnishings he ends up on the floor in a sleeping bag with a ridiculous burglar alarm system that nobody can turn off because he can't remember the security password. He also paints all the walls black, so it feels cave-like.