Can't trust the Cowboys!
Cowboys and comedy have long been intertwined, from Mel Brooks's Blazing Saddles to Seth MacFarlane's A Million Ways To Die In The West. However, the eponymous cowboys in this early eighties sitcom are about as far from the Wild West as you can get. The title in fact refers to the English colloquialism meaning builders who do a lousy job; con men and cheats who charge over the odds for shoddy workmanship.
Cowboys - which launched in 1980, and returned 1981 for a second and final series - was created and written by Peter Learmouth. A then unknown writer, he would go on to create long running ITV sitcom Surgical Spirit and Let Them Eat Cake for the BBC, as well as writing episodes of Rik Mayall Presents and Jim Davidson's debut sitcom outing Up The Elephant And Round The Castle.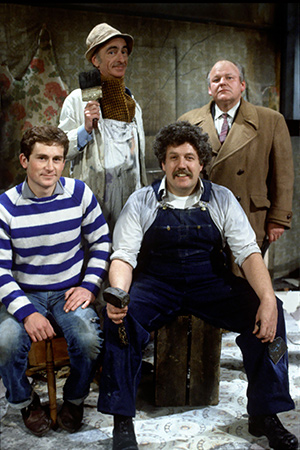 Colin Welland is the sharp tongued yet genial Geyser, self-professed leader of the rabble who rouses the troops. David Kelly is Wobbly Ron, ostensibly a painter by trade but he prefers to spend his hours telling tales with real ales. Completing the line-up is James Wardroper as young apprentice Eric, the crew's layman and lackey. Roy Kinnear plays their boss Joe Jones, owner and manager of Joe Jones Ltd, forever fretting about waning wares and failing finances.
Kelly was generally typecast as an idiotic Irishman, but in this case it is even more specific, having played the same character in all but name, Mr O'Reilly, seven years earlier in classic Fawlty Towers episode The Builders.
Cowboys was unique in that it wasn't written by an award-winning writer, but one of its stars was - Welland wrote the screenplay for iconic British film Chariots Of Fire. Released in 1981, the film won an Oscar for Best Screenplay at the 54th Academy Awards the following year. Welland was that rare breed who found equal success as an actor and writer, scripting several BAFTA winning television plays examining different facets of Lancastrian life, and writing films starring the likes of Hollywood icons Vanessa Redgrave, Donald Sutherland and Gene Hackman.
Each episode of Cowboys follows a basic formula: a job needs doing, the gang turns up and the clock starts ticking before calamity ensues. In that respect, the show is similar in structure to formats as diverse as ChuckleVision and The Worker. Essentially each episode is the same meat, different gravy. That isn't a criticism, indeed, it highlights how strong Learmoth's characters are. The stakes tend to be relatively low, with each episode centring around different areas of building work, thus allowing for a wider variety of catastrophic accidents.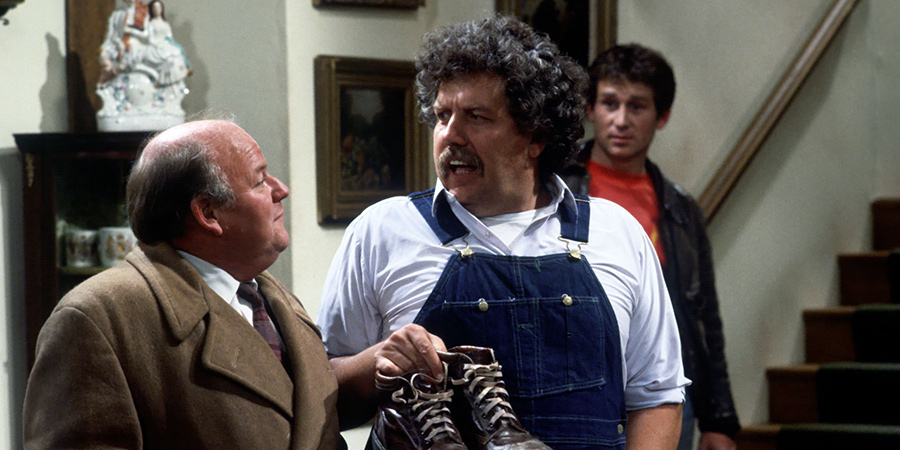 In a cast of veteran actors, it is Colin Welland who lands the lion's share of the laughs; a gentle giant who used his size and stature to his advantage, going at the slapstick sequences with aplomb. This made for a wonderful comic contrast with David Kelly, whose skeletal frame lent a gangly awkwardness to the action. Together, they work as a kind of double act, Welland the Hardy to Kelly's Laurel, as it were. In truth, James Wardroper gets short shrift, given very little character to work with, except his excitable catchphrase - 'Knockout!'.
Roy Kinnear, arguably the biggest name in the show, gets to unleash his full gamut of gurning faces as his stress levels are raised to boiling point. If Welland gets the best lines, it is Kinnear who gets the best part overall. Jones is an almost pantomimic figure - racing here, there and everywhere in an attempt to clean up the lads' mess. Watching him is to see the double take distilled into a fine art and proves that Kinnear was one of Britain's finest and most versatile actors.
In Series 1, Debbie Linden completed the ensemble as Jones' sultry secretary, Doreen. The running gag being his desire to get her into bed. This is one of the few areas where the show has aged badly, with several chauvinistic jokes and camera close ups. That said, her character always has the power over Jones and he is inevitably left looking the fool.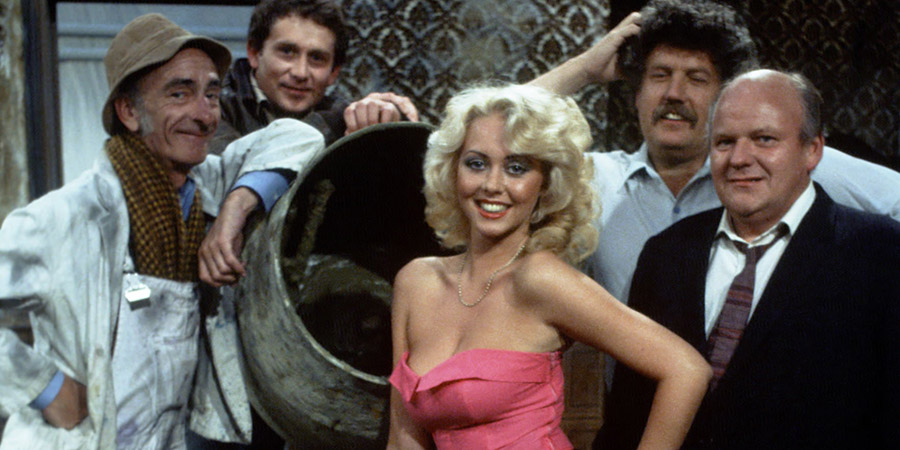 Linden would go on to play a similar role in Are You Being Served?, and she would be saddled with these stereotypically sexist roles for the majority of her career; she is credited in no less than three of Kenny Everett's television shows as 'Sexy Girl'.
In Series 2, the secretary role was taken by future One Foot In The Grave actress Janine Duvitski. Muriel's brash, forthright demeanour, not to mention her interminable cackle, causes Jones no end of aggravation.
There perhaps aren't many sitcoms with a regular stunt supervisor, aside perhaps from Some Mothers Do 'Ave 'Em. Stunt performer Marc Boyle was responsible for these sequences and, taken against today's world of risk assessments and health and safety, what they achieved on a very small budget is remarkable. From Welland falling through the floor to overflowing cement mixers, cars careering into piles of boxes and even a fistfight with the police. Boyle went on to arrange stunts for a number of huge Hollywood productions including License to Kill, Star Wars: Return Of The Jedi and The Fifth Element.
The show's theme tune, an upbeat rock and roll ditty, is written by prolific soundtrack composer Ray Russell, whose music can also be heard in the likes of Stay Lucky and My Wonderful Life. Performed by British singer Joe Brown, the jaunty jingle laments the lackadaisical nature of the central characters' work ethic:
"If a job's worth doing, it's worth doing wrong, with a nail too short and a screw too long."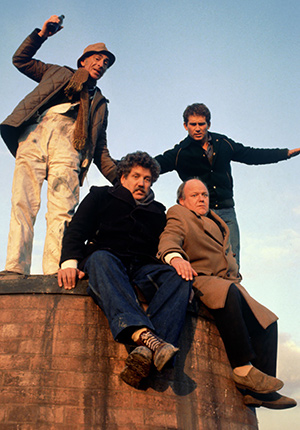 As with many sitcoms from this period, a veritable who's who of character actors popped up across the series in guest roles. Perhaps the most interesting is during Episode 4 of Series 1, Black Day At Bad Rock. Having smashed a vase, Jones is dispatched to buy a new one. The proprietor of the shop is played by Aubrey Woods, who co-starred (although they didn't share any scenes) with Kinnear in Willy Wonka And The Chocolate Factory as Bill The Candy Man. Sitcom stalwart Milton Johns appears in one episode as an irritable paint salesman while Philip Madoc, the U-Boat Captain from the iconic 'Don't tell him Pike!' Dad's Army episode The Deadly Attachment, appears in another episode as a mysterious man in search of Wobbly.
It is a crying shame there was never a third series, although arguably there are only so many plots that can be stretched from the conceit. The lack of outside characters doesn't help, with other halves being either briefly referred to or ignored completely. Perhaps it's an affliction specific to builder-oriented sitcoms, Channel 4's terrific Lee And Dean suffered a similar fate of running for two series before cancellation.
Kinnear would go on to star in two more sitcoms - Roy Clarke's The Clairvoyant and the prematurely cancelled Hardwicke House. For Welland it would prove to be the last sitcom role of his career, and Cowboys is the final credit on Wardroper's IMDb page too. Kelly continued to be one of the most prolific actors on television. In 1998, the Screen Actors Guild nominated his appearance in Irish comedy film Waking Ned as an Outstanding Supporting Actor.
Cowboys is absolutely a piece of its time, but its working class worldview is evergreen and the show could easily be repeated today. As ever, Network rescued the show from being lost in the collective consciousness and released both series on DVD, sadly sans extras but - as a consequence - this curio can reach the wider audience it richly deserves.
There is precious little information about the show online, Learmouth and the cast seemingly giving no interviews that mention it. This is a sitcom that deserves to be rediscovered and enjoyed by a new generation. Learmouth's scripts sparkle with wit, performed by an ensemble of the finest comic character actors of their generation.
Where to start?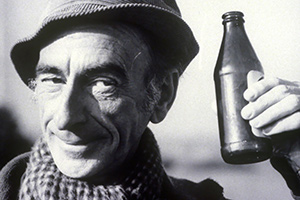 Series 1, Episode 4 - Black Day At Bad Rock
The gang are dispatched to the residence of socialite Mrs Sinclair for a painting job. When they arrive, the carpet is immaculate, vases intact and the kitchen gleaming. A lot can change in a few hours and, although they eventually complete the job, it isn't necessarily the one they were hired for!