Rufus Jones interview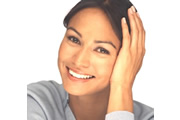 Jude Evans
September 2012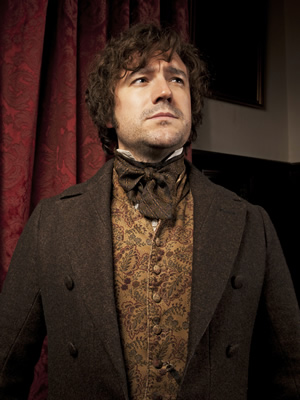 Rufus Jones is one of the BCG's favourite comic actors - you'll have seen him in things like Holy Flying Circus, and heard him in Mongrels as Nelson the fox. He also writes. Here, Jude Evans finds out more.

London-based actor and writer Rufus Jones is once again gracing our screens; this time in Hunderby, another of Sky Atlantic's well-chosen comedies. This latest 'buy the box set, as you miss so much laughing' show is from the creator of Nighty Night - Julia Davis is well known for her dark, twisted and superb sense of humour.

Hunderby, the 1800s gone 'cranky', was a real treat for Rufus to work on, starring as he does as Dr Foggerty. His character - hands on hips, debonair and slightly slimy - reminds me of a cross between Blackadder's Lord Flashheart and James Bond. Rufus says: "Working on Hunderby was a real treat. With its filthy, sometimes obscene, scenes I was just so tempted to laugh all the time.

"Julia likes us to play the comedy serious, really serious, and the more serious we are, the funnier it becomes. Julia's just the most inspirational person I've worked with. She's built this entire world and language in Hunderby which I absolutely loved inhabiting. Plus actors like Alexandra Roach and Alex MacQueen, and Julia herself, are just dauntingly brilliant to work with.

"I enjoy saying ridiculous things extremely seriously, so Doctor Foggerty was a pleasure. Plus I got to wear a top hat, ride a horse and say 'Hush A Ho' a lot. Hunderby was a unique, oddly dreamlike experience and contains the single best and disgusting scene I will ever be involved in. It involved Alex MacQueen and a body expulsion. Working on Hunderby, I have found it the hardest performance in my life not to laugh."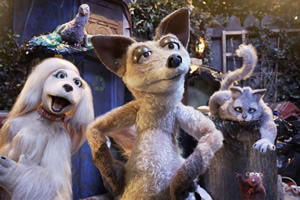 Rufus has had his fingers in many pies (and dog placentas - you'll have to watch Hunderby). A much loved favourite is his character Nelson, the voiced of whom he provided for the BBC Three puppet series Mongrels. Fans were dismayed that the comedy didn't get renewed for a third series:

"Yes, it was a real shame it didn't happen, but you can't get too angry about that. It's just how TV works - it happens. Commissioners change, and it depends on what type of show they want to air at that particular moment. It was a brilliant show to work on - really good fun. Yes, it's sad not to keep going with it. Last I heard, Nelson was training to be a Bikram Yoga instructor, while Vince got a job with PricewaterhouseCoopers."

Rufus is now busy filming a new BBC Four series called Bob Servant Independent, set in a Scottish town. It's just been given another three episodes before the first have aired, so it must be going well?

"It's going great. We're starting rehearsals this week actually, and about to film three more episodes. The six-part series will go out early next year. The wonderful Brian Cox (actor, not stargazer) is hilariously funny. He plays a buffoonish independent candidate in a Scottish by-election. I'm the MP parachuted in to challenge him. Brilliant scripts by Neil Forsyth."

I asked him if he had any more plans to write for TV himself. "Yes, I've actually got a few things coming up - still writing. Dan Skinner (MovieMash, Ministry Of Curious Stuff, Angelos Epithemiou in Shooting Stars) and I have written and will be acting in a show for Sky Atlantic that we're making with Baby Cow Productions. It's about two brothers... I probably shouldn't say any more about it at the moment. And Cardinal Burns has got a second series - I was script consultant on Series 1. I would love to work with the boys again if they'll have me. It was a really inspiring show."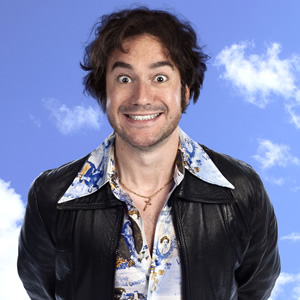 Holy Flying Circus, in which Rufus played Terry Jones, was a great success (I had to keep pausing as I was laughing so much). I suggested it must be annoying that it was a one-off, with no chance to make any further? Maybe the writers will come up of a way of bringing it back to life? It worked for Bobby Ewing...

"It was huge fun to do - writer Tony Roche's script was incredibly funny and ballsy. Unfortunately Tony's cocaine and PlayStation addiction has really spiralled out of control now, so any more is unlikely... But no, not annoying. It was conceived as a one off TV comedy drama, so there was no expectation of anything more to be done with it. We were approached in other ways of doing it though. In the end we felt if we overplayed it, we may appear to be like a Monty Python tribute act."

Rufus performed a show at the Edinburgh Festival in 2010 called No Son Of Mine. As our final topic of discussion, I asked if he had any plans to perform live again.

"There isn't much time for live acts these days, although I'd love to do something like that again. I'm sure though that Alex Kirk and I will do some more. The show, in the end, took us around three years to bring it to where we wanted it to be. I played a desperately untalented actor whose father turns up and humiliates him systematically over 55 minutes. It's really important to me, that performance. I've never been more proud of a show, plus Alex Kirk is, along with Rolf Harris, the nicest man in showbusiness."

You can see Rufus in Hunderby on Sky Atlantic HD on Mondays at 10pm. Our guide to Hunderby