I'm Geoffrey, I don't happen to be attached.

I'm Beryl, I don't happen to be surprised.
Twenty year-old bank clerk Geoffrey Scrimshaw (Richard Beckinsale) was keen to join the permissive society, but his nineteen year-old typist girlfriend Beryl Battersby (Paula Wilcox) had no intentions of stamping his membership card. In her eyes, marriage was a far better objective and 'Percy Filth' as she called it could wait until then.
The on-off relationship of Beryl and 'Geoffrey-Bubbles-Bon-Bon' as she would call him in their more romantic moments, kept up to twenty million ITV viewers laughing each week from the transmission of the first episode on 27th October 1970. The Granada sitcom was warmly received by critics and quickly built a large following making stars of Paula and Richard.
The Lovers was created and written by renown playwright Jack Rosenthal, who scripted the six episodes of Series 1 and the 1973 movie version. His writing credits at this stage included 129 episodes of Coronation Street and the creation of ITV sitcom The Dustbinmen (1968-70), for which he scripted fifteen of the twenty-two episodes.
Jack handed over the pen for Series 2 of The Lovers to fellow Granada scriptwriter Geoffrey Lancashire who's sixties' credits included 171 Coronation Street episodes and two episodes of Arthur Lowe's sitcom Pardon The Expression, one co-written with Jack. Geoffrey had an aptitude for comedy writing and went on to pen four series of The Cuckoo Waltz (1975-80, which incidentally celebrates its 45th anniversary on 27 October) and two series of Foxy Lady, (1982-84) both starring Diane Keen. Jack and Geoffrey won a Writers' Guild Award for The Lovers, and well deserved too.
To celebrate the comedy's 50th anniversary, here's ten questions to test you. Scroll down for the answers, and some additional trivia.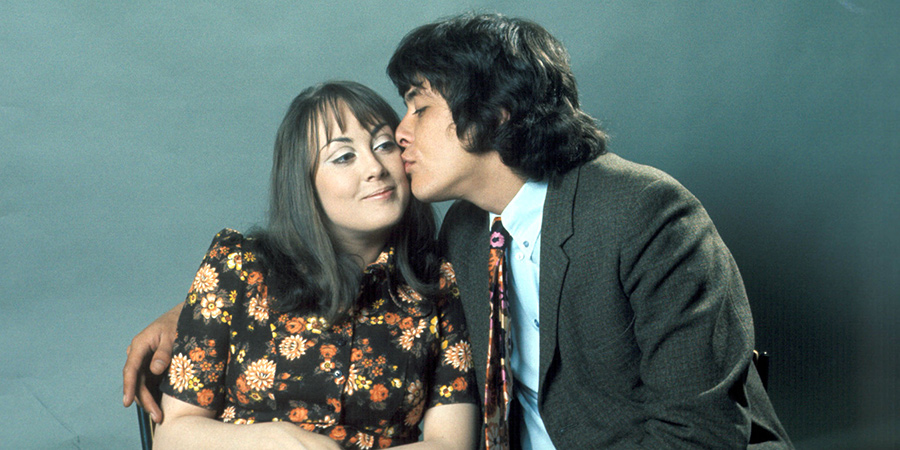 1. In the first episode, Beryl precisely informs Geoffrey that they had been separated for how many months and days?
a) 2 months, 6 days
b) 13 months, 5 days
c) 26 months, 4 days
2. To Beryl's distaste Geoffrey always wears which colour socks with his crimson shoes?
a) Burnt orange
b) Navy blue
c) Bottle green
3. When Mrs Battersby knows that Geoffrey will be calling at the house to see her daughter, she prepares copious amounts of sandwiches containing which filling which she mistakenly believes he likes?
a) Sardines
b) Tuna
c) Crab paste
4. By her bedside, Beryl has a framed photo of which member of The Beatles?
a) John Lennon
b) Paul McCartney
c) George Harrison
5. Geoffrey has in his bedroom a life size cardboard cutout of which actress?
a) Britt Ekland
b) Brigitte Bardot
c) Jane Fonda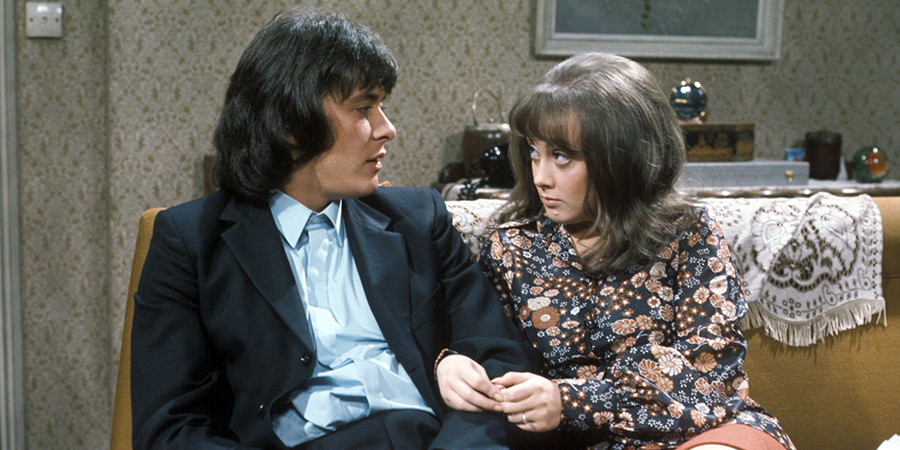 6. In the series, Geoffrey is a clerk at which bank?
a) Westland Bank
b) Barclays Bank
c) Swallows Bank
7. Mrs Battersby attends evening classes in which pastime?
a) Basket weaving
b) Dress making
c) Lampshade making
8. When anyone, but mainly Beryl, mentions the word 'marriage', Geoffrey has a nervous habit of doing what?
a) Twirling a lock of his hair around his forefinger
b) Plucking at his sideburn
c) Cracking his knuckles
9. Beryl takes Geoffrey to a jewelers to buy an engagement ring. How much does he pay for it?
a) £2
b) £22
c) £222
10. In the final episode, Geoffrey applies and is accepted by his bank for a one year secondment at another branch located in which Lancashire town?
a) Fleetwood
b) Blackpool
c) Morecambe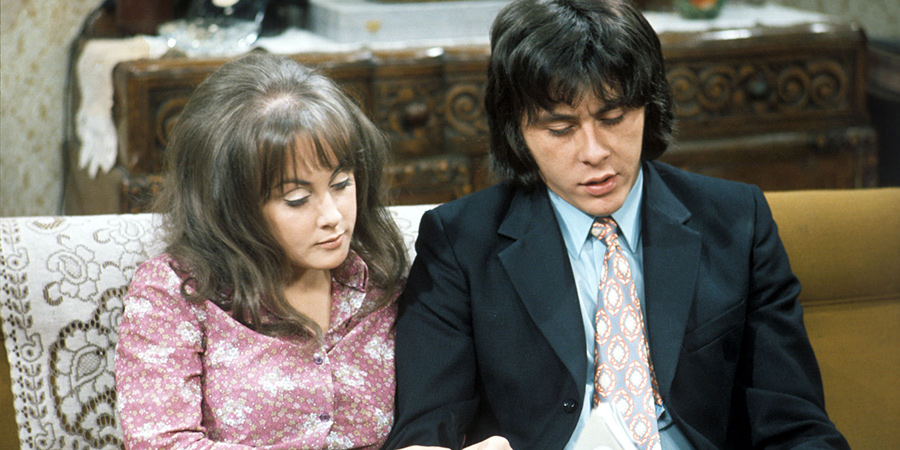 Answers
1: B - they had been separated for 13 months, 6 days
Paula Wilcox auditioned for the role of Beryl during the school holidays when she was a member of the National Youth Theatre; she had joined them in 1966 when she was 17. She had previously appeared in another Jack Rosenthal sitcom, The Dustbinmen, where she played Naomi, Winston Platt's girlfriend in two of the twenty-two episodes. Played by Graham Haberfield, Winston was one of the main characters who was fanatic about Manchester City Football Club. Unfortunately for Naomi she ranked in his affections somewhere down in the relegation zone with little chance of scoring.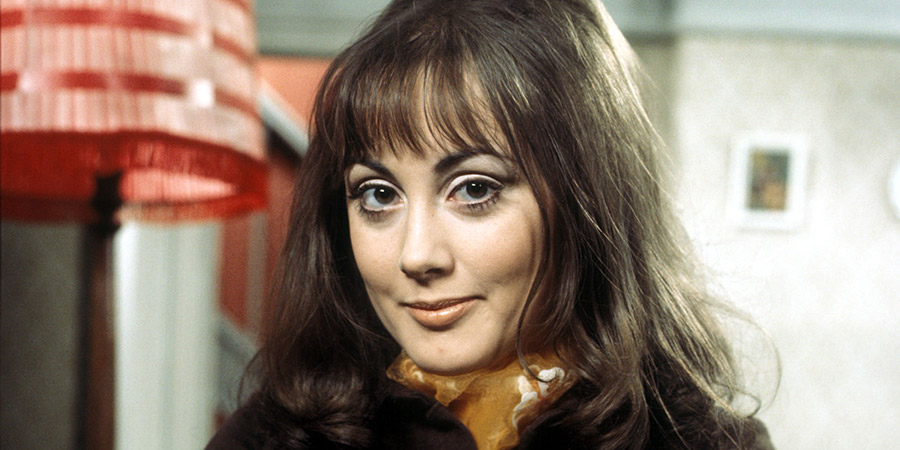 Paula instantly gelled with Richard and, like others, found him extremely approachable, genuine, pleasant company and a pleasure to work with.
2: C - His socks were bottle green
Richard's first TV role, albeit brief, was as PC Wilcox (a name that would soon feature in his life again) of Tile Street Police Station, who arrested Ena Sharples (Violet Carson) in Coronation Street in 1969. She had organised a sit-in against plans to demolish the pensioners' club-room to make way for a car park, but he let her off with a caution. At the time Richard had long hair, but playing a PC meant this had to be hidden, so it was bungled into a hairnet under his helmet. Unlike Ena, whose hairnet was always visible.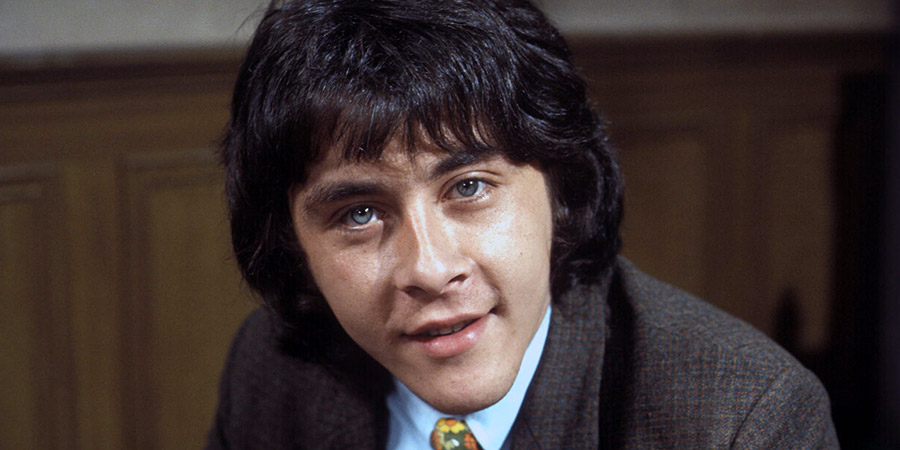 It was after failing the audition for another Granada series, Family At War, that his acting fortunes picked up with the offer of the male lead role in The Lovers. Richard was recommended for the part by six of his acting contemporaries. They had all auditioned for the role of Geoffrey and had the character explained to them and all said they knew who would be tailor-made for it.
Jack Rosenthal was a little bemused by the selflessness of the acting rivals; it was unheard of that a high-profile reasonably well-paid job (£150 per week) would be passed over not just once but six times. His contemporaries were, of course, right. Not only did Richard have a real feel for the character, but he had an instinct for the rhythms in Jack's writing and brought the humour to life.
Richard was a natural actor who was able to project his personality into the roles he played. Paula worked in a similar way and together they had an instinctive chemistry which comes across on screen. The role of Geoffrey won him an award as 'Best TV Newcomer For 1971'.
3: A - Mrs Battersby made lots of sardine sandwiches
Glaswegian actress Joan Scott played Mildred Battersby, Beryl's patient and obliging mother in eleven of the thirteen episodes and also appeared in the movie. In 1978 she returned to play Paula Wilcox's mother in the second and final series of Thames' Miss Jones And Son by Richard Waring. The series was considered very edgy at the time as it centred on the life of an unmarried mum, Elizabeth Jones (Paula). It also proved very popular with the viewers and shot to number one in the ratings. It ended after twelve episodes as Paula became more committed to theatre work.
Joan Scott appeared in many TV dramas and comedies, some of the latter included: Mr Digby Darling, Father Dear Father, For the Love of Ada, Thirty Minutes Worth, The Dick Emery Show, The Growing Pains Of PC Penrose, Last Of The Summer Wine and After Henry.
4: B - Paul McCartney was in the framed photo
1970 was the year in which The Beatles split and it left Paul feeling depressed. His wife Linda helped to pull him out if it by reminding him of how good a songwriter he is and convincing him to continue. The result was his first solo album McCartney, which became a number one America. Linda contributed some vocals, but mainly it is a one-man album with compositions, instrumentations and vocals by Paul. One song in particular on the album he wrote in honour of Linda - Maybe I'm Amazed. Not wanting to continue as a solo artist, he and Linda, along with drummer Denny Seiwell and guitarist Denny Laine formed Wings in 1971 and it all took flight from there.
5: B - Geoffrey had a cut-out of Brigitte Bardot.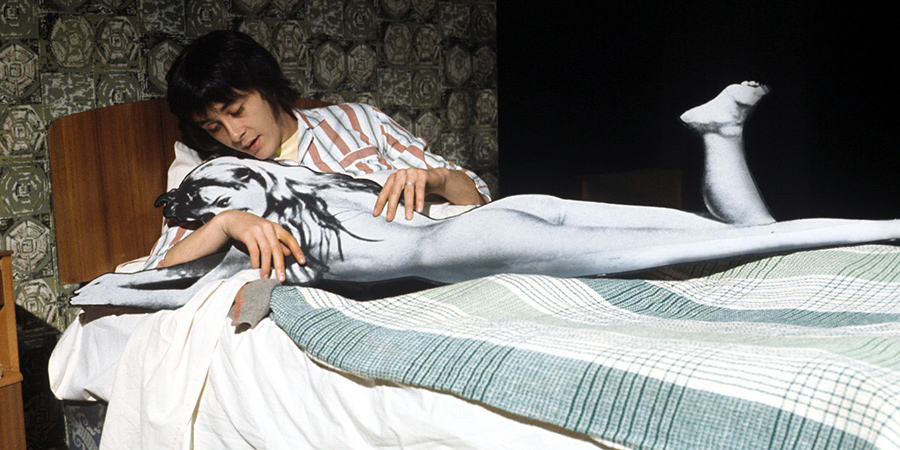 Now aged 86, the French former actress and singer, and animal rights activist was one of the best known sex symbols of the fifties and sixties. She withdrew from the world of entertainment aged 38 in 1973 but has remained a major popular cultural icon.
6: A - Geoffrey worked at Westland Bank
In The Lovers movie the bank that Geoffrey is employed by was changed from Westland to Barclays - Now there's a thought (one of their old advertising slogans).
At Westland Bank, Geoffrey's work colleague and mate was Roland Lomax played by Robin Nedwell. He would try to help Geoffrey with his relationship with Beryl, giving advice and encouragement.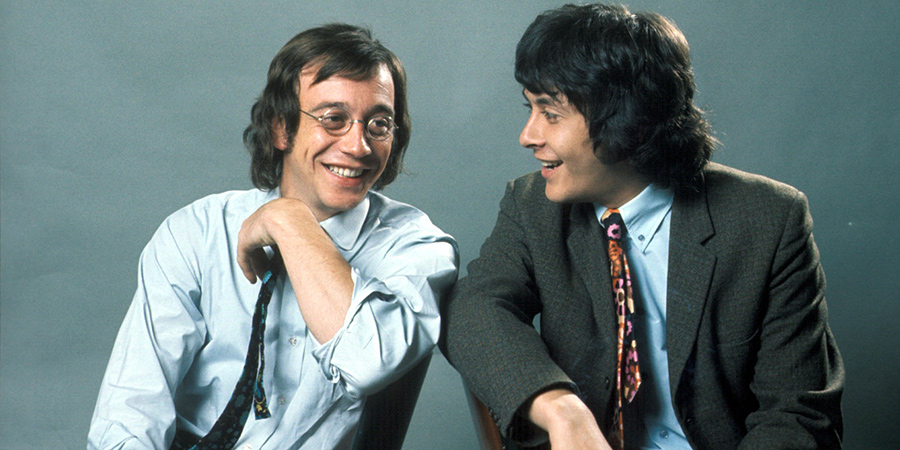 By the time The Lovers began, Robin had already been seen as young student doctor Duncan Waring in both ITV series of Doctor In The House (1968-69), the role that he would become best remembered in. When the sequel Doctor At Large was offered in 1971, Robin refused to sign; preferring to take a supporting role in the The Lovers rather than continue in a secondary role in the Doctor series. By the second sequel, Doctor In Charge (1972-73), his character Dr Waring had moved centre stage as series star Barry Evans' character Dr Mike Upton had moved on. Robin was back, where he stayed through Doctor At Sea (1974), Doctor On The Go (1975-77), Doctor Down Under (1979-80) and in the seven episode revival for BBC1, Doctor At The Top in 1991.
7: C - Mrs Battersby was learning lampshade making
In 1879 English physicist, chemist and inventor Joseph Swan and American inventor and businessman Thomas Edison independently invented the incandescent filament electric lamp. The light that would emit from these lamps was an intense glare that could illuminate a bigger area. So, shades were needed to disperse the light across a room and voila the lampshade was created. Lampshade making classes are still popular today, especially for those who prefer an alternative to hiding their light under a bushel.
8. B: Geoffrey would pluck at his sideburn when marriage was mentioned
The sideburn takes its name from General Ambrose Burnside, a Civil War veteran, railroad executive, industrialist and Rhode Island Senator. He was not remembered for being a great general but for his luxuriant facial hair.
9: B - the engagement ring cost £22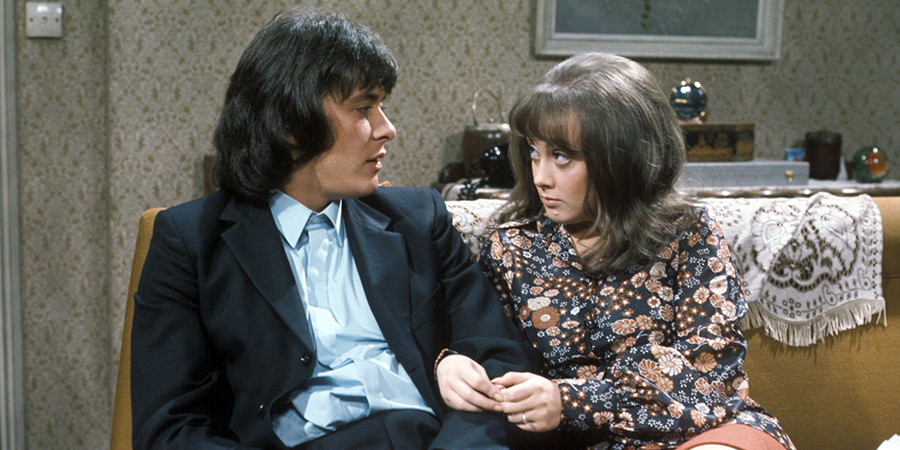 Reluctant to tie the knot, Geoffrey's spirits were lifted when the jeweller informed him that almost half the engagement rings he sells are returned. The £22 spent on the ring in 1970 would, in today's money, be around the equivalent of £342.
10: A - Geoffrey's secondment is to Fleetwood
Spoiler Alert: In the end, Geoffrey decided not to go to Fleetwood to work in another branch of Westland Bank for a year.
Geoffrey and Beryl lived in Altrincham, Greater Manchester so the distance to Fleetwood would be little over 58 miles. If he had traveled to Fleetwood then most likely his journey would have included using the new M61 motorway which was opened on 17 December 1970.
The motorway's one service station: Rivington Services (formerly Bolton West Services) was used in the filming of The Services one of the episodes from Peter Kay's 2000 spoof documentary series That Peter Kay Thing.
---
We've reached the end of the road with our trip down Lovers Lane. We hope you enjoyed the quiz and article.
Published: Monday 26th October 2020