The Café is to return for second series
The Café is to return for second series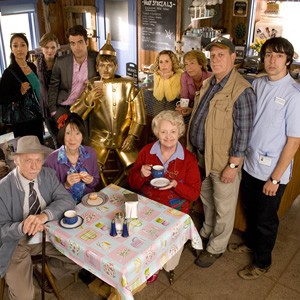 Sky1 has announced today that it has ordered a second series of The Café, the gentle sitcom created by and starring Michelle Terry and Ralf Little.
Directed by The Royle Family and Early Doors star Craig Cash, the programme focuses on a seaside café in Weston-Super-Mare run by the generational trilogy of Mary (June Watson), Carol (Ellie Haddington) and Sarah (Michelle Terry). Acting as the social hub of the seafront town, the café sees all walks of life pass through its doors.
Six episodes of the show were broadcast in November and December last year, and observed owner Carol win her battle to keep the café open against mounting debts and corporate pressure.
The new series - which will be an extended eight episodes long - will see young Sarah follow up on her book writing offer, but also see her love rivals, John and Richard, heading off in separate directions.
Ralf Little says: "It's been amazing, and frankly a relief, to learn that The Café had a warm critical reception, but none of that matters if the powers that be don't have the faith to re-commission another series. Luckily for us, Stuart Murphy and Lucy Lumsden are continually supportive and have once again put their money where their mouths are. Now we just have to write it."
Michelle Terry adds: "It was enough of a shock to get Series 1, so to be given another chance is the most incredible opportunity. Now I just hope we don't balls it up."

Lucy Lumsden comments: "Enchanting and unashamedly romantic, we are delighted to be bringing back The Café for another series on Sky1".
The recommission comes as Sky continues to pump money into original British comedy production. The Café is the sixth new scripted show on the network to be given a second series, following in the footsteps of Mount Pleasant, Spy, Trollied, This Is Jinsy and Stella.
Series 2 of The Café will be written and filmed later this year, for broadcast in 2013. Below is the trailer that was broadcast in advance of the first series, plus a behind the scenes video featuring Michelle Terry and Ralf Little:
Share this page