The Horne Section on Channel 4
The Horne Section shoots Channel 4 pilot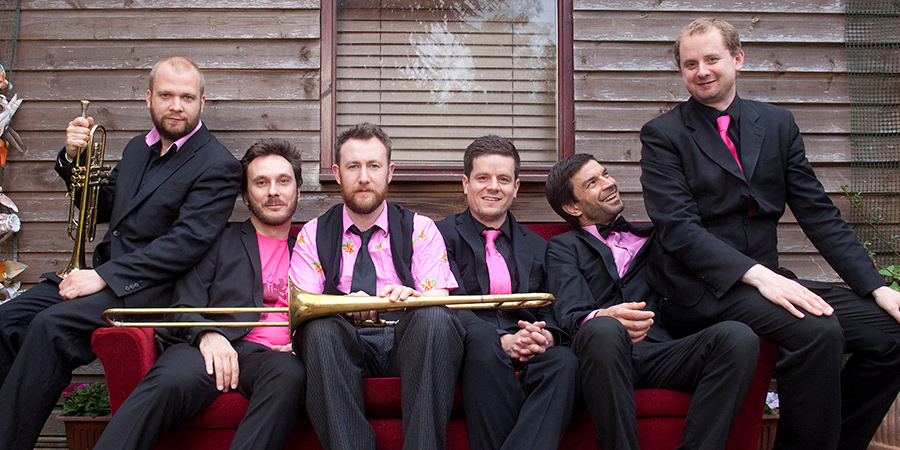 Channel 4 is hoping to double down on its relationship with Alex Horne, by piloting a new show with his band The Horne Section, British Comedy Guide can exclusively reveal.
The Taskmaster creator and his bandmates - Ben Reynolds, Ed Sheldrake, Joe Auckland, Mark Brown and Will Collier - shot The Horne Section Television Programme in the spring.
It shares a name with the band's 2018 pilot for the Dave channel. But BCG understands that the scripted comedy, which is made by their management company Avalon, is 30 minutes long rather than the two-hour performance filmed at the London Palladium.
Further details have yet to come to light, although Horne hinted at "something secret and exciting" in their most recent podcast and the band posted a couple of cryptic images in April on Instagram of themselves in transit with their familiar Henry Hoover props:
The Horne Section provides the theme music for Taskmaster, which Channel 4 poached from Dave in 2019, have appeared as a group on 8 Out Of 10 Cats Does Countdown and been The Last Leg's house band on occasion. They are currently fulfilling that same role on Peter Crouch's Year Late Euros on BBC One.
The six-piece will be embarking upon their That's How I Like My Tour on the 30th of September at Guildford's G Live, and have launched a range of merchandise that includes this Horne Session IPA beer keg:
A Channel 4 spokesperson declined to comment on the pilot.
---
For updates, click the button below.
Share this page