No more Friday Night Dinner?
Friday Night Dinner gets documentary but maybe no new series
The executive producer of Friday Night Dinner has hinted there may not be a Series 7
Kenton Allen commented in an interview: "Never say never, but I suspect that's probably it for the time being"
Channel 4 will broadcast a documentary celebrating the show's 10th anniversary this spring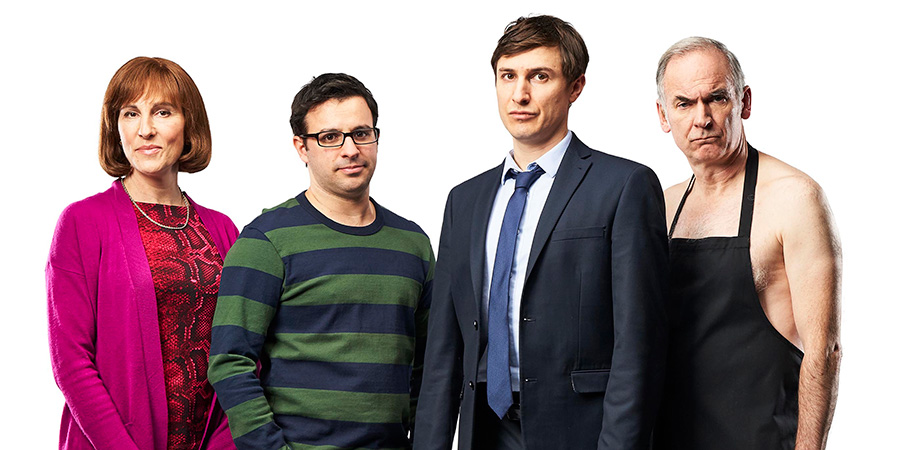 Friday Night Dinner's executive producer, Kenton Allen, has said that he doesn't think there will be a seventh series of the hit Channel 4 sitcom.
However, in an interview with British Comedy Guide ahead of Series 6 last year, creator, producer and writer Robert Popper hinted that he will could continue the sitcom for as long as Channel 4 want it.
He explained: "Whenever you [write a series] you always think "oh I won't get another series" and then they give you another series and you think "well I won't get another one". ... I just take [each series] as they come really. When the series ends, I don't really think "what am I gonna do next series" or "what happens next"."
The sixth series, which was broadcast from March to May 2020, set a new record for the broadcaster. It became All 4's most-watched episode of comedy ever, with more than 4 million viewers streaming it in its first week alone, and many more discovering the previous five series.
Whilst Popper is now also developing other projects, the broadcaster has commissioned a feature-length documentary celebrating Friday Night Dinner's 10th anniversary, and given the ratings success of Series 6, it is likely to be very keen to commission a seventh series proper.
Following brothers Adam and Jonny Goodman returning to their parents' home for dinner each Friday night, a custom in Jewish households, Friday Night Dinner launched on Channel 4 in February 2011.
The show stars Paul Ritter, Tamsin Greig, Simon Bird, Tom Rosenthal and Mark Heap.
Series 6 ended with Adam and Jonny both making steps forward in their relationships with their new girlfriends.
Speaking about the programme and its writer in an industry interview conducted late last year, Big Talk Productions CEO Kenton Allen says: "I don't think Robert wants to write a series where they bring their wives and children around. Never say never, but I suspect that's probably it for the time being. You never know. For the time being, we're not planning to make any more Friday Night Dinner."
Meanwhile, the new 90-minute documentary will coincide with the show's 10th anniversary. Allen revealed that interviews for the programme are currently being filmed, ahead of broadcast in the spring.
Popper also spoke in the interview about the possibility of producing a Friday Night Dinner film. He commented: "The Inbetweeners got it right, but [sitcom to film transfers are] rarely good when they go from TV to film. I don't know. Possibly. I did have a sort of idea for one but then I thought 'I just want to watch it for 30 minutes, not 80 minutes'."
Robert Popper's next project is set to be a pilot titled I Hate You, also with Big Talk Productions. No other details are currently known.
---
For updates, click the button below.
Includes all 37 episodes from Series 1 to 6 of the award-winning, smash hit comedy Friday Night Dinner.
Tuck into six glorious helpings of award-winning madness with the Goodmans as they get together for a Friday night dinner of food, family and major-league bickering. Of course every family has its eccentricities, it's just the Goodman family have made an art form of theirs.
Friday Night Dinner is an original series about growing up but not growing away. It marries the ground-breaking with the familiar and, best of all, it's really, really funny.
Starring: Tamsin Greig, Simon Bird, Paul Ritter, Tom Rosenthal and Mark Heap. Created by award winning producer and writer Robert Popper (Peep Show, The Inbetweeners, Look Around You).
First released: Monday 9th November 2020
Series 4-6 are also playable in region 4.
Distributor: 2 Entertain
Region: 2
Discs: 6
Minutes: 864
Subtitles: English
Catalogue: 2EDVD1005
Buy and sell old and new items
Search for this product on eBay
It looks like you're in the US? Fear not! Almost everything can still be ordered.
Amazon UK
deliver internationally,
Amazon.com
carries many items separately, or you can look out for US/Canadian flags on our product listings for direct links.
If ordering from a UK store, please note that you are in Region 1 (DVD)/Region A (Blu-ray), whilst the UK is in Region 2/B, respectively. This means that many - but by no means all - may fail to play. Look for products marked "Region free", "All regions", "Region 0" or "Multi-region". Blu-rays may also be marked "Region A/B/C", "Region free", or variations thereof. You may also check whether your DVD/Blu-ray player supports multi-region playback (also referred to as "region free"), or whether it can be set to do so. There should, of course, be no problems with books, CDs, or other physical items.
More advice & help on importing
Share this page