Benidorm Series 10
Benidorm Series 10 confirmed
ITV sitcom Benidorm is to return for a 10th series. Filming starts on 9 new episodes this March
Hale & Pace, John Challis and Shane Richie are joining the show for Series 10, which will be on in 2018
Johnny Vegas won't be in the next series, however most of the other regular characters will return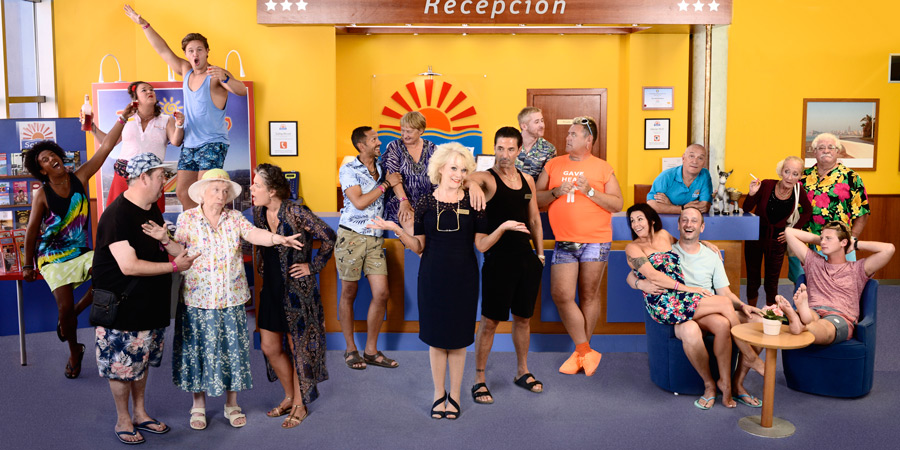 ITV sitcom Benidorm has been given a 10th series. The holiday-based comedy launched in 2007, with the ninth series of the show beginning last night. With timeshift (+1) viewing taken into account, more than 5 million viewers tuned into this week's series opener.
The network has now officially confirmed that the Tiger Aspect sitcom will return in 2018 for nine new episodes, with filming set to start in Spain this month.
Series 10 will see 1990s comedy duo Hale & Pace join the series as undercover detectives investigating Tim Healy's character Les/Lesley, who returns to the series full time. The current ninth series sees his character semi-absent after illness forced Healy to pull out of filming early.
Only Fools & Horses star John Challis will become a series regular with his swindler character Monty Staines, a love interest for hotel manager Joyce, returning.
Meanwhile, Shane Richie will star in four episodes, reprising his role as lively entertainer Sammy Valentino.
Paul Bazely who plays Troy, Johnny Vegas who portrays The Oracle, and Danny Walters - aka Tiger - won't appear in Series 10, however the Dawsons (Julie Graham, Steve Edge, Kate Fitzgerald, Bobby Knutt and Josh Bolt) all return, with Billy and Sheron set to celebrate their silver wedding anniversary.
Janine Duvitski (Jacqueline), Sherrie Hewson (Joyce), Jake Canuso (Mateo), Elsie Kelly (Noreen), Selina Griffiths (Pauline), Adam Gillen (Liam), Tony Maudsley (Kenneth), Shelley Longworth (Sam) and Nathan Bryon (Joey) will also be back at the Solana for Series 10.
The show's creator Derren Litten has penned the first three and final two episodes of the next series, whilst Mount Pleasant writer Mark Brotherhood has scripted episodes four to seven.
Derren Litten says "When I wrote the first script of Benidorm I had no idea it would change my life so dramatically over the next 10 years. As I put the finishing touches to the 74th episode I am so grateful to our fans and to ITV for giving Benidorm the best possible home we could hope for. Here's to the next 10 years!"
ITV commissioner Saskia Schuster adds: "Benidorm is very much part of the ITV family with viewers taking these wonderful characters to their hearts. Show creator, writer and exec producer Derren Litten has some great plans for the tenth series and it's a real treat to welcome Hale & Pace and Shane Richie to the Solana resort."
Today's news makes Benidorm one of Britain's longest-running television sitcoms, as few UK situations comedies make it to ten series.
Last Of The Summer Wine comes in at first place with 31 series, whilst ChuckleVision totalled 21. Equalling Benidorm's ten are The Liver Birds, Are You Being Served?, Shelley, and Rab C. Nesbitt, whilst Never The Twain and My Family each ran for eleven. Red Dwarf will hit twelve series this year, equalling Mike & Angelo and Birds Of A Feather, the latter of which is expected to return for a thirteenth series in 2018, also on ITV.
Share this page