The ten key cast members of Ghosts talk about returning for Series 2.
In the new episodes, Alison and Mike are trying to find a semi-harmonious routine with the ghostly housemates of Button House: the ghosts have found a way to make their new situation work for them, while the couple are working towards a new money-making venture to fund the house's never-ending renovations. The cast explain more below...
Martha Howe-Douglas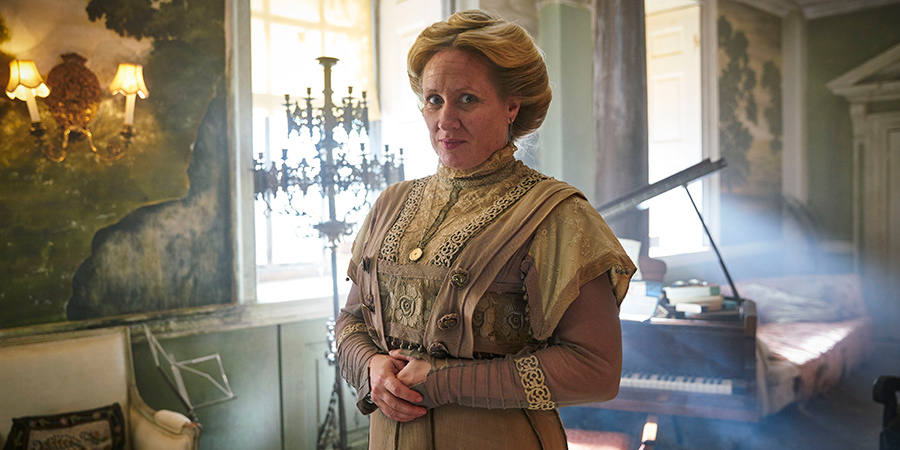 Returning to play the role of Lady Button, Martha Howe-Douglas admits it is Lady B's bluntness that she revels in...
"I love that she doesn't care, it is really liberating to play someone like that because obviously you can't be that way in real life, you have to filter what you say for fear of hurting people or offending anyone but she really doesn't care. Lady B is totally in charge of that house, it is hers and she doesn't have a filter which is why she is so much fun to play. Comedically she is also great to write because she couldn't be further from who I am. She is pretty extreme and I like that; I can really go to town with her character.
"When we started thinking about characters initially, we were going to play lots of roles as that was our background with Horrible Histories, but we realised the audience actually quite likes to get attached to characters, and having one main character each allowed us to explore one in depth rather than spread ourselves too thinly with the stories. When it came to the selection of who we were each going to play, Lady Button was always going to be the one I went for because in the project we did before, Yonderland, I played the protagonist who was a quite a straight housewife. So Lady Button was the furthest thing from that and it gave me a chance to really stretch my comedy legs again."
Discussing Lady Button's futile quest to enforce Edwardian values upon her housemates, Martha says her character views herself as the ghosts' moral guardian. "She is still on the campaign to educate Alison in her moral standings but their relationship is growing, they are getting on more in Series 2. She does feel like Alison has still got quite a bit of work to do but she also has to educate the rest of them. She thinks Robin, the caveman, an absolute heathen. They all do things she doesn't agree with. She is a bit of an island in that sense, she doesn't feel like any of them are on her level. There is a little allegiance growing between her and The Captain because out of all of the ghosts he is the one with the most etiquette in her eyes but otherwise she finds everyone pretty abhorrent. I can't ever see Lady B being completely satisfied by anybody other than herself."
Revealing that it was very much a make or break project for her, Martha remembers the shock felt by the stars in regards to the public's incredible response to the first series of Ghosts. "We were all a little bit nervous coming to primetime BBC One as that audience is a completely different ball game and I certainly felt it was make or break for our group. If it didn't go to plan then it would be quite the public fail, but thankfully it did.
"We were completely overwhelmed by the reception. We have a fanbase we have taken through all of our projects but to get an audience on this level and for new people who have discovered us to be so positive in their response has really been amazing. And to get the next two series commissioned [this Series 2, and a new Series 3 for 2021]... we were beyond thrilled. The success of Ghosts was something we couldn't have imagined. We are so thrilled that people took it to their hearts."
Working as part of an ensemble, creative group, has also been somewhat of a dream job, Martha explains. "I would work with this group for the rest of my life if I could. It is like coming home, we are a family and they drive me crazy sometimes but they are amazing. We have worked together for such a long time that there is a shorthand between us all that means we skip a lot of the stuff you'd have to do with a new writing relationship, we are all on the same page and it is a very collaborative process when we write. Everyone feels like they've had a voice in every script. It's helpful having that amount of brains working on one thing so if you ever get stuck there is always someone who can help you out. I write with Larry and I am lucky because he is a genius. But even if someone's name is attached to a script, everyone has had a hand in it, which is lovely.
"We don't take anything for granted, we know we are so lucky to be in the position that we are, that people still want us to work together because it is what we want. You can't rest on your laurels. When we did the first series and then we were recomissioned for two more it was never a case of 'oh great, this is in the bag, no worries' it is never that, we are constantly striving to do the best we can because we want this to continue and the only way to do that is to make it good."
But sometimes the comedy can get even the stars into trouble. "We do laugh a lot... probably too much. Towards the end of the day when you're tired it is the worst because we get the giggles. It's like being at school and knowing you are not allowed to laugh which obviously makes it even funnier. They all just make me laugh constantly, that is why the writing flows so well because we have the same sense of humour and we find the same things funny. But it can be very hard not to corpse. Jim and Mat are definitely the worst for making people corpse. We struggle on but sometimes I'm sure the crew would just wish we'd get on with it. The most fun I have in my working life is with them all, so long may it continue."
Mat Baynton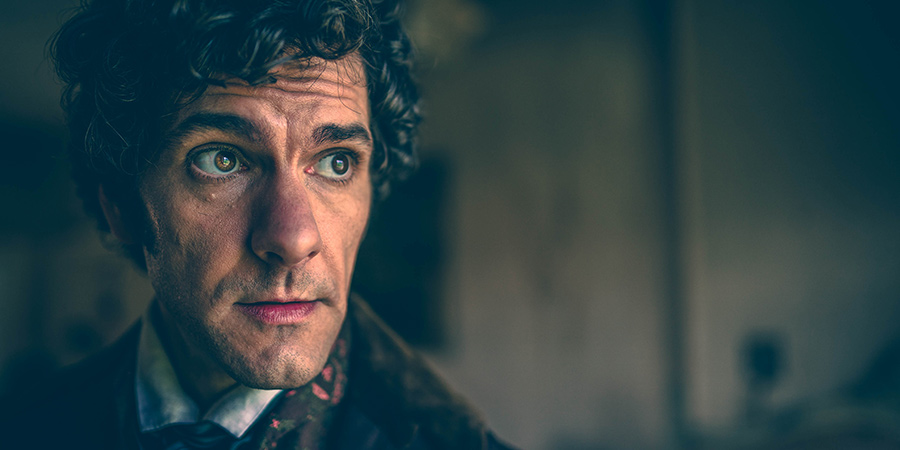 For Mat Baynton returning to the role of romantic poet Thomas was even more rewarding than filming the first series. "There is always a confidence you can go into a second series with. You spend a lot of time with the first series anxious about whether it will all come together and even when you are satisfied that you think it's really great, you have no idea whether the audience will. So when you come into that second series you can enjoy it a little more. There is an excitement when you know the fans have taken the characters to their heart. With our show there is a real pleasure in the bits of character backstories that get revealed, secrets and mysteries that are deepened. So that felt really fun, doing flash back stories and thinking 'I wonder what the audience will make of this' and hopefully they will find it exciting."
Having been a part of the innovative creative team behind Ghosts for many years now, Mat shares an insight into their creative process: "We benefit from all of the advantages of having writing teams in the way that America has a culture of the writing room, the benefit of that is you harvest six times as many ideas every time you get together and we build on each other's ideas and everyone would agree that the scripts that they produce have been enhanced by the rest of the team. It is a process that developed organically when we started to do Yonderland and it just works really well for us. But it is also crucial to have other people come on board who understand and buy into that process and like the idea of being part of a team where the work stands above everything else, above individual pride or ego.
"So there is a real understanding that no idea is above scrutiny and everything can constantly be interrogated and improved and that runs all the way through to the day we are shooting a scene. We want to know what the actors think and whether they think there is a funnier way of saying something or if the lines could be tweaked. Having us there makes that process possible and we can adapt every day. So the thing is kind of never finished, there is always the feeling of how can we make this better."
Mat admits making comedy the whole family can watch together is important to him. "One of the huge perks of the job, certainly in the writing process, is that so much of our working life is spent getting together with people we think are really funny and laughing together. So our approach is to just make something funny that doesn't contain any content that excludes any demographic. So we don't really have a target audience in mind, we are just trying to make something amusing. We have often talked about how all of us come from families where sitcoms were a defining glue in our family lives. We all have different references for it, but we all remember growing up and watching comedy with our parents and so nothing makes us happier than hearing that is what is happening with our work."
Asked about the conception of his role and what's in store for Thomas this series, Mat says: "We always thought there should be some sort of poetic figure in amongst the ghosts. The very first idea was basically a peeping Tom and there is one little element of that which we kept in the first episode but it felt much more multi-faceted and naïve to make Thomas more about a romantic idea that he is deeply in love with the lady of the house, than just fancying someone and peeping. It may have been funny for a moment and then just quite creepy.
"All of the ghosts reflect some sort of side of us, perhaps with the exception of Julian. Thomas is a side of me that is in love with a certain kind of melancholy romantic idea of the artist. I always wanted to be a singer songwriter and I have that side of me for sure, so it was probably obvious that I would play him.
"There is a kind of sitcom rule that we adhere to that if the characters change then you have damaged the structure of the thing. So we do bring them close to some kind of breakthrough or personal growth but the idea is that they kind of end up the same anyway. Thomas has quite a big reckoning with his past this series and discovers something about his past and himself that could potentially make him learn, grow and change but doesn't. Part of the fun of writing the show is deciding on who we are going to explore more deeply in each series and making sure we keep holding back certain mysteries. There are ones we feel quite strongly about holding on to for as long as possible. But we wanted to show the audience at last where Thomas's bullet wound came from."
Thinking about the location, Mat couldn't believe his luck when they stumbled upon West Horsley Place the incredible old manor house in which the series is filmed.
"We were keen to have ghosts going back to certain eras and having a headless Tudor was one of the ghostly tropes we wanted to make sure we ticked off and so when it came to looking for a location we needed somewhere you could believe had stood as far back as Tudor times. A place that wore its changes and its history on its sleeve. We were saying that ideally it would be a building that was there in Tudor times but that has had a new façade at some point in its history so you could see that combination of Victorian and Georgian etc. Not only was West Horsley literally that but before the first time we were going to see it, we found out this whole story about the people who inherited it and it was so close to the story we were telling that it just felt like fate.
"It is an amazing place to go and film. The people who look after the house are so welcoming and enthusiastic about the show. We are so lucky. We then discovered things about the history of the house that are useful into our stories. For example, Henry VIII once dined there and that made its way into a line of dialogue where Humphrey casually mentions the time he came over for lunch. There are lovely little nuggets of truth that we can chuck in."
Simon Farnaby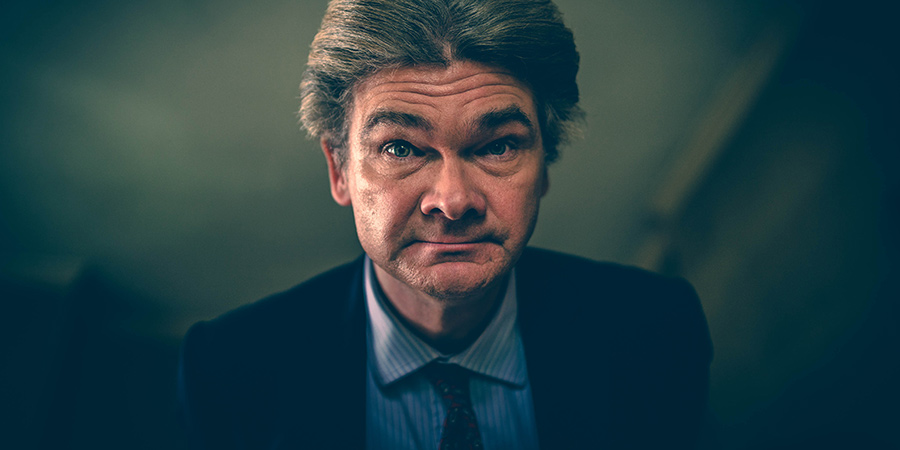 For Simon Farnaby, coming back to film the second series felt like coming home...
"Returning for Series 2 there was a real sense that the pressure was off and we could just enjoy ourselves, which is when you get the best comedy - when everyone is relaxed and having fun. Coming back and acting with those guys is like coming home, we know each other so well now it feels like we slot back into place and the laughter can begin. We have running jokes that have been going for 12 years. We all met doing Horrible Histories, which was good fun but it was really hard work and a bit like being in the trenches together, sometimes literally we would be in WW1 trenches..."
Simon was pleasantly surprised by Ghosts' success and especially pleased that it is bringing families together. "We are on BBC One, which is great as it will reach a lot of people and is the holy grail for us. When I heard the figures for Ghosts Series 1 it was a real joy. I have a friend who works in TV who told me we were the most watched comedy of 2019... I was surprised and very pleased to hear that. It is wonderful that people sit down and watch it with their young ones. A family audience is our aim, to get families sitting down together. I love crossing that age threshold within an audience, it's fantastic."
Simon gives us a hint as to what is in store for the ghosts: "In the new series we get to find out more about Julian's past, which has been great to explore. We see some of his family life and in the Christmas special we draw upon that and we get to find out about his home life and he even learns a couple of lessons about life. Part of the joy of the show is to learn to value life and think about what happens when it's not there anymore, what that means and the people you have left behind.
"However the wedding was probably my favourite episode to film this series because the house was transformed and it looks incredible. Imagine a wedding but there are ghosts in attendance as well... It is quite a sight. Julian's favourite thing is a wedding because there is booze and women's bottoms to pinch and dancing. He likes to dance, a lot. It is more fun dancing as Julian than it is myself. It's easier to assume a character whilst dancing, I find it quite challenging when I am dancing on my own, I'm never quite sure what I am meant to be doing.
"There is a party as well in the series and for the same reasons that is good fun. There are a lot of supporting artists and so we had lots of people in the house and it was great. Post Covid it is going to be hard to film party scenes so we should relish them. There was also a fight scene and that was quite challenging because we had to work out how ghosts would fight so that one should be quite interesting to watch."
So why is it so fun to play his character? "There are no filters on Julian; he is not worried about offending anyone. These days everyone is quite easily offended, especially with social media, and so you have to be very careful about what you say. Julian is from an age where he feels like he can say what he wants and doesn't mind if he offends anyone, he has his opinions and he is sticking to them and he doesn't really care what anyone thinks. For example, there is a wedding and he thinks it is fine to pinch the bridesmaids on their bums and for him that is a great sign of affection and he sees nothing wrong with it. It is quite good fun to play someone who has no morals."
Simon also enjoys the show's location. "The house is great; it has so many fascinating stories. There is one story about when they found a bag that they think had the head of Sir Walter Raleigh in, and apparently his wife used to wear it around her waist. They found this bag in the attic or somewhere, it was in the papers.
"I would be fine to stay there overnight by myself as long as I could light a fire in one of the wonderful fireplaces. I imagine you'd hear some bumps in the night but I don't personally have a fear of ghosts. I have never heard of anyone being killed by a ghost so I wouldn't be too worried. It is a bit spooky but it is more of a thrill than anything else. Although, it's a pretty chilly place especially if you've got no trousers on..."
Jim Howick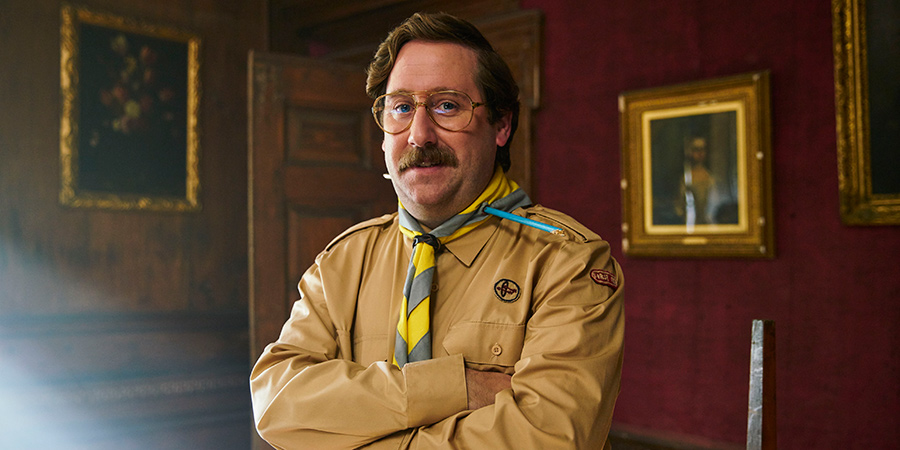 Jim Howick returns as the ghost of the adventure club leader, Pat. He reveals that one of the very first influences for the series was a much-loved Pixar classic...
"Over the years ensemble comedy has been popular because there is something really appealing about a gang of characters. Our model very early on was Toy Story. Here we have a group of dysfunctional characters that are stuck together and couldn't affect their own lives in many ways. Toy Story is different because they have that autonomy, they can physically move they just have to do it when people aren't watching them. With the ghosts the thing was that they can't physically effect anything. So we really had to try to grind out as many enjoyable traits as possible to make them entertaining. The characters had to be different, appealing and fun."
Jim shares an insight into the show's writing process. "We all get together and work out what the show is and what the series and stories are going to be. We come up with a number of broad ideas. For example it could be as simple as 'Lady B falls in love' just simple, broad ideas we can build on and sometimes that gives you an episode story and then once we have that we build the ideas on top of the story and provide every character with a plot.
"As there are ten principals in the show we try and give everyone a little thread and then once we know what each story of the week is we go away in partners and write.
"I much prefer writing with a partner and a wider group than on my own; it allows you to have a rich pool of ideas. We are a democracy and our rule is 'if the majority of people find it funny then it's a winner and if not then we think of something else'. The golden rule to our working process is if you don't like an idea then you can't just say you don't like it, you have to have a suggestion to make it better or different."
Jim discusses the conception of his character, the unrelentingly positive ghost Pat and what makes him such an enjoyable role to play. "For Ghosts we came up with a dynamic collection of characters and I suggested that there should be a scout master type character who is the size of a large child with a moustache, just so everyone knows he is an adult who has accidentally been killed by his own cubs. A kindly man who has met a terrible end.
"Pat was 37 when he died in 1984 so he is near to the age of our parents and is a baby boomer and so what I enjoy about him is he is in touch with a culture that we know now. He would know about things like Star Wars and pop music, disco and Jaws and all of these cultural things that are within living memory of people alive today. Also, he is a friendly, bright and useful character. He is a motivator. But he is also vulnerable as well, he has his flaws and isn't quite as enlightened as he thinks he is.
"I share some similarities with Pat. We definitely run the same. But also Pat is someone who tries to see the good in everyone and in the same sense, I can never really tell when someone is being an arsehole to me until it's too late. At school I tried to make people laugh, that was my thing. I enjoyed being popular in that respect but I was always a sensitive person and wanted people to like me. If I ever felt like they didn't I would do my very best to try and make it so they did like me, even the times I shouldn't have."
Making people laugh, Jim reveals, is the consistent goal for the whole team behind Ghosts. "We do it really to make each other laugh first, that is a test and that goes from the ideas and outlines, to the writing and all of the stages including the filming and edit, we will always try to make each other laugh and whatever is the funniest wins. On set we always raise our game and perform better when we see other cast members watching at the monitor. We value their opinions as writers, storytellers and actors. Basically, we just want to make our friends laugh.
"The thing is that we all have a spidey sense having known each other for so long now. Horrible Histories was a very good training camp in that respect because there was so much to get through that it didn't allow us to pay any real reverence to the material because it was like dress up, stick the beard on and go - you spent more time in the make-up chair than in front of the camera. There was a lot of corpsing on that show but now we know when we are going to corpse, we can see it in each other's eyes and so often we corpse before we should be corpsing.
"There is a shorthand between us and it is sweet that after so many years we still make each other genuinely laugh."
Whilst making each other laugh is always the goal, Jim explains how chuffed he was that Ghosts was successful in making an audience laugh too. "It is always a surprise when a show does well because you are so terrified when it comes out. I wasn't really sleeping well before it came out. We were very aware of the difference in audience size now we were putting a show out on BBC One and we were raising our heads above the parapet. So when the first one came out I was a Twitter junkie. I didn't know how it was going to be received.
"I didn't expect the success at all and we were so happy the reviews were so kind and everyone seemed to enjoy it. We were really chuffed."
Jim touches on why he thinks Ghosts has been such a huge hit. "It is sweet and has a lot of heart and if you can make people laugh and also make them emotional then it is a winner. I also think that it deals with the uncomfortable topic of death in a way that is not depressing. It's going to happen to us all and we all hope it is painless and peaceful and we see people we love afterwards. Whether we are religious or not, we all hope that's what is happening rather than just a void. This show offers a new option and says 'there is more than just a void', maybe you're going to have a flat share with a caveman or regency romantic!"
Larry Rickard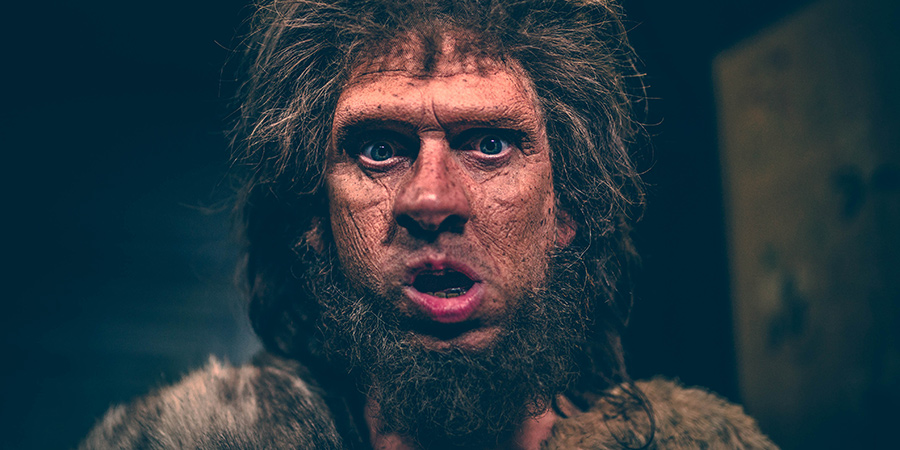 You can't fake the kind of camaraderie that exists between the creative team behind Ghosts, says Laurence Rickard. "It feels like a sorbet every time we get back together, or like taking the belt off at the end of a long day as you relax into it because we know it's so much fun and we know the dynamic works so well, so there is a great joy in it. Also, when you are part of an ensemble you share the pressures and the work load is split evenly so you don't carry the same weight on your shoulders and you know someone has your back. It is fun and exciting and there is a slight sense of relief every time we get back together.
"The thing that has worked with us through the years is that we are all very different people and sometimes the only thing we have in common is a sense of humour. So we all bring very different things to the table and there is hopefully a cohesive voice for the whole series but within that there are little surprises and differences and styles that occur during the episodes.
"Particularly this series Mat and Jim have written a few episodes and the format of them is new and exciting; we have one which is centred around the notion of an unreliable narrator, when you're hearing one story told from a number of points of view, and there is another where we are trying to piece together what happened the night before with these funny, drunken memories.
"Mat said there is this sense in our work of the naughtiest kid in class cheekiness and there is always 1% in our performances where were are, in a way, pulling our beards down and going 'hey look, it's me!' Even if we tried to hide it, there is a fun competitive element when we are shooting with us always trying to make each other laugh and that gives a tone of reverence and cheekiness that seeps into it all. That's the kind of thing you can't fake and is what works a lot of the time with ensemble comedies, the camaraderie that bubbles up through the material."
What is in store for the characters this time? "We left off last series with the idea of the hotel being put to one side after they found the mass grave with all of the plague victims in the cellar, so Mike and Alison are trying to figure out how to earn some money so they can stop the roof from falling in. They hit upon this idea of hiring some of the house out as a venue. There is a thread that runs through the series of them trying to get on the books of a big events agency that does weddings but at every turn they keep finding more problems with the house and that goal keeps moving further out of reach. Mike and Alison are grabbing onto that dream with their fingernails and the ghosts are constantly taking it away from them."
Larry explains why he enjoys playing one of the most comical ghosts in the series, Robin the caveman. "Jim early on identified what is so fun about Robin - the ghosts work as a big extended family; The Captain is a strange kind of father figure and Lady Button is a matriarch and Jim said Robin is like the family dog, he is kicked out the way and not taken too seriously but at the same time everyone is a little bit scared of him as you never can be sure what you're going to get. At times he is even the wisest member of the family, he is not massively smart but he has been around far longer than anyone else and he has seen so much that he has picked up a lot of knowledge and wisdom.
"However, Robin may have been around for so long but every time someone lights a match he still can't help but get excited. At heart he is still just a caveman. There is a childlike wonder and zeal he gets from some things. There is definitely some of that in this series. No one has ever mentioned that there have been moon landings and learning that totally blows his mind, he goes down an internet research rabbit hole."
Playing a caveman means Larry has to spend a while in the make-up chair every morning. "I like playing big, ridiculous characters and I have always been fascinated by special effects and prosthetic make-up which is lucky because the other guys have been very open in saying they would not enjoy having to put on Robin's make-up every day. Complete costume and make up for Robin takes about two and a half hours to put on and about 45 minutes to get it all off. The most it has ever taken is four hours. There are many different elements involved; there are a couple of prosthetic pieces and then some more traditional make-up techniques are used as well. And then there's the wig and the teeth caps and the nose insert. What is fun is that because it is all completely glued to your skin other than the nose insert and teeth caps, it's easy to forget about it and it starts to feel like your skin. So I forget it's there and it means every now and then I get very funny looks as I will just wander into a room, having completely forgotten how I look and join in conversations like normal."
Larry shares some of the other amusing challenges that come with playing Robin and headless Tudor Humphrey. "There is a weird sadistic challenge to Humphrey where in order to make the visual effects work I have to be completely still and I like the challenge of trying to contort my body into the strangest positions I can, to cheat my body out of the position you are expecting it to be in so when you look at the finished shot you are going 'how could they have done that?' Also, 90% of the time I have only ever played him from the neck up as someone else plays the body. That's a weird challenge. With Robin he is so sparing with what he says that a lot of the time it gets to a point with the writing where you have to make his single line in a scene work which ends up with me getting the ridiculous one liners, the punch lines, and I enjoy that."
Ben Willbond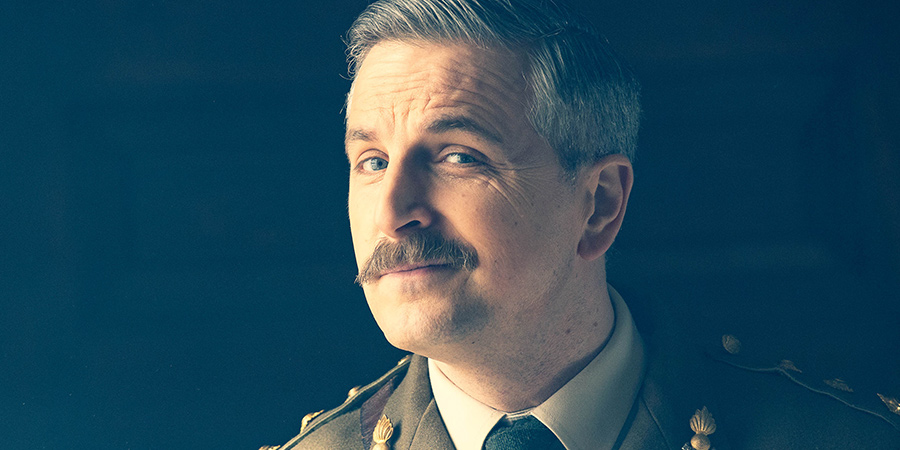 Ben Willbond, back as The Captain, discusses his thoughts about comedy and where his love for it began. "When I first met Larry, we had this connection which was our love of comedy, in all its forms and we bemoaned the fact it had become prescriptive. Everything began to be listed as 'a comedy for kids' or 'a comedy for teens', and we just thought 'can't comedy just be comedy?' As we grew in our respective experiences, we realised that family comedy is elusive. It never used to be. Growing up you would watch what was on offer and by default it was family comedy.
"I got slightly obsessed with Blackadder and Fawlty Towers. When Blackadder happened I thought to myself 'I just want to do that.' You can probably see echoes of that in The Captain. Basil Fawlty is basically The Captain in a much reduced form, he is a frustrated authority figure who has no authority. It feels lovely to be a part of something that appeals to everyone. I don't make a comedic distinction in my head, if something is funny then it's lovely to think a family will sit there and all enjoy it together. I love the idea of that."
Ben explains how the huge success of the first series of Ghosts allowed him to relax. "I feel very fortunate. We worked really hard [on Series 1] and we did what we felt was right and we are very happy it paid off. Feeling that going into the second series is nice because you feel much more confident in the characters, they are set in by that stage and so you are slightly more relaxed. Whereas the first time around you're constantly thinking 'is that alright?', and as we are all the creators you have six lots of nervy questioning creatives on site. We are a lot more relaxed and I hope that comes across with this one. I certainly had more fun.
"Our creative process has taken time to become what it is because we are all very different people but essentially we get around the table, bash the stories out and figure out where each one is going. With experience that gets a little easier each time. We all make sure the series arc is working and we are always keeping an eye on whether it is funny enough. Then from there we go off and write episodes and come back to the table. There is that sense of safety that if I am too busy then the other guys will get on and do a draft and I'll do something later on. There is definitely safety in numbers. If the onus were on one or two of us, specifically in this lockdown situation, it would have been really difficult. Being so restricted to our time focuses the mind a lot better. It is a good example of how much you can do in a short amount of time if you really put your mind to it."
Whilst he may not be like his character in many ways, Ben reveals one thing that they do share: "I was actually about to join the army when I was 22, so I went through all of that training and I had a very military upbringing so I am used to things like The Captain's uniform and all of these weird details that I think are normal but others think are weird because I grew up around it. I was in every single kind of cadet force. However, I was told quite quickly I didn't belong there. I think it would have been a mistake. For that and other reasons it was pretty obvious, for me, that I would pay this role. I love The Captain; he is so brilliantly flawed and desperate. I love those characters."
And Ben admits the question he is most often asked by fans is what The Captain's name is. "I sort of knew it would come up at some point. I think I do know the answer but I don't know if it will ever be revealed..."
Working alongside a team of hilarious people can prove quite difficult when you are prone to corpsing, Ben explains. "I find all of the team hilarious, they are the most incredible comic actors, each with their own quirks. It has got to the stage now where all you have to do is catch someone's eye and that is the take ruined. There are some very funny moments and I am generally the first one to go. I am terrible at it. I am sure it's lost me jobs in the past. I can't keep a straight face."
Ben hints at what's in store for the new series of Ghosts. "We realised we could show elements of the ghosts' pasts without showing their demise or beginning and it was nice to take a look at a snapshot of what would have been their daily life. There is so much more to learn about the ghosts, that is what we felt we were doing and there is also a lot more fun to be had with them. It is always nice to see characters relaxing and having fun; they really come to life this series - as it were. At its heart this show is joyous family silliness."
Charlotte Ritchie
Charlotte Ritchie, who plays Alison, admits if she did see an apparition in real life she probably wouldn't believe her own eyes. "Weirdly, I would fall into the category of a person who should believe in ghosts but I probably don't. I wonder whether if I saw a ghost I genuinely just wouldn't believe it. It may be that ghosts exist for some people and not others and it may depend on how open you are to it. I definitely believe there is stuff that goes on, energy wise, and that we all have a collectiveness and I believe people's brains are incredibly powerful and there is a good chance you can manifest and see things that are not there. But in terms of ghosts, it can't be a coincidence they're all Victorian?
"However, despite the fact I don't really believe they exist, I am absolutely petrified of the dark and of things that go bump in the night. I have seen enough films as a kid to get scared, even though rationally I don't believe they exist, I still wouldn't be brave enough to spend the night alone in West Horsley Place, the house we film this series in. There is one particular room that is really cold and that definitely feels really spooky. Naturally that's our director Tom Kingsley's favourite room."
Charlotte tells us how it felt to return to film the second series of a show she relishes working on. "I adored filming the first series, it is the absolute dream job; nice people, funny scripts, lovely crew so I was excited to be returning for Series 2 and see everyone I hadn't seen for a year.
"I loved this comedy from the moment I read it, so I felt like whatever happened, I thought it was a great show but I was so relieved and chuffed when so many people liked it but also particularly people with so many different comic sensibilities. Its popularity amongst such varied ages is an absolute dream because lots of people have said how nice it is to have a show they can watch with their kids and they can all enjoy it on different levels, which is wonderful because it feels very uniting.
"The team of people who make it are so talented and have such a wide range of references and things they find funny that they cover a broad spectrum and they come together and work so beautifully as a team.
"Having a communal group with all different perspectives means you are more likely to reach a greater number of people. Also, the subject matter is a key reason. We spend most of our time not thinking about death, let alone talking about it or referencing it and although the show doesn't always face it head on it sometimes does and it references bigger questions in a light way, which is something we need. We need an outlet for that sometimes and to frame it in a comedy is quite cathartic."
Charlotte reveals where we pick up with Alison, Mike and the ghosts. "Mike and Alison are pretty much where we left them last series, not a huge amount has progressed in terms of working on the house and they've settled into their frustration and monetary problems. What is lovely about this series is that we will see a little more of their day-to-day lives with the ghosts and how living together works. There are sweet things like Alison's routine with the ghosts in the mornings and Mike's special 'ghosts chart' where he has pictures of them and descriptions that Alison has drawn for him. We see a lot more back stories, which deepens our relationships with the ghosts. There is a brilliant moment where Mat and Jim, AKA Pat and Thomas, do an amateur radio hour, I am desperate to see that."
Charlotte explains what it's like to work as part of the comedy ensemble. "It can be quite overwhelming sometimes, to be surrounded by so many people who are so good and so funny and so quick but it means that it is also very inspiring and keeps you 'on' all of the time. We move at such a pace during filming that you have to keep the energy up and keep your brain working really fast. But that is why I like it and why I find comedy so particularly satisfying.
"It is incredibly hard not to laugh the whole time though. Jim is probably the worst in terms of corpsing because it is partly the way he looks, in that costume, and the glasses and the moustache... how can you not? Just looking at him is funny. But he particularly gets a real thrill from making people laugh and he has a twinkle in his eye.
"I adore working with Kiell. He is a total dream, he is so constant in his demeanour which is very reassuring but he is also just a really good friend of mine now and so having him around makes me feel content, and happy and I find him incredibly funny. He's subtly so funny, he does these tiny little looks with his eyes or a little head nod and it is very small but it's perfect. I love working with him and I find that to be a huge part of what makes it so enjoyable."
What does she think of her character? "I like that Alison is quite chaotic but also very front footed. She ploughs continuously through things; she doesn't seem to be hugely fazed by daunting prospects and will leap into a situation and try to work with it. She adjusted so quickly to the ghosts and I love that, she doesn't totally lose it, she manages to make it work so she is pretty resourceful and very funny."
The house is a big part of the show and Charlotte is very much at home there now. "I love filming there. I love the gardens, they're beautiful and it is such a treat to be in an old house you would pay to go and visit and walk round for an hour and probably not really take it in but to live in there for months means you find all of these nooks and crannies which are lovely to sit in and books that are 300 years old. Some of the rooms feel haunted and some feel warm and also remembering all of the different scenes that have been filmed there. I have grown a real attachment to it."
Kiell Smith-Bynoe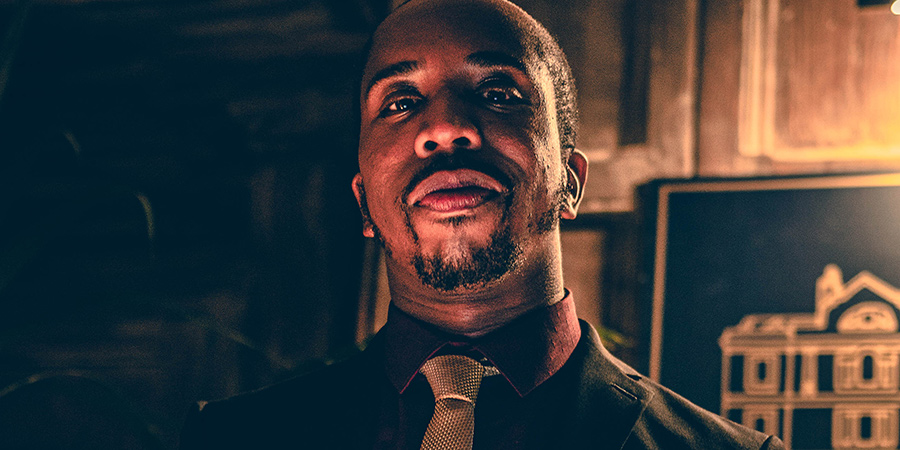 Returning to the role of Mike, Kiell Smith-Bynoe admits he was pleasantly surprised that Ghosts is bringing families together.
"I was mostly surprised by the older couples who have approached me. I have only been approached a few times by people in the street but it was always older couples that had been watching it with their families. There was a really nice story a lady told me about how it was the only time that all of her family would sit down and watch TV together was to watch Ghosts on Monday nights. Things like that are really nice to hear.
"I knew the guys who wrote it had a big fanbase, but I wasn't aware of how big until we went to the screening for Series 1 at the BFI and all of their fans were there. There was a huge queue going around the building to get photos. That's when I realised how big the following is for their work.
"I guess it's been popular because it is not too scary or adult for the younger viewers and it is silly enough that it has heart. It is something you can enjoy all together, whatever age you are. There are so many characters that even if, for some reason, you don't like one there are going to be another four or five you love."
Unlike Alison, Mike cannot see the ghosts. Kiell admits that pretending not to see all of these hilarious characters is one the biggest challenges he's faced as an actor. "I will say that it is the hardest thing I have ever done. In the first series I was really concentrating on it because I knew how difficult it would be, the second series I have found it slightly easier but after the break in between filming Series 1 and 2 it was something I needed to work on getting back into.
"There were definitely a few times this series where I looked straight at Lady Button without thinking. It is especially tough because we all get along on set and quite a few of us stay down there when we are filming in Surrey and it wasn't like everyone finishes and goes to bed, everyone had dinner together and stuck together. So it was a very friendly and a nice big group, a mad friendship group and if you are laughing and joking between takes it is easy to forget, when you start rolling, that you can't look in their direction.
"Everyone on set is also extremely dedicated to making people laugh. Certainly Mat, Jim, and Simon are always trying to think of something funny that may make everyone corpse. It makes the show because it makes everyone on set laugh and it does the same for the audience."
Kiell discusses what it has been like working alongside Charlotte Ritchie. "Charlotte is one of the best people I have ever worked with, although I would never tell her. I honestly think she is so focused when it comes to being on set, she know exactly what's happening, even though we don't shoot in order she knows what comes before and what will come after, whereas I am like 'wait, what have we just done?' She is really great. I have made a lot of jokes about how terrible she is to work with but I'll admit it now, it's all a lie."
So are there are any similarities between them and their characters? "I think that I can be similar to my character in that I can go into a daze a little, Mike does that, goes into a daze and it is easy to do that when you're talking to nine people you can't see.
"I guess with Charlotte, well she can sort of talk her way out of anything and Alison has constantly got to cover up the fact she is talking to these ghosts and she just does it very well... although not as smoothly as Charlotte does, she is great at talking her way out of any hole she has dug. That's an improv talent, I am still learning how to do that."
Without giving away too much, Kiell sets the scene for where we pick the show up. "Mike and Alison are preparing to have a wedding at Button House; the plan is to get the house into an agency and be available to book events. The whole series we spend preparing and we get the confirmation that a wedding is going to happen, so we start planning for that. We still have the same issues of the house being a mammoth task to manage but we know we have money coming in from the wedding eventually so we want to make it the best it can be. So there is a lot of us running around trying to do all of that whilst Alison is also on ghost duty."
Kiell discusses what the house they film in adds to the show. "I don't think the show could be replicated anywhere else. We couldn't do it in a studio; it wouldn't have the same feel. The fact we can walk through the house and find a new room is so exciting. I still don't think I have seen every part of the house and we have filmed there for two years.
"The house has so many amazing props and there is much more use of the things that are within the house in this series. Obviously the ghosts can't pick them up but there are a lot more references to what is around us. We have an episode where there has been a party and in the morning the house is in disarray and is a complete mess and seeing the ghosts interact with that and Mike and Alison having to deal with the clean-up job is very amusing."
Despite being a big fan of filming in this house, when asked if he would spend the night alone there Kiell was abundantly clear! "Absolutely not. With a house like this there has got to be a ghost or two running around and some hauntings going on but I haven't seen anything. I would quite like to. It would be really interesting to see and know if there was something on the other side. I say I'd like to but I'm sure if it did happen I would have a heart-attack."
Lolly Adefope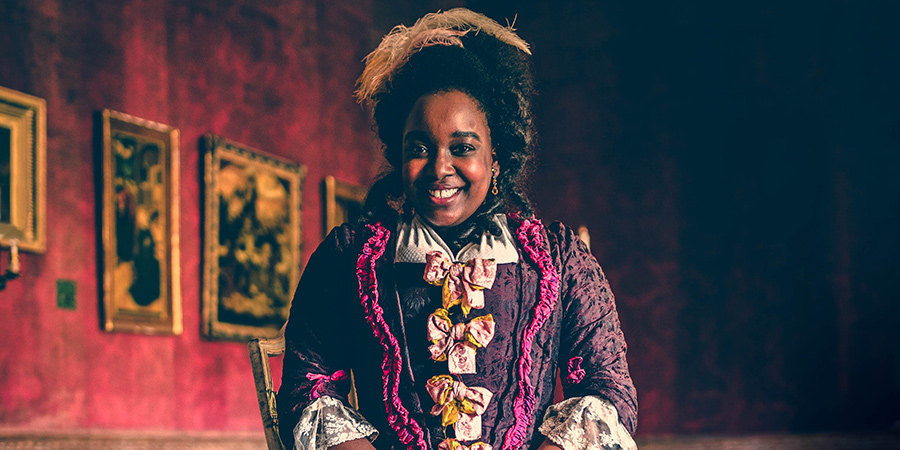 Lolly Adefope returns to the role of the house's unrelentingly positive ghost. "Kitty is a very sweet, innocent and positive character and for a comedy character that is somewhat rare, as they tend to be cynical or broken in some way and so Kitty is a very uplifting character to play. She has a kind of positivity and purity that you don't get to see all too much on screen, but it is empowering. Instead of trying to shake her off at the end of the day I want to keep her with me.
"I like that Kitty laughs at everything, all of the time which is quite similar to me. Originally when we first started discussing her, the joke was that she was going to be really stupid and I didn't know how I felt about that. I thought it would be funnier and nicer if she was very sweet. There is something quite amusing about someone who is relentlessly positive and wants to be everyone's friend in a cynical world. She is young and naïve but she is less stupid and more sheltered and sees the good in people, which is a very inspiring trait."
Desperate to befriend everyone but specifically keen on making a friend out of the new tenant, Lolly discusses Kitty's idolisation of Alison. "Kitty desperately wants a best friend and there were hints in Series 1 that her sister was not the best sister and bullied her a little and so she is this young girl in a house of older people who is constantly trying to find someone she can connect with. She sees Alison as the cool, older sister she always wanted and, in Series 1, Alison finds Kitty quite tiresome and is overwhelmed by the fact she can see ghosts but then in Series 2 there are moments where it seems like they really do get on.
"Also, Charlotte and I are good friends and we find those characters so funny so it's really fun to play those moments. Sometimes Alison is using Kitty to her own end and it is disguised as friendship but it doesn't even matter to Kitty because to her it is friendship and she will take whatever she can get. It is fun to play someone who likes everyone and is liked by most people, or is at least tolerated."
Lolly discusses what it's like working as part of a big ensemble. "It is harder in some ways as you have to get more shots but it is great fun to have a big gang on set and you can never get bored. Everyone is making each other laugh all of the time. It is quite fun when you have a big group to try and work out the combinations of characters who may not have done many scenes together. Katy and I got to film some together this series, which was great. But we were looking forward to the next series and asking questions like 'what would it look like if Kitty and The Captain were alone in a scene together?' There is a lot of humour that can come from those kinds of questions.
"Everyone's characters are so different so you have a great opportunity to raise your game as you have an amazing character and, what's great, is you don't know everything about them straight away. We still don't know Kitty's back story and there is so much more about these characters to be revealed. With such a large group of great characters everyone is given the opportunity to shine and everyone gets their moment to be funny. It is hard to be introduced to so many characters at once but the fact they have all died helps you relate to them a little more. Once you explore their deaths and delve into their past lives it is quite moving and it allows you to deal with these quite heavy topics like death through these quite ridiculous characters, which makes it a lot easier."
Lolly reveals how the cast discovered who was brave enough to stay alone in the house where they film the show. "There is a game we would play on set where we'd say 'okay, I have a box, would you do this thing' and then we'd reveal how much money is in the box, like Deal Or No Deal, and you had to decide if you would do the thing for that amount. We did that a lot with staying alone in the house for a night with nothing more than you have on you and a sleeping bag. Martha definitely didn't want to. I was okay with it, I would just try to go to sleep immediately but the money got pretty high with people still saying no!"
So what's coming up in the new episodes? "People find out about the house and the possibility of ghosts living there and so ghost hunters come by and try their luck at spotting something. Mike and Alison capitalise on that, needing to raise funds for the restoration. They also throw a big party in one episode and it is all about the mass hangover the next day and we watch as they try to piece together what went on using the clues around the house and it is funny to see how the ghosts deal with other people in the house.
"Mike is a little more used to the ghosts now, he can kind of tell when they're around and he even tries to talk to them this series which is funny.
"Series 2 is even bigger and better than Series 1 and you get to delve further into the past lives of the ghosts. You get to see how the ghosts, Alison and Mike are getting used to living together and it is bolder than Series 1. Now we have introduced the characters to everyone we can set them free and you get to see a new side of each of them and learn a little about what their lives were like before."
Katy Wix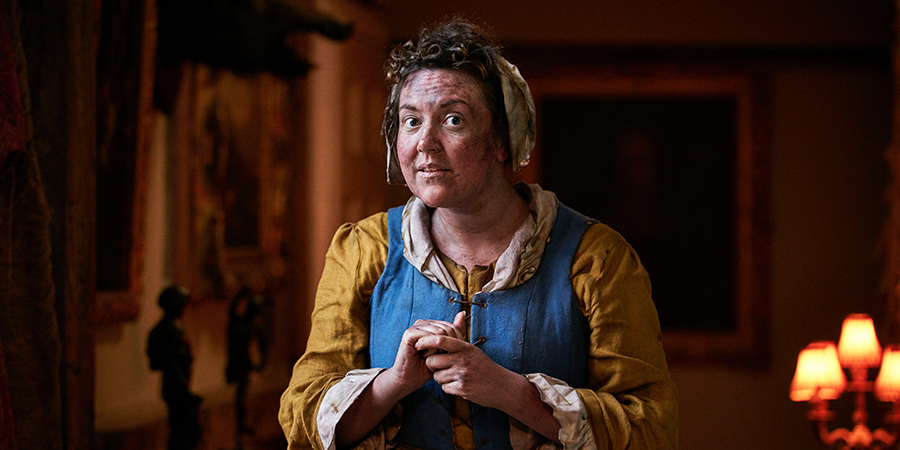 Working on a show based around the existence of ghosts is a dream job for Katy Wix, who reveals her love of all things mystical. "I was obsessed as a teenager with Celtic stories and local Welsh myths, fairies and ghosts and I wanted to be a witch so much. My best friend and I had a book of spells. I remember being in my bedroom doing a love spell where we'd write the name of the boy we fancied and screw it up and if it floated it was true love. I was a real Goth in my early teenage years and I'd be a witch tomorrow if it was normal. I really hope it turns out that Mary was one. I don't think any of the team on this even know that about me!
"I don't know if I believe in ghosts, but it is more interesting why people have those kinds of experiences, what it is about and the idea of the power of suggestion. It always freaks me out when someone who is very sceptical experiences something strange. I have never personally had any kind of ghostly experience but I am very open to it.
"My mum, who is sadly no longer alive, was very rational and I remember she told me she stayed in a hotel once and she could hear breathing. She was getting ready for bed and she could hear it coming from the corner of the room and it terrified her. She asked to change rooms."
Katy also relishes being part of a hilarious and friendly ensemble cast, explaining this was what initially drew her to the show. "We had all been put together as the original Horrible Histories team, so we go back a long way and I was excited about the idea of working with that group of people again. I know what their tone is and what they would want because I started off in the sketch world, so I feel like I have been doing these big characters for a while.
"There is also something very nice about working as a big group; it is a shared responsibility which I find to be more fun. It feels very harmonious, they are really generous and they genuinely want you to have your bit to do, your fun moment. Everyone was excited about hanging out together, we laugh a lot and it is special. I knew this show would be a really enjoyable job, which was the main draw for me.
"In terms of coming back to film the second series, it was so wonderful to be so looking forward to going back to a job. It is always interesting the second time around with a series, especially a comedy, because the first series feels more risky and unknown, it is harder to win people over with comedy with the first series. It feels much more relaxed this series and things have a way of speeding up like costume and make-up - you find your little routines - and you feel settled into what you are doing. I am so grateful we got to make more, that people wanted more."
Katy discusses what specifically makes Mary such a fun role to return to. "One of the things I love about Mary is she is such a playful role. She is an unpredictable, weird character so it feels like I could make anything fit. It's never a case of 'oh she would never do that'. There are moments where she'll suddenly get into a really physical fight with someone and there is this violent rage that comes out and then there is also this romantic intrigue that slips out and then suddenly she is a seductress the next minute! So really anything goes, there is no cap on how mad or strange she can be and that is very freeing.
"Playing Mary is a real release. It feels really playful and creative. It is a really creative bunch of minds in this group and all we want to do is make each other laugh and try to do something as funny as the next person. It does make us try harder. Also, it's a case of wanting to do a good job for the team, no matter how tired I am because I feel so grateful to have the work, to have a job to go to that I look forward to and one I find so funny and enjoyable."
Katy say audiences will enjoy the new episodes. "At the end of Series 1 there was a big moment where they discovered there is a mass grave, so some archaeologists come in and start digging and we see the plague victims' bodies so it picks up from there. I don't want to give anything away but there is a really nice and very ironic moment this series when paranormal investigators come in because ghosts have been spotted, but of course they are standing right next to us but have no idea. That was fun and we have some amazing guest actors doing cameos.
"Series 2 includes more mini storylines about certain characters, which is nice as you get to learn more about the ghosts. Mary and Kitty have formed a bit of a double act, which has happened naturally because Lolly and I have become great friends. Now we have established the characters there is more tension in the storylines and personalities come through more and this series is even more action packed than the first. It also has some really touching moments."