The News Quiz is one of the longest running panel games on BBC Radio 4. The series originally started as a one-off special, but has since continued, and is now listened to by millions.
Created by John Lloyd and originally hosted by Barry Norman, the show started off as a battle between the two great satirical publications of their day. These were Punch, represented by Alan Coren; and Private Eye, represented by Richard Ingrams. The format of the show was intended to be edgy, though not too edgy. In the early days, there was an unwritten rule that only journalists would be allowed onto the show each week. Within the first three weeks, it attracted 1,000,000 listeners.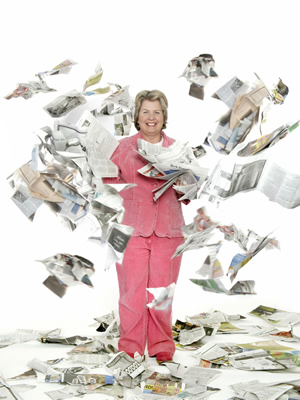 Although it has been running for over 30 years, the format of the show has not changed much since its inception. Episodes normally consist of short rounds, with each panellist being given one question, sometimes with a musical introduction. Each round is separated by one of the Radio 4 newsreaders (or the 'hacks-neutral' as Coren used to refer to them) reading an interesting or amusing cutting from the news that week, normally sent in by a listener. The panellists read their own cuttings that they have brought along at the end of the show.
After Norman left, Barry Took and Simon Hoggart took turns in hosting the programme. During this period, the show was also temporarily transferred to TV in 1981, under the title Scoop. However, it was generally considered that this transfer did not work, and so the TV version only lasted two series.
Things changed again in 1996 when Hoggart became the sole host. Also, Ingrams and Coren were asked to no longer be regular panellists, in an attempt to make the show less 'stuffy' and appeal to a younger audience. As a result, comedians and younger journalists were invited on, such as Francis Wheen, Andy Hamilton, Jeremy Hardy, and Linda Smith; although Alan Coren still made regular appearances. Hoggart left the show in 2006, with Sandi Toksvig becoming the chairwoman.
In 2015, after nearly ten years at the helm, during which time she chaired over 200 episodes, Sandi Toksvig announced she was stepping from the show to set up the Women's Equality Party (and it would later be revealed she had been lined up to become the new host of QI). Miles Jupp is now the host of the show.
The News Quiz has had a major influence on other panel games - most famously Have I Got News for You. Although, that said, it should be noted there are a few differences in style, for example The News Quiz is generally 'warmer', whereas Have I Got News for You is harsher in its treatment of the news.
New episodes are broadcast on Friday nights at 18:30, and are also distributed for free via the BBC's Friday Night Comedy Podcast. Old episodes are broadcast on BBC Radio 4 Extra, and each Monday there is now an extended-length version on the digital station too, called The News Quiz Extra.