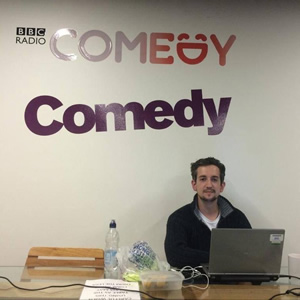 BBC Radio Comedy has announced the appointment of two new Contract Writers, Liam Beirne (pictured) and Sarah Campbell.
The year-long Contract Writing position is an opportunity for up-and-coming comedy writers to work on some of the most recognisable comedy shows in the UK.
2014-2015 contract writers Gabby Hutchinson-Crouch and Max Davis have written gags for shows such as The News Quiz, The Now Show, Dead Ringers and Listomania.
The long-running scheme has a track record of developing talent. Previous BBC Contract Writers have included stand-up Stewart Lee, Miranda co-writer Georgia Pritchett and The Thick Of It's Simon Blackwell.
Liam Beirne started out by writing on Radio 4 Extra's open door topical show Newsjack in 2013 and has since contributed to every subsequent series. He has also provided material for the open-door sketch format The Show What You Wrote, and written additional material for The News Quiz and The Now Show. Liam said of his new role: "'I'm very excited as it means I can finally build my life around my writing. It really makes all the years of hard work worthwhile."
Sarah Campbell (pictured) is a stand-up comedian who has already written for a number of BBC Radio Comedy shows including Dead Ringers, Listomania and The Now Show. She was introduced to the BBC via Newsjack too, the programme on which she is now Script Editor. Sarah has also got a number of TV writing credits, having worked on shows such as Russell Howard's Good News and Have I Got News for You.
Sarah says she is "thrilled" to be able to follow her dream of making comedy, adding: "My parents cried when I told them, and I'm 90% sure it was from joy."
Head of BBC Radio Comedy, Julia McKenzie, comments: "Time and time again we see that our open door shows such as Newsjack are crucial to growing a new generation of writers and they have been the key pathway towards building a writing career in comedy.
"Our current contract writers Gabby Hutchinson-Crouch and Max Davis have been exceptional writers for the department. We know that they have great careers ahead of them and we hope to continue working with them after they leave in August."
Campbell and Beirne will take up the role in September 2015.
For more information on writing for BBC Radio Comedy see the BBC Academy website.