New BBC comedy commissioner Shane Allen outlines plans
New BBC comedy commissioner Shane Allen outlines plans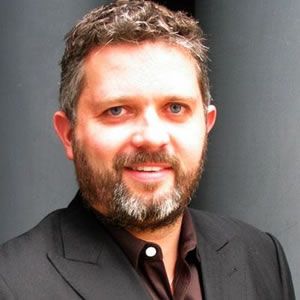 Shane Allen (pictured), the BBC's new Controller of Comedy Commissioning, has outlined some of his plans for the BBC's comedy output.
In an interview with The Guardian Allen hinted at the types of programmes he hopes to commission, and passed comment on both Sky and Channel 4.
Allen recently took up the post, widely regarded as one of the most influential and powerful roles in the entirety of British comedy, from Cheryl Taylor, who was moved aside to head CBBC last Summer. Allen had previously been Channel 4's head of comedy.
The Guardian article consists of his first major interview since taking on the responsibly of overseeing how the BBC spends £59m each year to create 135 hours of original TV comedy.
The Key to Allen's strategy will be the instatement of three-year development plans with new comic talent, utilising the BBC's strength on not just television, but across radio and online platforms. He explained: "When I was at Channel 4, what used to frustrate me was you were at the whim and mercy of the ebbs and flows of the ad revenue market. And because comedy takes so long to happen it was always the first area that got cut ... you couldn't plan ahead."
Mrs Brown's Boys and Miranda are the BBC's current biggest hits, and Allen has indicated that these typify the comedy the BBC should be making; big, audience-pleasing studio sitcoms, despite scorn from press and critics.
"Before Mrs Brown's Boys," he said, "there was this self-appointed cabal saying what was cool and what was great. It was a game-changer. I think sometimes people in TV land make TV for people in TV land, and Mrs Brown's Boys is a perfect example of how to serve an audience."
Allen also explained that he was keen to convince TV-shy stand-up Daniel Kitson to star in his first TV series. A highly regarded live performer, Kitson's only notable TV appearance to date has been playing bar man Spencer in Peter Kay's Phoenix Nights, a role Kitson later said he regretted taking.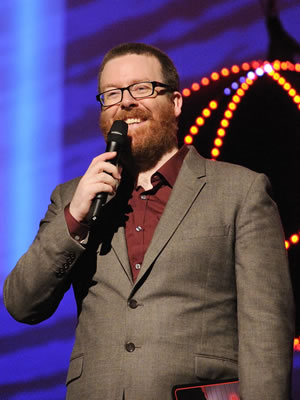 Shane Allen says another comedian he hopes to work with at the BBC is Frankie Boyle (pictured). The commissioner previously oversaw several projects of Boyle's at Channel 4 including the controversial sketch series Tramadol Nights, in which the star's joke about Katie Price's disabled son resulted in many viewer complains and an Ofcom ruling against the network. Allen told interviewer Ben Dowell: "I'm not going to suddenly stop admiring his unique comic talent because I've switched teams," adding he hoped there would be a TV vehicle to show off Boyle's "scabrous, dark, smart working-class Scottish humour".
The executive also confirmed Peter Kay would star in a new series called Car Share - a show that will be available via the on-demand iPlayer service before being broadcast on television; that Peep Show co-writer Jessie Armstrong has penned a new three-part political sitcom; and Matt Lucas is working on a silent comedy series called Mr Pompidou. Plus, as previously reported, Vic Reeves and Bob Mortimer are indeed working on a sitcom pilot called House Of Fools.
Allen, known for his outspoken honesty, joins the BBC from Channel 4 where he was Head of Comedy from 2009. He confirmed in the Guardian article that he and Jay Hunt, Channel 4's Chief Creative Officer since January 2011, did not see eye-to-eye...
"What Jay never really got was that in order for me to attract to the channel the rebels, the mavericks, the anti-authority malcontents who populate comedy, I had to have that spirit myself. Otherwise I'm just some dick in an expensive jacket spouting meaningless buzzwords about seeking ideas which are bold, original, edgy, spiky ... once these have been used in regard to some lame gameshow - as I've seen happen - then the jig's up."
Article author Dowell clarified: "However, Allen still speaks fondly and respectfully of C4 and his time there. But he clashed with Hunt towards the end, he says, because he had had enough of being overruled when backing original ideas by 'someone with their penchant for yet another prank-based hidden camera thing'."
Shane Allen was similarly candid in expressing a view of Sky. The satellite broadcaster is in the middle of a multi-year push to invest in original British programming for their own-brand channels, and is understood to have been seen as a threat by ITV, the BBC and Channel 4 in attracting comedy talent.
However, it appears Allen does not fully share this trepidation toward the network, with the article citing that, in his opinion, Sky shows are 'not rating highly' and thus "BSkyB executives are in danger of repeating the failures of 10 years ago when they poached the likes of Harry Enfield and David Baddiel."
The early 2000s failure he is referring to was Sky not managing to capitalise on the big names it had attracted to make new programmes. High costs and low viewing figures lead to a near total retreating from original commissions for nearly a decade.
Allen explained: "There was a sense three years ago that they were going to buy their way to success with the promise of creative freedom, but then you look at what they have done. It's been good for the industry because there are opportunities and there is more money flying around - but in terms of having cut-through hits, it's not happened. You need people to watch your shows."
The first big raft of comedies commissioned by Shane Allen for the BBC are expected to be announced in coming months. In charge of ordering comedies for the corporation, his role is separate from that of Mark Freeland, who heads the in-house BBC Productions' Comedy department. In the meantime, all known upcoming comedies on BBC television can be found on the following pages:
Share this page