Ken Cheng has won the Dave's Joke Of The Fringe contest. Here are the top 15 jokes in full.
---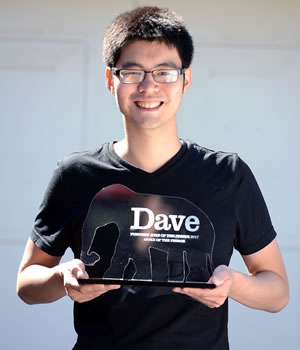 Now in its tenth year, Dave's Funniest Joke of the Fringe award aims to locate the best one-liner jokes at the Edinburgh Festival. Comedy critics scout for the best jokes, with an audience panel then voting on the anonymised list.
Ken Cheng first studied Maths at Cambridge for a year, before dropping out to play online poker professionally. His big break in comedy came after reaching the final of the 2015 BBC Radio New Comedy Award.
On his joke claiming the top spot, Cheng says: "I am very proud to have won. As a tribute, I will name my firstborn son after this award and call him 'Joke of the Fringe'."
Steve North, General Manager of channel Dave, comments: "From Trump and veganism to the new pound coin, this year's news agenda has certainly also provided some great inspiration for comedians to get grips with - it's fantastic to see that, even after ten years of the Joke of the Fringe award, there is no shortage of brilliant one-liners delivered at the Festival to get us all laughing!"
Previous years
To enjoy more jokes, check out the top 10 from previous years:
2012 jokes (Stewart Francis won)