Kevin Day
Kevin Day: Hairline
Stand-up
6:15pm (1 hour)
5-18 & 20-30 Aug 2015
10 - 11
This is a 2015 show that has now finished.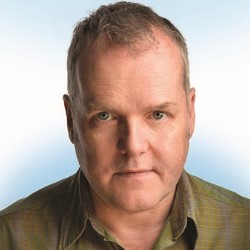 Show details
Stand-up show starring Kevin Day performed on the following days in August 2015...
Mon
Tue
Wed
Thu
Fri
Sat
Sun
03
4
5
6
7
8
9
10
11
12
13
14
15
16
17
18
19
20
21
22
23
24
25
26
27
28
29
30
31
1
2
Venue details
There are some terrible things happening in the world that only comedy can resolve. But sod that, Kevin's losing a bit of hair, which is far more important. The bloke off Match of the Day 2 and writer for Have I Got News for You, Never Mind the Buzzcocks and A League of Their Own returns with another 'Beautifully crafted, cleverly paced, hugely funny show' (Scotland on Sunday). 'Day is quite simply performing at the top of his game.' **** (List).
Share this show
Reviews
Press coverage
Full press release
Comedy can change the world. A good laugh can bring people together, help break down taboo subjects and tackle the bigots head on. Of course none of this matters because Kevin Day is losing his hair.
Faced with the very real prospect of becoming a hat person Kevin's new show creates an hilarious eulogy to his beautiful moptop as well as taking on the world strand by strand.
Since starting stand-up over 20 years ago - longer than some acts have been alive, he has toured internationally. His show I Was a Teenage Racist was performed to critical success. Kevin made his long awaited return to performing at the Fringe last year at the Edinburgh Fringe with his show Standy Uppy, which was met with great acclaim. In the theatre he has co-written a history of the Old Vic with Kevin Spacey and directed Arthur Smith's Dante's Inferno. His list of TV credits could quite happily fill the pages of a small novel. As a performer he has appeared on Match of the Day (BBC2), Have I Got News For You (BBC1) and A Question of Sport (BBC1) to name but a few and as a writer, he has written for everyone including and A League of their Own (Sky 1), The Last Leg (Channel 4) and many more.
Additionally Kevin has many radio credits to his name including 7 Day Sunday (5Live), The News Quiz (BBC Radio 4) and Fighting Talk (5Live). He is a regular voice on Radio 4 and 5Live. He is also part of the highly successful Whistleblowers football podcast and co-host of the Crystal Palace FC podcast Five Year Plan, which is one of the most downloaded club pods around.