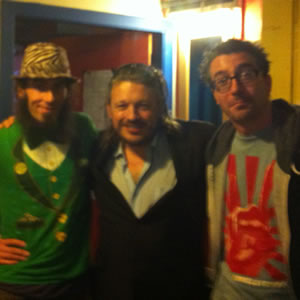 Richard Herring's Edinburgh Fringe Podcast

Last August, Richard Herring got out of his high-backed armchair with daily, improvised, topical chat in Richard Herring's Edinburgh Fringe Podcast (Or as all the cool kids are calling it 'RHEFP'). Now the 'King of Edinburgh' (List) is back for his 25th anniversary Fringe to interview more Edinburgh stars and showcase the best new comedians. A different show every day, yet reassuringly exactly the same. Come along for prizes, free tickets and interaction with Edinburgh's top stars and its reluctant monarch! Each episode will appear here and on iTunes within 24 hours of the show to provide a Fringe taster for those not lucky enough to be in the city.

EPISODE 50: Freaks and Geeks - Rumpel, Orbax and Pepper and Keir McAllister. The Fringe is over and Richard is winding down like a non-Duracell bunny. There's a definite end of term atmosphere and some literal clock-watching, but there's still much to entertain - even if it is mostly visual. Kangaroo King Rumpel returns after last year's bizarre appearance and this year he is dressed up and spouting pearls of wisdom from amongst the madness. Crikey! Then Oryx and Crake (not their real names) the Canadian freakshow double-act come up to get their 25th consecutive daily photo with Herring. They stay for a chat about terrible injuries and bifurcated tongues and put cutlery in unusual bodily orifices. Keir McAllister provides the stand-up. Thanks to www.gofasterstripe.com and everyone at the Stand for the terrific support. Richard will be touring his cock round the UK over the next few months and is doing more Leicester Square Theatre podcasts from October!
Previous Episodes
Date: 26th August 2012 Length: 60 mins Size: 54.79mb

2012 #24: Fireworks - Phil Nichol and Tony Jameson. After last year's lost podcast with Phil Nichol, Richard is praying all will work today lest Phil starts to take it personally. ...... Listen
Date: 25th August 2012 Length: 58 mins Size: 53.08mb

2012 #23: Rasputin Beard - Martin Mor and Ro Campbell. Richard has egg all over his trousers, but it's not the result of experimenting with sex with birds after recent cloacal reve...... Listen
Date: 24th August 2012 Length: 57 mins Size: 52.62mb

2012 #22: Tokyo Honeymoon - Simon Evans and Lloyd Langford. Richard is showing off because Nicholas Parsons came to see his Talking Cock, but the audience seem unimpressed b...... Listen
Date: 23rd August 2012 Length: 60 mins Size: 55.43mb

2012 #21: Monkey Jesus - Nick Doody and Steve Gribbin. Rich is delighted that at last some funny news stories have appeared for him to joke about, like badly restored frescos and P...... Listen
Date: 22nd August 2012 Length: 57 mins Size: 52.18mb

2012 #20: Performers from the Moon - Felicity Ward and Hayley Ellis. Richard is almost better, though he's reeling from the demolition of the Time Gentleman Please pub and f...... Listen
Date: 21st August 2012 Length: 59 mins Size: 54.25mb

2012 #19: OMO Sexual - Michael Legge and Jarlath Regan. Richard has a bit more of a spring in his step than he's had for a few days and he's been given a t-shirt by one his potenti...... Listen
Date: 20th August 2012 Length: 60 mins Size: 56.06mb

2012 #18: Yorkshire Robin Hood – Al Murray and Celia Pacquola. Richard Herring, the sweaty-backed comedian happy to give piggy-backs to his fans as long as they ask first is on a d...... Listen
Date: 19th August 2012 Length: 57 mins Size: 52.07mb

2012 #17: Wanker's Chariot - Simon Donald and Helen Arney. Richard is still reeling a bit from a late night assault of friendliness and his usual crappy performance at Best Of T...... Listen
Date: 18th August 2012 Length: 60 mins Size: 55.38mb

2012 #16: Weasel Prophylactic - Nick Helm and Jay Foreman. Rich is husky and ill and worrying about the parallels between his life and the fate of Rodney Bewes and trying to live h...... Listen
Date: 17th August 2012 Length: 60 mins Size: 55.56mb

2012 #15: Olbas Tissues - Susan Calman and Tiffany Stevenson. Rich is a bit woozy and under the weather today, not sure of where he is and if it is Edinburgh where that is. It must...... Listen
Date: 16th August 2012 Length: 60 mins Size: 54.88mb

2012 #14: New is Old and North is South - Tony Law and Lou Sanders. Richard is resting on his laurels after winning gold at Mark Watson's Edinborolympics for throwing an ora...... Listen
Date: 15th August 2012 Length: 58 mins Size: 53.54mb

2012 #13: (horn noise) Sarah Millican and Pete Johansson. It's like Ross and Rachel all over again. After last year's sexually charged podcast, Sarah Millican returns to fuel the w...... Listen
Date: 14th August 2012 Length: 60 mins Size: 54.96mb

2012 #12: F*ck C*nt F*ck - Brendon Burns and Grainne Maguire. Having conquered the world with his 'Who remembers Pacers and Clive Doig?' routines, Rich tries to emulate Michael 'Ma...... Listen
Date: 12th August 2012 Length: 56 mins Size: 51.80mb

2012 #11: O is for Oranges - Janet Ellis and Ahir Shah. Even Rodney Bewes couldn't make this up, Richard is interviewing the woman responsible for his sexual awakening, Janet Ellis...... Listen
Date: 11th August 2012 Length: 60 mins Size: 55.54mb

2012 #10: Have We Got Bewes For You? - Craig Campbell and Helen Keen. Richard met the unLikely Lad Rodney Bewes yesterday and is still trying to work out the fact and fiction of th...... Listen
Date: 10th August 2012 Length: 59 mins Size: 54.04mb

2012 #9: Game For a Laugh - Matthew Kelly and Matthew Osborn. Richard is doing his best to keep up his UN appointed peacekeeping activities in the sunshine and his guest is the ver...... Listen
Date: 9th August 2012 Length: 55 mins Size: 50.68mb

2012 #8: Advice for Flashers - Nina Conti and Christian Reilly. Richard has just seen an 80 year old man running for a bus and it's his highlight performance of the Fringe so far a...... Listen
Date: 8th August 2012 Length: 58 mins Size: 53.31mb

2012 #7: Dude Love - Mick Foley and Gavin Webster. Wrestling legend Mick Foley is coming on to the tiny Stand wrestling arena and Richard is determined that only one of them will l...... Listen
Date: 7th August 2012 Length: 59 mins Size: 53.89mb

2012 #6: Jimmy Savile's Drawers - Lucy Porter and Markus Birdman. Rich has not been well and low flying jets going over his venue have come close to increasing his laundry bill. Bu...... Listen
Date: 6th August 2012 Length: 57 mins Size: 52.42mb

2012 #5: Burns Baby Burns - Simon Munnery and Mary Bourke. After three days in a row of different audio failures one begins to suspect that the podcast is cursed. Today the desk fi...... Listen
Date: 5th August 2012 Length: 60 mins Size: 54.82mb

2012 #4: Andrew O'Neill and Juliet Meyers. After 2 days of nearly lost podcasts can we make it 3 in a row? All seems fine with the desk, but who would believe that workmen in the s...... Listen
Date: 4th August 2012 Length: 60 mins Size: 55.05mb

2012 #3: Marek Larwood and Doug Segal - After yesterday's disaster (though if you missed it there was a non-Dalek bootleg version which went up later) Richard has left nothing to c...... Listen
Date: 4th August 2012 Length: 59 mins Size: 59mb

2012 #2:1 This Year's Lost Podcast, The bootleg. @red_scamp had so little faith in my technical abilities that they illegally bootlegged it. Lucky for you they did. This is what it...... Listen
Date: 3rd August 2012 Length: 53 mins Size: 49.56mb

2012 #2: This Year's Lost Podcast - Peacock and Gamble, Naughty Keith and Catie Wilkins - A double podcast disaster as the through the desk recording of the podcast goes haywire an...... Listen
Date: 2nd August 2012 Length: 60 mins Size: 52mb

2012 #1: The Return of the King - Sarah Kendall and Iszi Lawrence. Edinburgh has only been going a day and Richard Herring is already exhausted, tired enough to attempt to instigat...... Listen
Date: 29th August 2011 Length: 60 mins Size: 55.31mb

It's the end, my friends and someone is set to win half a bottle of olive oil, some Weetabix and the monarchy of Edinburgh. And we've saved the best till last as Count Buckules is ...... Listen
Date: 28th August 2011 Length: 62 mins Size: 56.83mb

Richard has now been talking to comedians for 24 hours - it'll take you a whole day to listen. And there's one more to come. Hopefully our technical gremlins are behind us and afte...... Listen
Date: 27th August 2011 Length: 61 mins Size: 56.27mb

After yesterday's debacle where the podcast got recorded on the wrong setting - Chris at The Stand 'accidentally' forgets to record the opening of today's show - which is coinciden...... Listen
Date: 26th August 2011 Length: 70 mins Size: 63.78mb

Due to a recording error we only had a very speeded up and corrupted recording. We have slowed it down, but you will probably only want to listen if you are a completist. This is w...... Listen
Date: 25th August 2011 Length: 60 mins Size: 54.70mb

A late night performing at the awesome Set List gig has left Richard both tired and exhilarated and fittingly he's talking to the producer of that show, Paul Provenza. He ha...... Listen
Date: 24th August 2011 Length: 59 mins Size: 53.95mb

Rich is a bit groggy after pretending to be Paul Weller at Karaoke Circus last night, but he's excited about having seen Pete Hornberger from 30 Rock in the street, even tho...... Listen
Date: 23rd August 2011 Length: 59 mins Size: 54.08mb

Dave Fulton and Steve 'Gibbon' Gribbin - In the last days Rich has seen the world's most urchiny children and the poshest baby ever and there's a young man with a bow tie in the fr...... Listen
Date: 22nd August 2011 Length: 61 mins Size: 56.21mb

Libya is on turmoil and David Cameron has to come home from another holiday, but Rich is in ebullient mood, as after today there are only 7 podcasts to go. The end is in sight, but...... Listen
Date: 21st August 2011 Length: 60 mins Size: 54.98mb

Rich is a bit hungover and still reeling from having walked through the streets of Edinburgh on a Saturday night, seeing fights and sick and men on their own being weirdly impresse...... Listen
Date: 20th August 2011 Length: 62 mins Size: 56.84mb

Rich is coping with the imminent closure of the Tempting Tattie and with having had his second Celebrity Mastermind nightmare of the month, but luckily Simon Munnery is on h...... Listen
Date: 19th August 2011 Length: 60 mins Size: 54.70mb

Josh Howie and Josh Widdicombe. Rogue and Josh(es) - Somewhere back in 1981 the 14 year-old Richard Herring has exploded after being mentioned on Channel 5 this morning by Janet El...... Listen
Date: 18th August 2011 Length: 60 mins Size: 54.84mb

What's that unusual atmosphere in the air today? Could it be genuine reverence. Rich is joined by one of his absolute comedy heroes, Barry Cryer and is trying to be on his best beh...... Listen
Date: 17th August 2011 Length: 63 mins Size: 57.73mb

Rich's newfound vanity for expensive footwear means he is in agony as his new boots have rubbed against his feet and he's bleeding into his socks. His guest Shappi Khorsandi is als...... Listen
Date: 16th August 2011 Length: 61 mins Size: 56.07mb

After a well-deserved day off (full, alas, of more work) Rich is back, but he's hungover and grumpy and railing at the innocent and the underage. There's news of Hitler's tits and ...... Listen
Date: 14th August 2011 Length: 59 mins Size: 54.10mb

Rich starts the podcast wearing his crown, to the confusion of most of the audience who are only here to see Edinburgh darling Sarah Millican, but he has a go at talking to them an...... Listen
Date: 13th August 2011 Length: 57 mins Size: 52.87mb

Rich has had a proper sleep for the first time in a while - will it make any difference? Probably not. He still confesses to a string of unsolved serious crimes - let's hope the po...... Listen
Date: 12th August 2011 Length: 60 mins Size: 55.45mb

It's episode 9 of RHEFP and Richard is tired and not in the mood, but then audibly surprised at how well his half-arsed opening monologue goes down and he's rejuvenated and ...... Listen
Date: 11th August 2011 Length: 61 mins Size: 56.37mb

Episode 8 - Deluge - It's been pissing down in Edinburgh for 24 hours, but everyone's in good spirits because there are two fabulous guests - Dave Gorman and Nick Doody. Rich has a...... Listen
Date: 10th August 2011 Length: 60 mins Size: 55.13mb

Richard wonders if he is in the middle of a 3 and a half week long piece of theatre rather than a podcast, but presses on, cos though he feels as if he's in a play, he is anyway. H...... Listen
Date: 9th August 2011 Length: 58 mins Size: 53.31mb

Maybe it's because I'm a Londoner, that I burn London down... Rich is in shock at the events in London and fearful that the 15 year old in the front row might mug him for his AI...... Listen
Date: 8th August 2011 Length: 63 mins Size: 57.74mb

Rich is considering getting run over by a bus to give him a show for next year's Fringe, after Tim Vine has rejected him as a gag writer and he's smarting from a weird, scary audie...... Listen
Date: 7th August 2011 Length: 57 mins Size: 53.08mb

Two shows a day is already taking its toll on Richard who like a bumbling Mr Bean is spilling water and losing prizes all over the shop this episode. Let's hope he's not ill. He's ...... Listen
Date: 6th August 2011 Length: 58 mins Size: 53.4mb

Rich has slept in and not had much time to prepare for the show, but luckily it doesn't seem to matter as there are lots of people in and they're drinking and they're up for fun - ...... Listen
Date: 5th August 2011 Length: 56 mins Size: 51.64mb

Richard is in a bad mood as he's just come from the gym where Ian Virgin has inexplicably charged him a pound for his towel and then he saw himself on the news so he is worried he ...... Listen
Date: 3rd August 2011 Length: 62 mins Size: 57.20mb

Here it is, almost live from The Stand comedy club in Edinburgh. The very first RHEFP (rhefp), a daily podcast keeping you up to date with all the Fringe gossip and hot and not sho...... Listen
Web Links