2013 #23: Caroline Rhea, Barry from Watford and Alex Edelman

Richard Herring's Edinburgh Fringe Podcast: 2013 #23: Caroline Rhea, Barry from Watford and Alex Edelman
RHEFP 2013 #23: Caroline Rhea, Barry from Watford and Alex Edelman - Going Down On Colin. Richard is waiting for the Perrier people to turn up with his Spirit of the Fringe award, but the only person winning anything today is Colin, who in his last appearance is festooned with gifts. Though some of them will be stolen by first guest Caroline Rhea (pronounced Ray, apparently) who is on hand to talk about animatronic cats, swearing Scottish children and Larry David's inability to tell a knock, knock joke. And does she walk off the podcast? Or is she just going to catch her cab? You decide. Fellow American Alex Edelman provides the stand-up, before true blue Brit, Barry from Watford, comes on to talk about his wife, pies, Steve Wright, Iain Lee and Nicholas Parsons. It's getting a little raggedy round the edges, but the end is in sight now. Will the next two be the last ever RHEFPs?
Published: 24th August 2013. Length: 62 minutes. Size: 52.86mb
Next RHEFP Episodes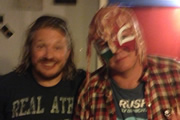 Date: 25th August 2013 Length: 60 mins Size: 55.33mb
RHEFP 2013 #24: Baconface, Simon Donald and Jarlath Regan - It's All Bacon. Richard reveals that tomorrow's podcast will almost certainly be the last RHEFP (rhefp) ever, so if you...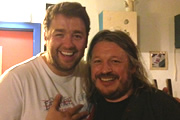 Date: 26th August 2013 Length: 58 mins Size: 53.80mb
RHEFP 2013 #25: Jason Manford and Wayne Mazadza - The Final Curtain? After 75 mostly audible hours of entertainment Richard is hanging up his badger sporran and relinquishing his monarchy...