2013 #24: Baconface, Simon Donald and Jarlath Regan

Richard Herring's Edinburgh Fringe Podcast: 2013 #24: Baconface, Simon Donald and Jarlath Regan
RHEFP 2013 #24: Baconface, Simon Donald and Jarlath Regan - It's All Bacon. Richard reveals that tomorrow's podcast will almost certainly be the last RHEFP (rhefp) ever, so if you have enjoyed these 75 hours of free goodness and resent giving him any money, then why not sponsor Rich on a potentially fatal attempt to run a half-marathon in 5 weeks time via Virgin Money. Simon Donald is the first guest and the discussion turns to what constitutes heterosexuality in Newcastle, rivalry with Gateshead, Big Feasts and Biggins and whether F*ckwits is a gameshow or a panel show. Stand-up comes from the fabulous Jarlath Regan. Then mysterious cult Canadian comedian Baconface is on hand to discuss bacon, the best way to adhere it to your face, what to do when it falls off and whether there are any practical post-face applications. Also his view on Bigfoot, the Foster's Comedy Awards and Stewart Lee, who appears to have stolen a lot of his act. There is a surprising chemistry between the pair, given they have just met.
Published: 25th August 2013. Length: 60 minutes. Size: 55.33mb
Next RHEFP Episodes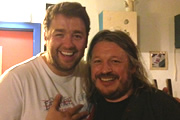 Date: 26th August 2013 Length: 58 mins Size: 53.80mb
RHEFP 2013 #25: Jason Manford and Wayne Mazadza - The Final Curtain? After 75 mostly audible hours of entertainment Richard is hanging up his badger sporran and relinquishing his monarchy...