2017 #3: Iain Stirling and Jason Manford

Richard Herring's Edinburgh Fringe Podcast: 2017 #3: Iain Stirling and Jason Manford
RHEFP 2017 #3: Iain Stirling and Jason Manford - The Main Thing Is Ricky Gervais Didn't Win. Rich is mortified about having accidentally crashed someone else's show and is thinking of becoming someone who pays to sit in a hairdressers. But the good news is that Colin is back to remind his guests of times that things have gone wrong for them. Rich's first guest personally knows many of the people that Rich not-so-secretly lusts over at CBeebies - it's Iain Stirling. They chat about working alongside puppets (in their own different ways), how Love Island has turned Iain into a huge Edinburgh smash, the tragedy behind the Amazing Bubble Man and whether somehow Richard might be Iain's dad. Then Richard is joined by the Radio Times Comedy champion and also champion poor time keeper, Jason Manford to chat about the old bamboo, setting up comedy clubs, bizarre coincidences and I think a misunderstanding about what a human centipede involves.
Come and see one of Richard's last few Fringe shows by booking here or be in the audience for a bonus Edinburgh Fringe podcast (guests TBA) by booking here
Published: 19th August 2017. Length: 64 minutes. Size: 116mb
Next RHEFP episode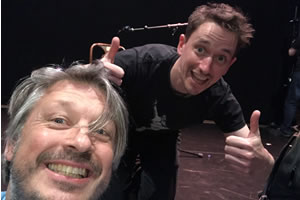 Date: 26th August 2017 Length: 65 mins Size: 119mb
RHEFP 2017 #4: John Robins and Ahir Shah - Suck Each Other Off A Bit. Richard reveals the hypocrisy of his parenting techniques and reminisces about the death of Lady...