2013 #22: Ed Byrne, Bridget Christie and Luke Wright

Richard Herring's Edinburgh Fringe Podcast: 2013 #22: Ed Byrne, Bridget Christie and Luke Wright
RHEFP 2013 #22: Ed Byrne, Bridget Christie and Luke Wright - Slithery Calves. Rich is worried about the bullying that Chelsea Manning might be getting in prison, but is relieved to see Colin is still alive (if he was ever alive). His first guest is Ed Byrne who knows the correct pronunciation of Sudoku and is very happy to talk about Pointless for a long time. It might not be entertaining for you, but Richard is very happy to be there. Also what is it like spending your life looking quite like Richard's best friend from school? Ed is unable to really comment on that (even though he does). And there's more discussion of Doctors and breaking America. Luke Wright is here with a poem. And then Bridget Christie turns up to chat about her blitz on lads' mags, her calamitous time as a farm hand, the Daily Mail and being the Great Fire of London. And amazingly Richard turns out to be the only interviewer who doesn't really mention the elephant in the room (which is a rare thing, even when the elephant's wife is not around).
Published: 23rd August 2012. Length: 62 minutes. Size: 57.35mb
Next RHEFP Episodes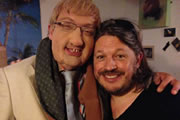 Date: 24th August 2013 Length: 62 mins Size: 52.86mb
RHEFP 2013 #23: Caroline Rhea, Barry from Watford and Alex Edelman - Going Down On Colin. Richard is waiting for the Perrier people to turn up with his Spirit of...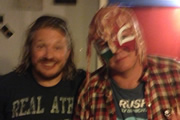 Date: 25th August 2013 Length: 60 mins Size: 55.33mb
RHEFP 2013 #24: Baconface, Simon Donald and Jarlath Regan - It's All Bacon. Richard reveals that tomorrow's podcast will almost certainly be the last RHEFP (rhefp) ever, so if you...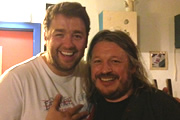 Date: 26th August 2013 Length: 58 mins Size: 53.80mb
RHEFP 2013 #25: Jason Manford and Wayne Mazadza - The Final Curtain? After 75 mostly audible hours of entertainment Richard is hanging up his badger sporran and relinquishing his monarchy...