Timewasters is a fresh and funny new ITV2 sitcom about a struggling jazz band who unexpectedly find themselves in the 1920s due to a time-travelling lift located in a rundown block of flats. The four characters soon discover that being black in the 1920s brings with it a few 'issues', but they're trapped in the era when their 'time machine' is destroyed.
Uptight Nick, vain Jason, laidback Lauren and dim Horace soon find that being a band in the roaring twenties with a repertoire of modern songs to wow audiences with has its advantages, however as "being young and black in the Jazz Age is a lot less genteel and a lot more shady than Downton Abbey had led them to believe" they are still looking for a way to get home.
The show has been created by Uncle star Daniel Lawrence Taylor, who also plays Nick. He explained to BCG how the project came about when we met up with the four leads to chat about the show: "So it started way back when. We met three years ago now, and I had just gotten an idea. I really liked 'gang shows' like The Inbetweeners, Drifters and Plebs and thought 'wouldn't it be nice to write a gang show about the life of four black leads'.
"I was learning how to play the trumpet at time. And, I just thought, 'Wouldn't it be great, if there was, like, a jazz band?' The idea of time travel came a lot later. But as soon as that came about, that was it...
"At the time I was working with the production company, Big Talk, on another show, Cockroaches. I showed the script to the producers and they liked it. They developed it up, and then we were given a read-through. They commissioned the series off the back of that and, yeah, now we are here..."
Kadiff Kirwan, who plays Jason in the show, says that Daniel's scripts caused a lot of excitement when they were first distributed. "My agent sent me the script and it was genuinely something where I was like, 'I would definitely watch this show!' so, when I took a meeting with Daniel and Josh, our producer, I basically walked in the room and was like 'You are going to give me this part!' It just feels like something really special. There is nothing like it, so I just really want to be a part of it."
Samson Kayo, who plays Horace, adds: "Yes, it is a very exciting, fresh script. You just want to be a part of something that hasn't been done before. To me, it's a dream to be an actor and want to tackle something fresh."
Adelayo Adedayo - Lauren in the sitcom - explains how the programme has another dimension too. "The musical aspect is really attractive as well. Shows with music in are, in general, usually quite fun even if you don't enjoy the show... but people will enjoy our show I hope!
"You always look forward to music, do you know what I mean? I think that is really cool, especially as we take songs from now and we put a jazz spin on them."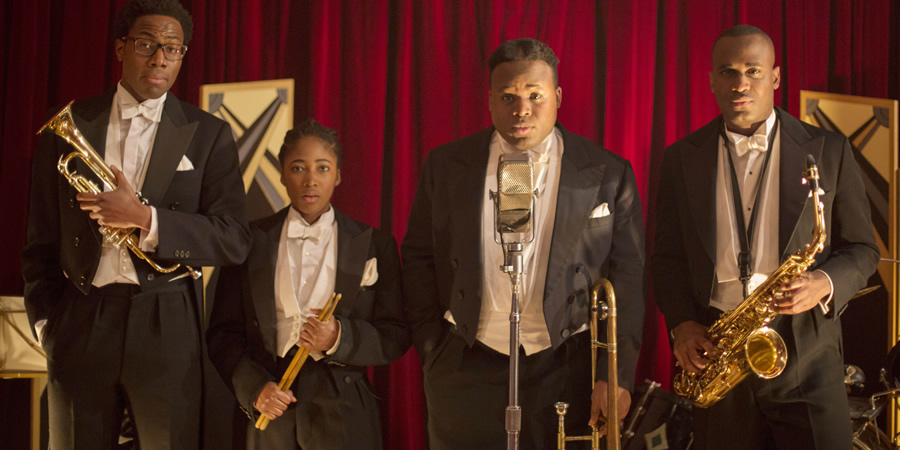 Whilst the band looks skilled on screen, the reality is that not all of the actors have had musical training. For example, in real life Daniel gave up on those trumpet lessons he mentioned. However, Kadiff has some experience. He told us: "I've sung ever since I was a kid, at church and stuff. I've done a bunch of musicals in the West End and on tour and stuff. I don't play the sax though, so I have had to learn the fingering for this. I still don't play the sax, but I just learned how to look like I can! Samson sings and also plays a few instruments though..."
Indeed he does. "Yeah, I played the drums in church as a kid... and then I let sin in. Ha ha. I picked up a harmonica last year..."
Samson's character of Horace doesn't actually play the drums in the show though. He explains: "I sing... which is fun, because Daniel didn't know that I could sing in the audition. When we pitched it, there wasn't actually any singing in the script. We had a little chat and Daniel put some in for the read-through ... I didn't know that was there though! I read the script on the day, so it was quite a shock to have to suddenly sing."
The job of the drummer on screen goes to Lauren, played by Adelayo. As she admits that drumming isn't her strong point though and she needed a fair bit of tutoring. "I didn't even have lessons to be able to play, I had lessons to make me look like I could play!
"The first time I was playing I had like a massive smile on my face, and I was just like 'Great'... and these guys were like 'drummers don't do that'. So yeah, they sent me for lessons literally just to be cool. I learnt to be cool!"
The cast are all in praise of the patience that their director, George Kane, showed - he had to deal with them dropping instruments and getting it all wrong in repeated takes. However, as a viewer, that doesn't come across on screen. "George did an amazing job of making it look like we can actually play. He doesn't linger on any one too long. The only thing that is real is the singing!"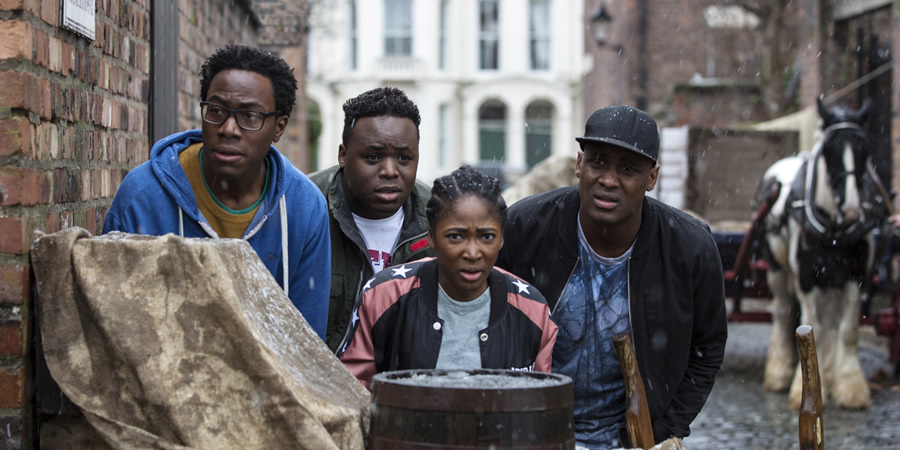 The show started life at the script stage with the title Black To The Future, however a certain movie studio didn't approve of that title, so it was changed to Blackwards, before everyone settled on the title Timewasters. The fact the early titles had 'Black' in the name wasn't an accident. Whilst the show is primarily a laugh-out-loud comedy, there is some interesting comments made about race and racism in amongst the humour. One example line in the show is: "Black people never get a chance to time travel... it's what white people do, like skiing and brunch."
Kadiff says: "Yeah, there are lots of little stingers like that, which adds a nod to the current climate that we're living in. It's always easier to stomach something when you're laughing at it. Daniel is really good with those lines."
The time-travel element certainly added budgetary considerations to the commission. The four stars are all in agreement that ITV and Big Talk have worked very hard to make the show look authentic.
Kadiff says: "They spent the money they needed to make the show look good. There was nothing that we couldn't ask for to make it look proper. The costumes are just amazing. We had the most brilliant costumes I've ever had. And the hair and make-up department were the same lot that did Downton Abbey."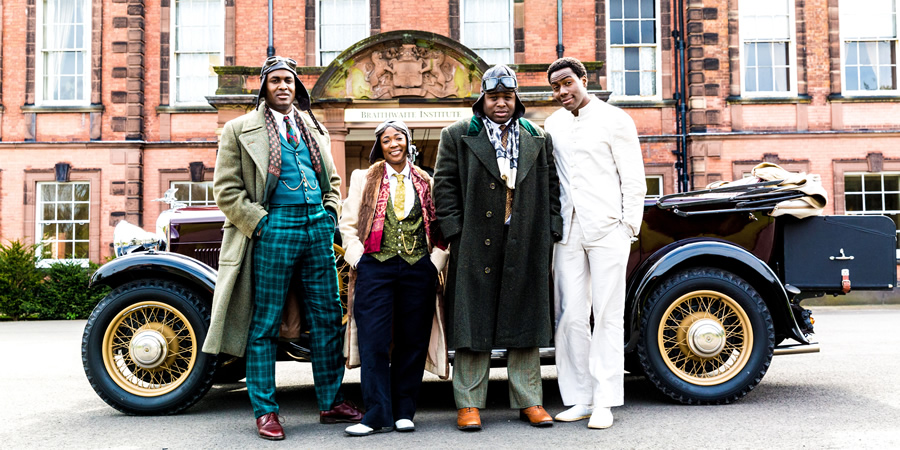 Daniel says it was when they did their first outdoor scene that it became apparent that lots of cheques were being written. "They invested in cars, and horse and carts. It was just an amazing thing to see. Not much British comedy kind of goes there.
"ITV and Big Talk really pulled out all the stops, because in that first episode there is no real repeat locations. When I presented this to them, they didn't even try and change it. It was like 'Yeah, okay. You can keep that.' I had to trim down certain additional characters and stuff like that, but they were quite keen on keeping the story that I wrote."
Production bosses are perhaps now having second thoughts about letting Samson drive the classic car they had on set one day though. "The day before they said: 'Samson, you've got to come in really early because you have to learn how to drive a car.' I was like, 'Ah, do I really have to come in to re-learn these common practices? For God's sake.' Anyway, I went in and this big guy with a leather jacket put me in the car... it was so tough! Like its gears, and you have to unlock the hand-break that was on the steering wheel, and you have to pull that and do this..."
Their driving practice ended up in a Sainburys carpark... where - reading between the lines - it sounds like Samson gave the car handler somewhat of a white knuckle ride. "At the end, he went, 'yeah, I think you can drive it'. It was funny, that day!"
Viewers should look out for some guest stars attracted to the series too. Kevin Eldon and Nigel Havers appear in the first two episodes, which will launch the series as a double-bill. Meanwhile The Young Ones star Nigel Planer is amongst those appearing later in the run. Daniel says: "It was so lovely to hear all the compliments they made about the show. When we had our screening, Nigel Planer knew his episode wasn't going to be screened, but he still came along because he loved the show. Stuff like that is really, really lovely."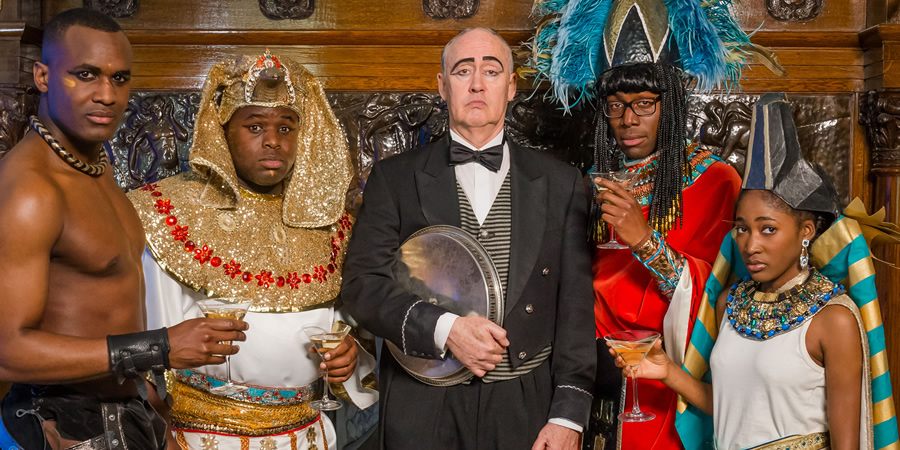 Timewasters is full of laughs, but there's some tension in the show too for viewers to enjoy. Will the band make it back to the present day, or will Curtis - a thug who is chasing them - kill them before they manage that? At the time of writing we don't know how this series ends, but it's likely a second series is going to be on the cards if early reactions and reviews are indicative of how the series will be received.
Daniel says he has an idea what to do next. "We would love to come back and do another. There's so much scope it. The characters are great and the crew that we had were brilliant, so it would just be a dream to get to do it again really."
Samson points out the possibilities of the time-travel format: "It's just endless, isn't it? You can go anywhere. You have free rein to go anywhere you want and just create a story, which is very clever."
It's at this point of our conversation that the cast start lobbying Daniel with ideas for potential locations. A common link between their suggestions were hot and glamourous destinations that could double-up as holidays for the cast, although from BCG's point of view we have our fingers crossed that Nick, Jason, Lauren and Horace end up trapped in 1920s England for a while longer, as there's many laughs to be had there.