Series 1, Episode 6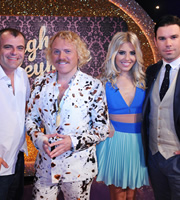 Notes
The homes in this episode belong to boxer Amir Khan, Hollywood actress Daryl Hannah, and pop star Sarah Harding.
Broadcast details
Date

Saturday 5th October 2013

Time

9:50pm

Channel

ITV

Length

60 minutes

Ratings

3.73 million viewers (19.50% audience share)
Repeats
Monday 7th October 2013 at 23.05
Saturday 3rd May 2014 at 23.45
Wednesday 14th May 2014 at 21.00 on ITV2
Wednesday 27th August 2014 at 21.00 on ITV2
Cast & crew
Writing team
Les Keen
Writer (Additional Material)
Video
Who lives here? Keith tries to find out.
Featuring: Keith Lemon.