Series 1, Episode 2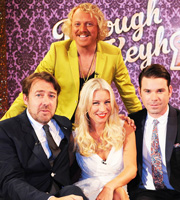 Broadcast details
Date

Saturday 7th September 2013

Time

9pm

Channel

ITV

Length

60 minutes

Ratings

4.21 million viewers (20.90% audience share)
Notes
The homes in this episode belong to baking expert Mary Berry, TV presenter Carol McGiffin, and McFly band member Tom Fletcher.
This episode was dedicated to the memory of Sir David Frost, who co-created and co-owned the format.
Repeats
Monday 9th September 2013 at 23.05
Saturday 5th April 2014 at 23.40
Wednesday 16th April 2014 at 21.00 on ITV2
Wednesday 30th July 2014 at 21.00 on ITV2
Wednesday 5th November 2014 at 22.40
Cast & crew
Writing team
Les Keen
Writer (Additional Material)
Videos
Can you work out who lives in a house like this? It's time to stop messing and start guessing...
Featuring: Keith Lemon.