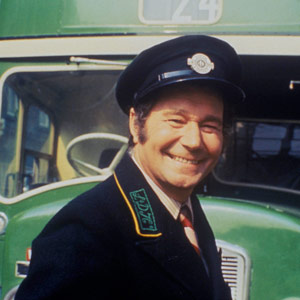 Author Tex Fisher shares his thoughts on legendary ITV sitcom On The Buses, as his in-depth book about the making of the series is published.
If you walk up to someone and mention On The Buses, you'll probably receive one of two responses. Either a warm smile and an enthusiastic impromptu Blakey impression, or a lecture on how the show is racist, sexist drivel - that is if they've actually heard of it. In fairness, there is truth in both responses - there is no doubting On The Buses is still a phenomenally successful sitcom with a big following, but equally it has (inevitably) dated in comparison to the likes of today's offerings of light entertainment, and could be construed in a negative light.
If you're not familiar with the show, it's about a bus driver and his conductor friend, engaged in their own little London and Home Counties Arthur Seaton-like revolt against the boss, Inspector Blake - you'd know him as Blakey. If you look at that from a 2011 attitude then you'd be lost instantly. For a start, bus conductors haven't been a familiar sight on Britain's roads for a fair few years, and by watching just a few seconds of On The Buses, you'll be able to spot a lot more which sticks this certain programme firmly back in time.
Secondly, when you take into account that life 'on the buses' frequently revolves around the pursuit of females in short skirts, and includes references to black bus drivers as 'Chalky', you begin to see further differences between the show and a mainstream modern audience. But still, On The Buses remains astoundingly popular - and so it should.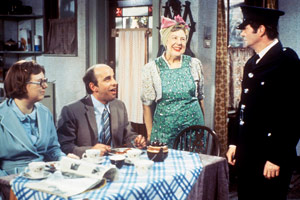 I'd argue that it has the upper hand on many current programmes in that it actually has some decent laughs within its 42-year-old format. As well as the main protagonists at the bus depot: Stan, Jack and Blakey; you had the domestic life of the Butler family at home, with Mum, Olive and Arthur. That blend of home and work life taking near equal billing in the show is something that hadn't really been done before: most sitcoms were one or the other. Of course, we have the likes of Steptoe & Son and Fawlty Towers, where the characters cross work and domestic, but both examples revolve around work and home life being one and the same. The rag and bone yard was Albert and Harold's home, and the Torquay hotel was the same to Basil and Sybil. On The Buses was a clever new mix and managed to squeeze two situations out of one. At the start of the day you could have Stan Butler getting into trouble at work, then he got home and had the woes of his sister's cooking, his brother-in-law's misery, and his mum's nagging for the housekeeping money.
The conflict this generated could promote some genuinely funny situations. Yes, the one-liners are slightly tired and there are many references to pre-decimal currency and the telly being in black and white, but the laughs are still present. This was an age which saw some of the finest British comedy emerging on our screens, from The Rag Trade to George & Mildred, and an era which hasn't quite been surpassed since. On The Buses manages the very simple formula where you have a good cast with good writers and humour just develops, and that was the key.
Reg Varney came from a variety background. Bob Grant and Stephen Lewis both honed their talents at Joan Littlewood's famous theatre workshop, Doris Hare had been treading the boards since she was a baby, Anna Karen learnt from comics at the Panama Club, and Michael Robbins came from the cloak of being a classically trained actor. Somehow, this melting pot produced something rather special and, despite being nearly half a century old, On The Buses can issue the viewer something much warmer and stronger than much comedy on our screens today. You can almost sense the experience of the cast by watching it. Many scenes seem adlibbed, but it still works because the cast know enough about their profession to pull it off.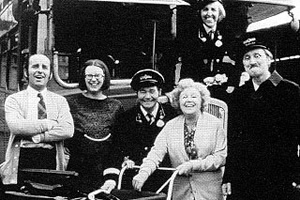 Compared to many present day sitcoms, On The Buses manages to connect with the audience with ease. It's one of those shows that manages to drag the viewers into the comedy as if it was a gritty drama. It absorbs you into believing that Luxton exists and that the Cemetery Gates are a genuine point of terminus on a bus route. It cuddles you with a warm hearty glow of nostalgia. Perhaps you need to enthuse over the sitcom a certain amount before this happens, a bit like fairies - they die if you're a non-believer - but speaking from a personal view, On The Buses has always managed to captivate me. It has done since I was seven years old and I watched the films repeated on ITV over one Christmas holiday. Twelve years later and I've written a book on it, how's that for dedication?
But I'm not alone in my enthusiasm. This is where On The Buses is set aside from other comedies of the era, it still has an astonishing following. There are many fan sites present on the web, the oldest is in its eleventh year, and the largest has over 1,500 members. There are yearly fan meetings, On The Buses is still repeated on television almost daily, each time with many thousands of viewers, and the third newly packaged complete DVD collection is about to be issued.
It's not just here in Britain either. On The Buses refuses to die on an international scale. US television produced its own version in the 1970s called Lotsa Luck. Canada too was particularly fond of the original show, and hosted a live stage tour, as did Australia. The series was also huge in Yugoslavia, very big in Holland, and having been able to receive it via their TV aerials in the 70s, there's a sizeable following in Ireland too. There aren't many 42-year-old things that still command the same following that they had when first introduced.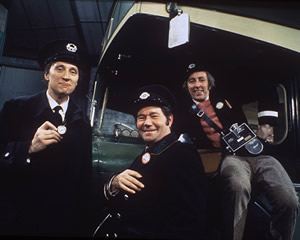 So what's the secret? In my opinion it comes down to family viewing. With the proviso that one should - as with any television programme of age - view it in the context of its production era and not impose too many modern sensibilities, prejudices and expectations upon it, On The Buses can be watched by anyone without fear of offence; there's no coarse language to hide from the kids or shock granny, for exmaple. It's truly a family show, one which every generation could gather round the television to watch.
Indeed, almost every sitcom of that era was so: the Man About The House cast received fan-mail from 5-year-olds, for example. With shows of that period one just didn't have the rife language of Mrs. Brown's Boys, you didn't have the crassness of The Inbetweeners going on 'pussy patrol', and none of that barrel-scraping Gavin & Stacey use of fat people as a comedic prop (unless you count the occasional jibe towards Olive).
Overall, On The Buses maintains what it was always meant to be: a comedy. And one of the very best ones at that.
Get that bus out.

| | |
| --- | --- |
| | Tex Fisher's The Making Of... On The Buses is out now from Deckchair Publishing, RRP £14.99. Jump on board the number 11 for a journey through the series. Notable bus stops along the way include how the show took America by storm, the secret life of the Bristol Lodekka, cast feuds, and the reason why Anna Karen can never look a pickled onion in the face again. |
| | On The Buses - The Complete Omnibus Edition is out on 19th September 2011 from Network DVD, RRP £69.99. Alongside the complete 7 series of On The Buses, it contains all 3 film spin-offs, and the sitcom sequel Don't Drink The Water, featuring Blakey and his sister living in Spain. |
Published: Tuesday 6th September 2011