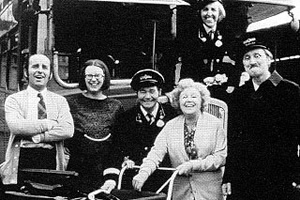 Way back in 1969 a TV comedy series began with an episode called The Early Shift. The show was On The Buses.
It was about the life of a bus driver and his conductor working on the No. 11 bus that ran to the Cemetery Gates. They were employed by Luxton and District Bus Depot and answerable to an Inspector who was the bain of their lives. The series was created and written mainly by Ronald Wolfe and Ronald Chesney.
The main cast was the happy go luck bus driver Stan (Reg Varney). Stan's best pal, the lecherous conductor Jack (Bob Grant) and Inspector Blakey (Stephen Lewis). Driver Stan lived at home with sister the delectable Olive (Anna Karen) and her layabout husband Arthur (Michael Robbins) plus of course dear old Mum (Cicely Courtniedge in series 1 and Doris Hare from series 2).
The series followed the exploits of Stan and Jack's lives. Their day to day living, how they dealt with authority and of course the all important job of chasing the opposite sex known to them as "birds". The cast won the ITV Personality of the Year award in 1970. Critics hated it and even the BBC had turned down the show when offered it as they thought it was not a winner. However ITV took it on and by 1971 On The Buses was a firm favourite across the nation and ended up being watched globally by audiences of 22 million.
The show has been exported to 38 countries around the world and is still being given re-runs on TV to this day. The series was to reflect the lives of the working classes of the time and this was part of the formula for its success. There were also 3 spin-off feature films from the series: On The Buses, which became the top box office movie of 1971 (famously beating James Bond movie Diamonds Are Forever into the number 1 movie slot; Mutiny On The Buses; and Holiday On The Buses - plus a spin-off series, Don't Drink The Water.