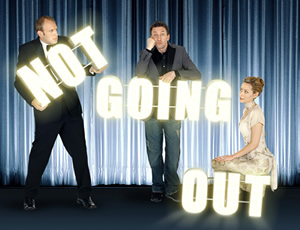 Not Going Out is a BBC1 sitcom created by BAFTA winning comic Lee Mack and Sony Award winning writer and broadcaster Andrew Collins.
The title 'Not Going Out' comes from the premise of the first series - namely two people spending most of their evenings at home and, at the same time, a reference to the fact they're not dating each other.
Series 1 was based around Lee (Lee Mack) and Kate (Megan Dodds). The pair found their easy-going, comfortable friendship steadily moving into uncharted waters - a situation complicated by the fact that Lee's best mate, Tim (fellow BAFTA winner and stand-up, Tim Vine), was Kate's ex-boyfriend.
Unburdened by ambition or drive, Lee drifts from one ill-advised job to another, living off the goodwill and generosity of his landlady, Kate, a clean living Californian. Kate is determined to push Lee into making something of his life - whilst also trying to coax him into eating some of her disgustingly-healthy homemade food. Meanwhile, uptight accountant Tim struggled to get over his break-up with Kate and also cope with her rapidly blossoming friendship with Lee.
Filmed in front of a live studio audience, Not Going Out is characterised by its fast paced delivery of jokes. Many have compared it to watching 'a stand-up show set in a living room'. A lot of the humour is based on wordplay and double entendres delivered in a deadpan manner; there is also elements of slapstick and visual gags.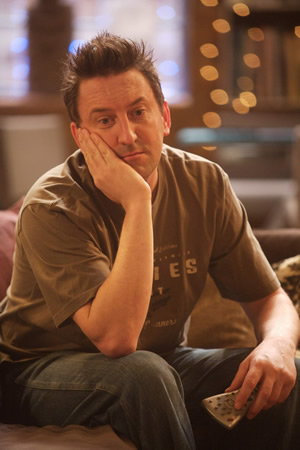 The audience reaction to the first series was, in the main, very favourable. The success of the series was recognised by the industry with an RTS award for the writers and the comedy being awarded a coveted Rose d'Or. This reaction, coupled with the growing audience figures towards the end of the series, made sure that BBC1 gave Not Going Out the re-commission it deserved. In fact, the BBC indicated how pleased they were with the first series by ordering an extended run for the second series from producers Avalon Television (seven episodes plus a Christmas special).
As Megan Dodds decided not to appear in the second series the creators made a major cast change. Sally Bretton (Green Wing, The Office) was brought in as the replacement - she took on the role of Tim's ambitious sister Lucy.
Co-writer Andrew Collins told us: "Megan Dodds brought a lot to the first series. We hadn't even written Kate as an American, Megan just proved the best at the auditions, and we went back and developed her character accordingly. We're delighted with the way she helped launch the series, and hope that audiences respond well to Sally in the new female role."
The writers introduced two other characters to the second series: Lucy's sophisticated boyfriend Guy (Simon Dutton) and Barbara, the flat's clumsy cleaner. The character of Barbara was written with Miranda Hart in mind following her scene-stealing performance as the acupuncturist in the first series of Not Going Out (the writers did not connect the two roles on screen - they've left it for the viewers who spotted the link to decide the character's back story for themselves).
The premise of the second series was that Kate had moved back to America. Unable to buy the flat due to his enduring inability to earn a steady income, Lee is forced to rent the spare room from the flat's new owner - who just so happens to be Tim's ambitious younger sister Lucy.
Unsurprisingly, the arrangement turns out to be far from perfect. Sibling rivalry turns into full-on anxiety as Tim quickly becomes suspicious of Lee's feelings for his kid sister, whilst Lucy grows more and more worried about her brother's inability to get an acceptable girlfriend - or a promotion. To top it all, happy-go-lucky Lee starts to seriously question the suitability (and age) of his new flatmate's boyfriend - the debonair entrepreneur Guy.
Because the eight episodes of the second season had to be written and filmed in a short space of time, Avalon Television brought in Nick Stacey, Paul Kerensa and Simon Evans to join the writing team. Mack, Collins and Stacey concentrated on writing the main body of the episodes whilst Kerensa and Evans were involved in storylining, rewriting and 'gagging up' the episodes. The BBC were keen to begin broadcasting the series in September 2007, and so the deadlines were very tight - in fact, episodes were still being filmed at Teddington Studios well into October - the series having begun its broadcast on September 7th.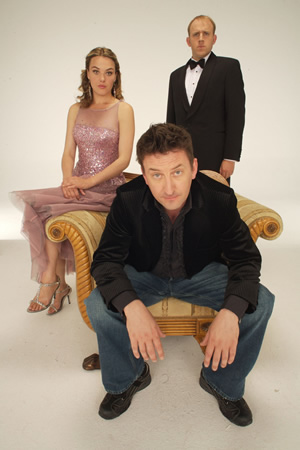 Speaking about the second series at the time, Andrew Collins said: "It'll be tough to get past the affection people always feel for a first series. But by bringing in new characters, while keeping to the basic set-up, we've mixed things up a bit, and it's given us a new dynamic to play with: Lee now has a job - he's an ice cream man - so it's less about him getting a job, more about him trying to improve his status, impress his new flatmate. Also, by bringing in Lucy, we suddenly understand Tim a bit better - the eldest son, he's actually been a disappointment to his parents, while his younger sister, who's been out in Zurich getting on in the business world, is their favourite. This colours his relationship with Lucy. He's jealous of her, and she thinks he's an underachiever, working as an accountant for the council."
"We're all pretty pleased with the way the scripts have turned out. When the cast did live read-throughs in front of an invited audience at a small theatre in August, the results were excellent. This gave us a real shot in the arm. The fact that the transmission date has been pulled forward just means that we'll be filming and editing while the finished episodes are going out. I'm glad I'm not in the edit suite!"
With the second series having gained audiences of 3-4 million the BBC announced in late November 2007 that they had given the go ahead for a new eight part third series. Lucy Lumsden, the BBC controller of comedy commissioning said the show was a "perfect home" for Mack's "gag-drenched style".
The third series was initally planned for autumn 2008, however the eight epiosdes ended up being broadcast in early 2009. Following the Series 2 finale, in which Lee had successfully sabotaged Lucy's relationship with Guy, in Series 3 we found Lee a man still unburdened by ambition or drive, and with no significant plan to address his feelings for Lucy. However with pregnancies, insurance scams and lesbian neighbours muddying the water, not to mention having to deal with his well-meaning but utterly useless cleaner Barbara and Tim's ditzy girlfriend (Katy Wix who, after guest appearances in Series 2, joined as a regular cast member for Series 3), Lee had enough to keep his mind off the bigger picture.
Just when it was looking like it was all going right for Not Going Out, the BBC announced in March 2009 during the third series run that they were axing the show because the audience figures didn't quite match the other sitcoms on BBC1.
There was instantly a big outcry from comedy fans, and the production team spent a lot of time trying to convince the BBC they'd made a mistake. Speaking in a recent interview, Lee Mack explained more about the situation. He said: "I was doing an episode of Would I Lie To You? and my manager Rob asked for a lift home. My alarm bells went off then, because he's never asked for a lift home! Me and Rob were in the back of the car and he said, 'I'll get straight to the point - the show's been cancelled'. The third series hadn't even finished being on telly! I was very shocked by it."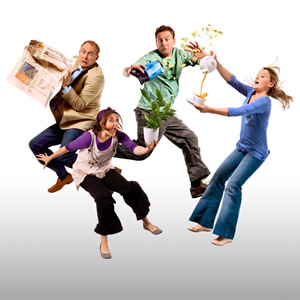 "The day after it got cancelled, the mission was on to get it recommissioned. There was never a period of mourning. So the battle started, and there was many a meeting after that. There was hope of a recommission, then there was a meeting and so on. The recommission was a long process and it took months and months."
Eventually the BBC saw the error of their ways, particularly as they'd failed in the meantime to launch a replacement live audience sitcom that matched Not Going Out's popularity, and so they did commission a fourth series in December 2009. Lee Mack had committed to a huge stand-up tour by this point, however with the help of other writers, he still managed to write six new episodes in time to be recorded in the winter of 2010.
Miranda Hart opted not to take part in this fourth series, as her own BBC2 sitcom Miranda had become a big hit in its own right, and thus she was busy writing and filming the second series of that. Thus Series 4 focuses around just four characters: Lee, Tim, Lucy and Daisy.
The decision to bring Not Going Out 'back from the dead' certainly seems to have been the right move. The first episode of Series 4 posted audience figures of 4.75 million, setting a new record for the show. In fact, the last run was so successful the BBC have now ordered not one, but two more series!
British Comedy Guide has received a number of enquiries about the theme tune of the show - it's written by director Alex Hardcastle and sung by, we believe, Stephen Triffitt who played Frank Sinatra in the West End show Rat Pack.
More About The Cast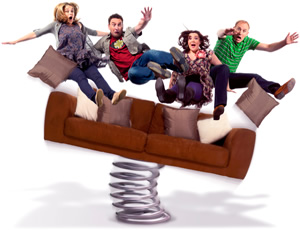 As well as being an award-winning live performer, audiences will know Lee Mack from The Sketch Show, which ran on ITV1 for two series. Mack went on to work alongside Kelsey Grammer in an American version of The Sketch Show, which aired in a primetime slot immediately before The Simpsons. He has also written and starred in the Sony Radio Award nominated BBC Radio 2 programme The Lee Mack Show; hosted the last series of They Think It's All Over; appeared on Jack Dee Live at the Apollo and become a popular team captain on Would I Lie To You?.
Tim Vine, who plays Lee's best mate, also co-starred with Mack in both series of The Sketch Show. He has also been a TV host, having devised and presented Fluke, a Rose d'Or Award nominated Channel 4 show. Vine also became the first man to appear on Channel Five when presenting quiz show Whittle. He has also starred in The Tim Vine Christmas Present, Saturday Live, The Stand Up Show and Live At The Apollo. Most impressively, Vine is a Guinness World Record Holder for 'Telling The Most Jokes in an Hour' - smashing the previous record with a total of 499 jokes!
Sally Bretton plays Lucy. She had a number of minor roles in films and TV before appearing as Donna in the hit BBC1 sitcom The Office. This appearance lead on to a number of regular roles in British sitcoms, including Absolute Power, Green Wing and Blessed.
Katy Wix, who plays Tim's girlfriend, has also starred in Al Murray's Multiple Personality Disorder on ITV1. Other credits include Headcases and Torchwood. Katy is also one half of female comedy duo Penny Spubb with fellow comedienne Anna Crilly. Their show Penny Spubb's Party debuted at the Edinburgh Fringe Festival and received nominations for The Writers Guild Award and The Best Double Act. At the time of writing, they also have a Radio 2 show in the works.
Sitcom regular Miranda Hart played Barbara, the clumsy flat cleaner, for two series. Her long list of TV comedy credits include Hyperdrive, Angelo's, Lead Balloon and Nighty Night. Her own sitcom, Miranda, is now a big hit on BBC Two.
American television, film and stage actress Megan Dodds played Lee's flatmate Kate in the first series. She is best known for her role as Christine Dale in series two and three of the hit spy drama Spooks (known as MI5 in America).
Simon Dutton, who played Guy in Series 2, is best known for playing the title role of Simon Templar (alias The Saint) in a series of Australian-produced television films in 1989. His other TV credits include The Professionals, By the Sword Divided, Robin of Sherwood, Bergerac, Lovejoy, Holby City and New Tricks.