Jack Whitehall's Bad Education sets strong ratings
Jack Whitehall's Bad Education sets strong ratings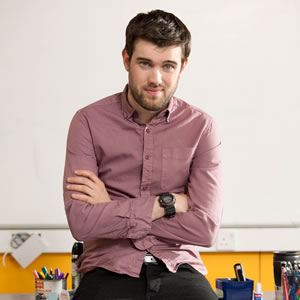 Bad Education, the new school-based sitcom written by and starring Jack Whitehall, made a strong start in last night's ratings.
The first episode of the show, broadcast on BBC Three at 10pm, set a new record as it became the highest-rated first episode of a comedy on the channel.
Previous highly-rated comedy debuts on BBC Three include the first episode of Him & Her in 2010, which was seen by 621,000 viewers; and sketch show Horne & Corden, which was watched by 817,000 in 2009.
830,000 tuned into the Bad Education premiere last night - 4.3% of the total audience watching TV at that time - with a further 310,000 watching the 12:30am repeat, making a total of more than 1m viewers on the show's first night. At the time of writing, the episode is also currently in the iPlayer 'most watched' chart.
However, it should be noted that such comparisons against previous premieres are unfair, as the digital switchover means that almost the entire population now have enforced access to BBC Three as part of their TV signal.
BBC Three will no doubt be very pleased with the figures the programme has achieved, as the channel has been suffering from sliding ratings for a sustained period.
Bad Education sees Whitehall playing history teacher Alfie Wickers, scarcely more mature than his 15-year old students, alongside a supporting cast including Green Wing's Michelle Gomez, Gavin & Stacey's Mat Horne and Him & Her's Sarah Solemani.
The programme picked up near unanimous positive preview reviews, with Metro calling it a "buzzing new sitcom", The Telegraph labelling the show as "infectious new comedy" and Time Out noting "Whitehall's on a hot streak, and no mistake". The Radio Times declared: "there hasn't been a sitcom this masterfully puerile since The Inbetweeners."
Whilst Bad Education has made a good start, it should be noted that the figures are only impressive for its status as a digital channel: The Rob Brydon Show, broadcasting on BBC Two at the same time, comfortably beat the sitcom in the ratings as 1.36m tuned in to see Brydon's interview with Michael McIntyre.
It also remains to be seen if Bad Education can pull viewers back for the second episode. Many sitcoms slump after the first instalment, although series such as Mrs. Brown's Boys, Miranda and The Inbetweeners show it is possible to build-up a bigger audience as a series progresses.
The first episode of Bad Education will be repeated seven times before next Tuesday's new episode, most prominently on Friday at 11:30pm and Sunday at 10:45pm.
Below is a clip from episode two, in which school bully Grayson catches Mr Wickers and pupil Joe leaving the female toilets:
Share this page