Angela Barnes stars in Bird
Angela Barnes stars in Bird sitcom pilot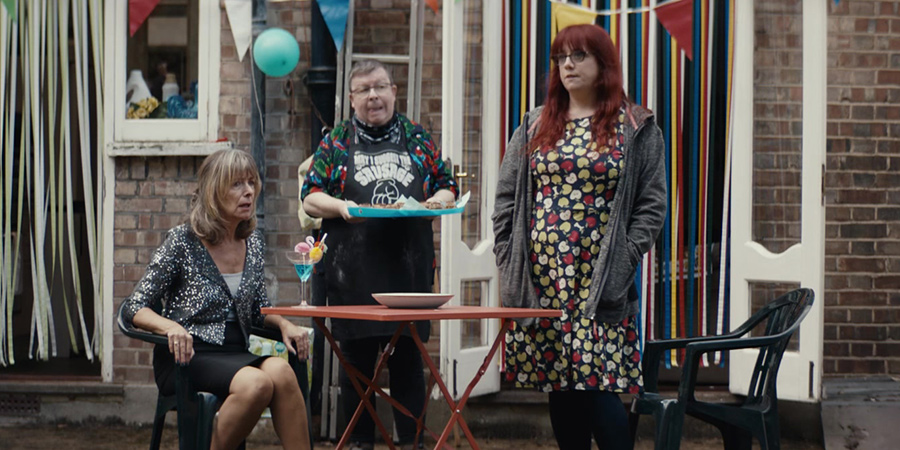 Stand-up comedian Angela Barnes is the star of Bird, a new sitcom pilot about a woman who becomes pen pals with a convicted murderer.
It's the first major acting role for the comedian, who appears in a short taster episode alongside Spaced star Julia Deakin and Benidorm's Perry Benson, who previously co-starred together in 1990s' David Croft sitcom Oh Doctor Beeching!.
Producers explain: "Bird has been written by the brilliant up-and-coming writing team of Ed Amsden and Tom Coles and follows the story of Michelle (Angela Barnes), an insecure woman fast approaching 40, who becomes pen pals with a convicted killer on death row.
"Pretty soon the letters are taking on a romantic edge and Michelle considers herself 'in a relationship' (albeit one that definitely ticks 'It's Complicated').
"Julia Deakin plays Michelle's anxious mother Jan, with Perry Benson portraying local golf lothario Murray.
"Blending jet-black gallows humour with an unconventional love story, Bird is a highly original comedy about love, loneliness and putting a positive spin on serial killers."
The five minute taster episode, which is not for public viewing but will be shown to commissioners, does not feature the murderer character; viewers only hear Michelle talking about him.
Barnes says: "When Ed and Tom approached me with this idea, I was instantly in. And not just because they've got dirt on me. Ed and Tom are two of the funniest people I've worked with and I've worked with Bobby Davro."
The taster was directed by Ella Jones (Enterprice, Pandemonium) for Black Dog Television, the production company that has previously worked on Dave sitcom Zapped and the panel show Insert Name Here.
Barnes says: "Filming in covid times was a little bit different, I still don't know what any of the crew look like from the eyes down, but Black Dog made sure we all felt super safe. It was just brilliant to be working and for those precious moments the cameras were rolling to forget about the pandemic for a bit."
Ed Amsden and Tom Coles write regularly for shows such as Dead Ringers and script edit Newsjack.
They say: "Angela isn't just at the top of the stand-up game, she's also a hugely talented sitcom actor. Which is why we hate her. Working with comedy legends like Julia and Perry was an absolute privilege.
"It's amazing how the design team made the massive Hollywood sound stage look so much like a 2-bed terrace in Chingford..."
Producer Paul Powell says: "We're so excited to get Bird out there and onto your screens. Working with Angela, Julia and Perry was a fantastic experience and the chemistry between them was magical. Ed and Tom have written a hilarious script that's full of great jokes, sympathetic characters and incredibly rude words."
The next step for Bird is to gain a series commission from a broadcaster.
---
For updates, click the button below.
Share this page