Catherine Tate considering live tour
Catherine Tate considering live tour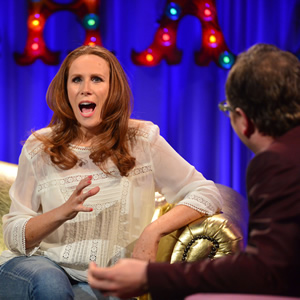 Catherine Tate is considering her first live tour.
Asked by Alan Carr on tonight's Chatty Man whether she would ever take her foul-mouthed OAP character Nan on tour, the comedian replied: "I'd like to actually. I am thinking of doing a live show of Nan and sort of bringing back some of the characters, probably in the spring I'd like to do that."
Asked by the host if that was an exclusive revelation, Tate replied: "It is because I've never really said it out loud. No it is. I'd like to do it. I've never been on tour. It must be great."
Tate said she wasn't sure what kind of venues she would play as she had only just thought of putting on a tour, but that she would probably avoid arena-sized venues. She commented: "Would a sketch show work in an arena? I don't know. Should I go somewhere smaller? More intimate?"
Catherine Tate was appearing on Chatty Man to promote the new British comedy film SuperBob, in which she has a key role.
She also discussed her TV sitcom, Catherine Tate's Nan. Following on from a 2014 pilot, she has now filmed two more episodes, for broadcast this winter.
Talking about the character Nan, she said: "She is going to be on telly, I think around Christmas time. I've done two specials. In one of them I had Warwick Davis. Oh my God it was so joyful. It was so joyful cause when he walked on the set and Nan saw him, the audience were thinking 'Oh what is going to go on here'... but he has the upper hand, and it was such a joy to work with him."
Tate's other forthcoming TV projects include Do Not Disturb, a one-off comedy drama for Gold in which she plays a wife attempting reconciliation talks with her husband after she has had an extra marital affair with a much younger man; and Billionaire Boy, the latest Christmas special from David Walliams. Tate will play Sapphire Diamond, a 40-something hand model who still likes to pretend she's 21. She is dating the central character of Len (played by John Thomson) for his money.
Alan Carr: Chatty Man, which will feature the full interview with Tate, is on Channel 4 at 10pm tonight (Friday 16th October).
Share this page