Channel 4 confirm final series of Fresh Meat
Channel 4 confirm final series of Fresh Meat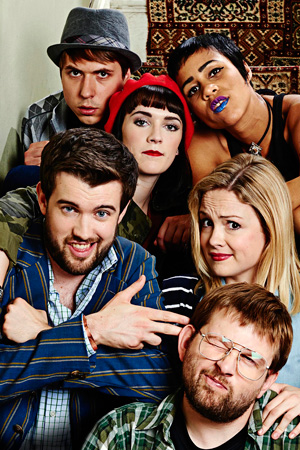 As previously reported by BCG, Sam Bain and Jesse Armstrong are working on a fourth series of university-based comedy drama Fresh Meat.
Channel 4 have now confirmed they have ordered eight more episodes, however the bad news for fans is this looks set to be the final series of the hit show.
BroadcastNow reports: "Fresh Meat's students are to graduate in a fourth and final series this autumn."
Channel 4's Piers Wenger has told the trade magazine that he has indeed ordered another eight episodes from Objective Productions and that the series "will wrap up the university lives of the six main protagonists".
Series 3 of Fresh Meat aired in November and December 2013. It focused on the second year of the Manchester-based students, with Jack Whitehall's character of JP now acting as their landlord.
The concluding episode saw Oregon going head to head against Vod in the Student Union elections, Josie and Kingsley trying to sort out their relationship, and Howard building up the courage to ask Candice out. Series 4 is expected to re-join the action at the start of the students' final year of study.
Since the end of Series 3, Jack Whitehall has starred in the third and final series of his BBC sitcom, Bad Education and can now be seen in Backchat and Cockroaches; Charlotte Ritchie has taken a lead role in BBC Three's Siblings; Joe Thomas starred in The Inbetweeners 2; Kimberley Nixon appeared in Sky Arts' The Dog Thrower; and Zawe Ashton has filmed forthcoming new comedy drama Cut. Meanwhile Greg McHugh has taken on various roles, including a part in the 2015 football film Kicking Off.
Writers Bain & Armstrong will act as showrunners on Series 4 of Fresh Meat, however many of the episodes will be written by other writers. The writing duo, having recently completed work on Babylon; are scripting a final series of Peep Show, which is due to be filmed later this year.
Jesse Armstrong's debut comic novel - Love, Sex and Other Foreign Policy Goals - is released in April. Set in 1994, the book is about a gang of 'good-hearted young people' who set off for Bosnia in a Ford Transit van with 'a sack of rice and a half-written play to try to stop the war'.
Fresh Meat Series 4 is expected on TV in late 2015.
Share this page