BBC Scotland orders Scot Squad police series
BBC Scotland orders Scot Squad police series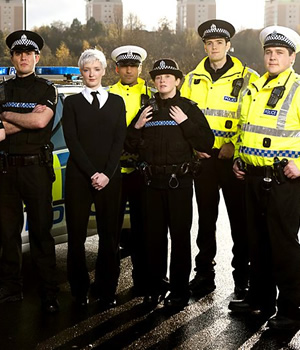 British Comedy Guide has learned that BBC Scotland has ordered more episodes of Scot Squad.
The spoof show, which purports to be a documentary following 'the first Unified Scottish Police Force', was piloted on BBC Two Scotland last year. Filmed in the style of 'blue light' reality shows like Traffic Cops, the comedy observes as Chief Constable Cameron Miekelson and him team of officers of varying levels of competence go about their work.
In the pilot, comedy veteran Jack Docherty (most recently seen as boss Mr Carabine in Badults) took on the role of the force's Chief Constable, with the ensemble cast also featuring Jordan Young, Sally Reid, Ashley Smith, Chris Forbes, Manjot Sumal, Grant O'Rourke, James Kirk, Karen Bartke, ML Stone and Darren Connell.
The trial episode received a bumpy start, as it was pulled from the schedule just before transmission due to the real-life death of a Glasgow police officer featuring in the evening's news bulletins. Scot Squad was eventually transmitted on BBC Two Scotland at the end of November.
Scot Squad, which is partly improvised, is created by Joe Hullait, whose previous role was as a development researcher at The Comedy Unit, the company which is producing the show. The Glasgow-based outfit is also working on a second series of Badults for BBC Three, and in the past has created sitcoms such as Rab C Nesbitt.
This is the first news of a BBC Scotland TV comedy commission since sitcom Gary: Tank Commander and sketch shows Burnistoun and Limmy's Show! completed their third series last year. The creators of Burnistoun have said they are not making another series, however there is currently no news on the future of Limmy's Show! or Gary: Tank Commander.
The Scot Squad scripts are currently being worked on and the new episodes are expected to be on BBC Scotland in 2014. The number of episodes in the series is not currently known to BCG, and it should be noted that BBC Scotland have yet to officially announce this commission.
Below are two clips from the pilot episode of Scot Squad. The first features Special Constable Ken Beattie (James Kirk) investigating a 'theft' and in the second Chief Constable Miekelson (Jack Docherty) explains his brief:
Share this page