E4 orders more Youngers
E4 orders more Youngers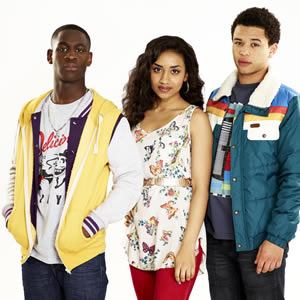 E4 has commissioned a second seires of Youngers, its South London based comedy drama about a group of teenagers hoping to break into the music industry.
Written by Levi David Addai, Youngers focuses on Jay (Calvin Demba) and Yemi (Ade Oyefeso), two ambitions teens with a passion for urban music. With Jay's MC skills and Yemi's producing talent they aim to take the industry by storm. The problem is - they're not yet 18. They're also joined on their journey towards adulthood by their good friend Davina (Shavani Seth).
The first series, broadcast in a pre-watershed 7:30pm slot on Wednesdays in March and April performed well for E4. It attracted an average audience of 463,000 viewers, almost a third up on the channel's usual audience for the timeslot. Crucially for the digital channel, many of these viewers were in the much sought-after youth demographic, with 52% of the audience watching under 25 years of age.
Series 2, which will be eight episodes long, will see the main cast return alongside some new characters. Comedy sidekicks Mandem on the Wall, the stars of the hit online show which charts the everyday lives of three youths and their wall, will also be involved in the new series. The trio will be filming additional content for the web again.
Talking about the plot of the new run, the production team say "For all of them, the stakes are even higher as the complications of growing up clash with their dreams of musical success."
Youngers is overseen by Big Talk Productions. It is a busy time for the company, as they have at least nine other comedy shows currently in various stages of production. The company has recommissions for shows including Rev and Friday Night Dinner, whilst its new titles include Our Men, Give Out Girls, Mr Slone, Raised By Wolves and Mummy's Boys.
Talking about the new series of Youngers, Channel 4's Sophie Gardiner says: "Youngers is such a fresh, vivid and original take on teen life, I'm thrilled that it connected with the E4 audience in the way it did - with over half of viewers aged between 10 and 24 years old. I'm delighted that Jay, Yemi and Davina will be back for a second series."
Executive Producer Luke Alkin adds: "The critical reaction to Youngers has been fantastic. Series 1 was loved by its young audience so we're absolutely delighted to be bringing it back again."
The new series will be filmed in South London from November, to be shown on E4 early in 2014. The episodes will also be sold internationally, with BBC Worldwide handling the distribution.
Below is a video looking back at the first series of the comedy drama:
Share this page