Caitlin Moran pilot Raised By Wolves - Details revealed
Caitlin Moran pilot Raised By Wolves - Details revealed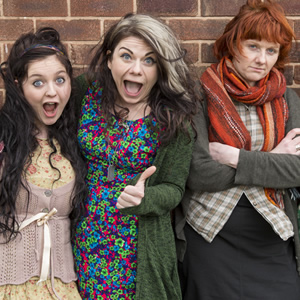 It was revealed earlier this month that Times columnist Caitlin Moran is co-writing, with her sister, a semi-autobiographical sitcom called Raised By Wolves.
Filming has completed on the pilot episode for Channel 4, and further details have now been revealed about the cast list and the plot of the Wolverhampton council estate-set comedy.
Talking on behalf of her and her sister, Moran says in an article describing the show: "Raised By Wolves is a modern day reimagining of us, when we were growing up - loads of kids, no money, home-schooled, and educating ourselves on mankind's great bounty of books, films, TV and pop music. Do you remember when people used to go on about the notion of a progressive working class? When admitting you were on benefits didn't immediately mean that you were morally incontinent scrounger scum? Yeah, neither could we. It's been ages. Telly never has any smart, amusing intellectuals living on a council estate. That's why we wrote the sitcom. Well, that and the chance to make a load of jokes about vaginas."
The comedy focuses on Della Garry, a single-mum who lives with her children Germaine, Aretha, Yoko, Mariah, Wyatt and baby Cher in a three bedroom council house.
Rebekah Staton, the star of Pulling and Spy, has been cast as Della, with comedy veteran Philip Jackson as 'Grampy', Della's dad and the grandfather to the children. Grampy is described by Moran as "a wiley old stoner in £12 market jeans, who often advents through the window to dispense his wisdom to his grandchildren."
Helen Monks, who plays Pip in The Archers will take on the character of 15 year-old Germaine - her first television role, whilst up-and-coming actress Alexa Davies will play 14 year-old Aretha. Moran says: "Germaine is a verbally incontinent, extravert optimist with an almost deluded self-belief, and a desperate desire to get laid. Aretha, on the other hand, is an icy, still, angry introvert who just wants to be left in peace to read Orwell and Jung, and imagine being in a 'walking and talking' scenario with Barack Obama."
The other members of the cast are acting newcomers, who were found through extensive open auditions in Wolverhampton. Molly Risker plays Yoko, Lucie Brown has taken on the role of Mariah and Caden Ellis Wall is Wyatt. Additionally, fellow newcomer Kaine Zajaz plays Lee Rind, the local yob who Germaine fancies.
The pilot has been produced by Big Talk Productions, the production company behind new ITV sitcom The Job Lot and established hits including Him & Her and Friday Night Dinner.
The half-hour episode was produced by Horrible Histories' Caroline Norris and directed by Ian Fitzgibbon, who has also recently worked on the sitcoms Threesome and Moone Boy.
Perhaps best known as a newspaper columnist, Caitlin Moran is also a best-selling author. Since its release in 2011, her book How To Be a Woman has sold hundreds of thousands of copies and won multiple prizes, including Galaxy Book of the Year. A movie version of the book is currently in development with Channel 4's cinematic arm, Film4.
The pilot episode of Raised By Wolves is expected to be shown on Channel 4 this autumn. If it is well received by audiences and the network's executives, a full series is likely to follow in 2014.
Caitlin Moran's description of Raised By Wolves
Share this page