Cardinal Burns in double Broadcast Awards win
Cardinal Burns in double Broadcast Awards win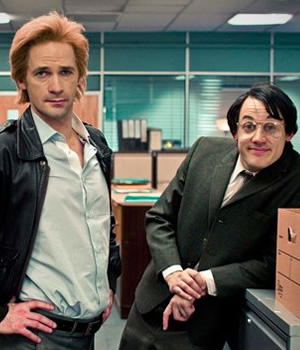 E4 sketch show Cardinal Burns has picked up two titles in the Broadcast Awards 2013.
Written by and starring Seb Cardinal and Dustin Demri-Burns, the cult hit series was named both Best Comedy of 2012, and Best Multichannel Programme, by television industry magazine Broadcast. The other programmes nominated for best comedy were Fresh Meat, Hunderby, Mrs Brown's Boys, Rev and Twenty Twelve.
Produced by Left Bank Pictures, the sketch show's first series ran for six weeks in May and June. A second series has been commissioned, and as previously reported, is likely to see the comedy move to the network's main station, Channel 4.
The series, which won a British Comedy Award in December, premiered to an audience of less than 200,000 viewers on May 8th, but picked up enough of a following and positive press commentary during its six-part run to please network bosses.
Elsewhere in the awards, BBC Four's Monty Python-based comedy drama Holy Flying Circus was named Best Original Programme. Red Production Company, the producers of BBC One's hit Winter comedy drama Last Tango In Halifax, were named Best Independent Production Company, and BBC Two took the title of Channel of the Year.
The winners were named at a ceremony at the Grosvenor Hotel in London last night, with Rob Brydon acting as host. Full list of winners
Here are Cardinal and Demri-Burns talking about the show:
And one of the sketches from Series 1:
Share this page