Sky Living orders more Mount Pleasant and two sitcoms
Sky Living orders more Mount Pleasant and two sitcoms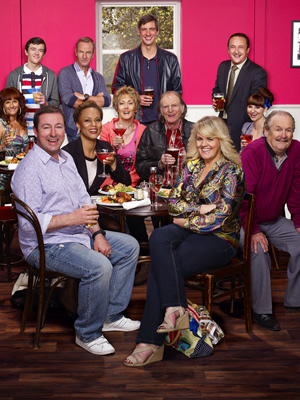 Sky Living has announced a number of comedy commissions. The channel has confirmed a third series for comedy drama Mount Pleasant (pictured), and two new sitcoms.
Starring Sally Lindsay and Daniel Ryan, Mount Pleasant is a comedy drama about the lives of the residents in an affluent suburb to the south of Manchester. The channel has announced it will return for eight new hour-long episodes later in the year.
Sky Living has also announced today Trying Again, a new eight-part sitcom series set in the Lake District, co-created by Chris Addison. It is believed The Thick Of It actor will play Matt, a man who is trying to put the affair that his partner had with her boss behind him. However, this is not an easy task as they live in a small town where everyone knows everyone's business.
The channel says: "Highlighting friendships and love and all the problems those things bring, Trying Again focusses on a real relationship between real people who make mistakes but live in the hope that love will conquer all."
The comedy will be produced by Avalon Television, the company behind many current TV projects including Greg Davies' new sitcom Man Down. The cast list for Trying Again is expected to be announced shortly, but it is already known that the show will be written by Addison alongside Thick Of It writers Simon Blackwell and Tony Roche. Jesse Armstrong, who co-created Peep Show and Fresh Meat and has worked on The Thick Of It alongside the other writers will act as the script editor.
The second of the new sitcoms announced by Sky Living is Doll & Em, a semi-improvised comedy looking at what happens when your best friend becomes a Hollywood star and you find yourself employed as their personal assistant.
Described as "an intimate, funny portrait of female friendship, set against the backdrop of LA" the show has been created by and will star Emily Mortimer (The Newsroom, Shutter Island) and her real-life best friend, Dolly Wells (Some Girls, Spy). Mortimer will play Em, a successful actress starring in a Hollywood movie who invites newly single Doll (Wells) to LA to become her personal assistant, as a way for Doll to find the financial and emotional independence she is in need of. But soon after arriving, the line between life and work becomes increasingly blurred, until each one is no longer sure of the other's motivation.
The channel says Doll & Em, which will be a six-part series, will also "feature a number of surprise high profile celebrity cameos."
Aside from the comedy, Sky Living have also announced a number of drama projects, including The Last Witch, an 'epic and eerie supernatural tale of revenge' which has been created by Last Tango In Halifax writer Sally Wainwright and will star Last Tango In Halifax star Anne Reid.
Antonia Hurford-Jones, the Director of Sky Living, comments: "Today marks an exciting time for Sky Living as we reveal an incredibly strong line-up of talent, who I am thrilled to be welcoming to the channel. Each of our new commissions has great storytelling, great characters and engaging relationships at their heart. These are key themes which will run throughout our programming. There's also big terrestrial talent arriving on the channel, both on and off screen. At Sky we're committed to bringing our customers the very best content and today's announcements do just that. We're going bigger, broader and better."
Sky Living's next comedy will be The Spa, which starts on the 7th February. Created by Benidorm's Derren Litten, the sitcom stars Rebecca Front as the boss of a health club 'where an encounter with the staff poses more dangers than an advanced yoga class'.
Share this page