Micky Flanagan signs exclusive Channel 4 deal
Micky Flanagan signs exclusive Channel 4 deal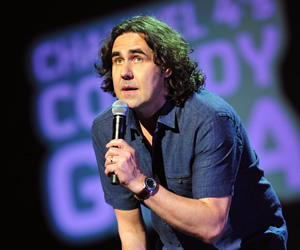 Micky Flanagan, the Cockney comic famed for his 'out out' routine, has signed an exclusive one-year deal with Channel 4, according to trade magazine Broadcast.
The comic's first (and to date only confirmed) series under the deal will be The Mad Bad Ad Show, which is currently in production and expected to broadcast from January.
Flanagan has previously appeared on series such as the BBC's Have I Got News For You, Ask Rhod Gilbert and Mock The Week, plus ITV's The Marriage Ref and Richard Bacon's Beer & Pizza Club.
He has also fronted his own Radio 4 series, Micky Flanagan: What Chance Change?, for which a second series is already in the works and believed to be unaffected by the Channel 4 deal.
The Mad Bad Ad Show will see Flanagan as team captain opposite Mark Watson and under host Mark Dolan. The 45-minute episodes will see each captain joined by a guest comic and advertising executive to devise new marketing ideas for a range of scenarios and products. It is described by Channel 4 as "going beyond" traditional panel question-and-answer set-ups, with challenges, banter, and "documentary insight".
Meanwhile, Micky Flanagan is one of the nominees in tonight's British Comedy Awards 2011. He will be fighting competition from Tom Rosenthal (Friday Night Dinner), Dan Skinner (Angelos Epithemiou) and Greg Davies (The Inbetweeners, Ask Rhod Gilbert) for the title of Best Comedy Breakthrough Artist 2011.
Micky Flanagan's 'Out Out Tour Live' is available to buy now
Share this page