After a few years away, critically acclaimed hit sketch show podcast The John Dredge Nothing To Do With Anything Show is back for a fifth series. We talk to John Dredge and producer Richard Cray to find out more...
Your podcast is quite unique. How would you describe it to someone who hasn't heard it before?
John: A plethora of silly sketches, daft characters and lunatic ideas knitted together into a carefully layered audio thing.
Richard: A spoof magazine show featuring interviews with people no other host would be remotely prepared to interview, with timely interruptions from broadcasting's golden age beamed in from some strange parallel universe.
Some people have described it as sounding like something Kenny Everett might have been involved in. What are your comedy influences?
John: Cuddly Ken is bang on - ten points to you. For bonus points and a chance to play for the car, you could also have had The Burkiss Way, The Goons, Q9, Radio Active, Monty Python, the Bonzos, Tiswas, Look-in Magazine, Tex Avery or Eric Frulls & His Musical Ankles.
Richard: I concur with my comedy colleague on all of those - apart from Eric Frulls, who stiffed me over some margaritas last time we met.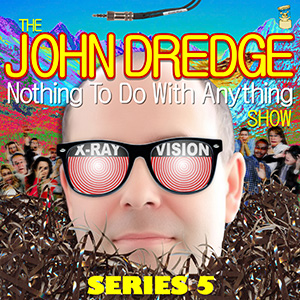 Hearing the Ying Tong Song on a snowy Sunday in the mid-70s on Ed Stewart's Junior Choice permanently ruined any hopes my parents ever had of raising a reasonably well-adjusted young man.
Stewpot used to play the Spam Song quite a bit too and I remember seeing the Fish-Slapping Dance at a young and impressionable age, although most Python passed me by until my mid-teens; that gap was filled by The Goodies, Not The Nine O'Clock News and The Young Ones.
Day Zero for me was the first episode of Andrew Marshall & David Renwick's End Of Part One in 1979 - I can honestly say I haven't been the same since. In fact, the matter is now in the hands of my legal representative.
On The Hour was a gamechanger as well, and Big Train still has an incredible strike rate of laughs. I can watch Shelley, Father Ted and anything with Leonard Rossiter in it until the cows come home too - they're all timeless. Look Around You, Toast Of London, Family Guy and Friday Night Dinner are all fabulous benchmarks from more recent times. Let's be honest: we've been spoilt rotten.
There are now thousands of podcasts, but still so few are sketch shows. Why do you think that is?
John: Because it requires so much work! A tremendous amount of writing, casting, recording, editing, skydiving and, of course, golf.
Richard: Yeah, they're more time-consuming to put together than just having two or three people sitting around a table yakking. The logistics of getting enough people together for such a project, whether it's done like ours in a piecemeal fashion in a living room or in one or two hits in someone's dad's studio, can also be off-putting.
John: Neither of us makes a living from comedy, so we just do whatever we like. Right now, it's sketch and parody. But that's not to say that's all we want to do. I've got several projects on the boil with others, and there are two other things Richard and I are aiming to do.
Richard: I guess it also doesn't help that some of the current movers and shakers in TV and radio are on record as saying sketch shows have had their day or are too expensive to make. Any comedy writer or performer on their way up who hears that kind of talk is clearly going to consider other comedic avenues before sketch, purely for the sake of their careers. But, you know, just one short sketch can lead to the development of a character, which in turn can lead to an animated series or a sitcom or even a film.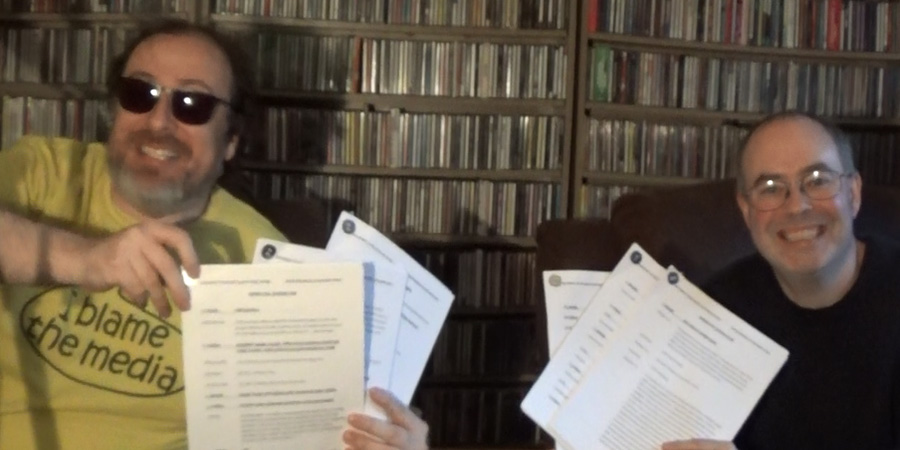 How long did it take you to write and record this latest series?
John: It seemed like a long time but in fact it took ages.
Richard: The series took four months to write, followed by another four months to record and edit. I think we recorded the whole thing in about a dozen sessions. By comparison, Series 2 took ten months from first meeting to final edit, so I guess that means we're finally getting better at it.
John: Writing and recording six half-hour shows may not seem like much, but when the show is as packed as ours it's a whole different kettle of aardvarks.
Tell us more about the others involved in the show. How did you choose who to collaborate with?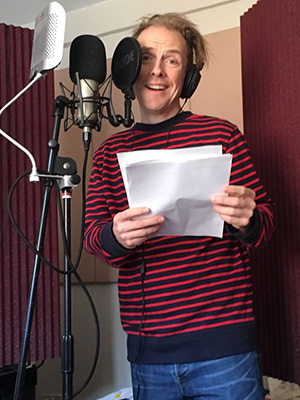 John: We like to use people who fit in with our peculiar sense of humour. Greg Haiste (pictured) has been with us since the start. I met him on a sketch comedy course back in the early 1900s and instantly found that writing for his range of characterisations came naturally to me. Over the years, we've turned him into a parody of an old actor, which, of course, he is.
Richard: Greg was also a regular performer at Sowerby and Luff's Sketch Club in Crouch End back in 2005/06, which is where John and I first met. James Shakeshaft and Miles Eady are also Sketch Club alumni, as was Anna Emerson. Katy Slater is an actress I worked with in a previous career - strangely enough for the same company as Mark Davison, who was in Series 3, although they've never met.
John: I brought in Paul Creasy from my sketch trio The Three People and had previously worked with Max Dowler on his Alan Rickman Karaoke video.
Richard: We originally asked Max whether he could do Telly Savalas for a parody of the infamous Birmingham quota quickie in Series 4; he couldn't, so we got in Anil Desai between overseas engagements, which was a stroke of luck. Mark then had to pull out of that series to take up some proper acting work, so we gave Max all his roles plus a few celebrity jingles into the bargain.
John: It had nothing to do with the fact they share initials and we couldn't be bothered to retype the scripts. Honest.
Richard: Often, when we're writing stuff that we don't intend to voice ourselves, we'll have one of our regulars in mind or someone we haven't used before that one of us knows would be ideal. It may then end up that we write a few extra things for that person once they've agreed to be involved. That's what we did when we brought in Will Franken for a series. I'd known Will since he was in New York and I felt we needed a genuine American voice to make a spoof film trailer really effective, someone who could effortlessly give it a bit of Don LaFontaine, so I earmarked a few other bits that also suited his incredible vocal talents and we made an afternoon of it.
What are your personal favourite moments from the new run?
John: I would say Twig Harper and the Likely Lads spoof - and I'm not even in the latter. Twig Harper is a ludicrously pompous character with a semi-estranged sidekick that he despises, whose three or four appearances over the years have evolved from a throwaway phone-in sketch in Series 1 to an eight-minute-plus epic of monstrous proportions in Series 5. I just wanted to write something utterly ridiculous, really - and that goal has been achieved. It's probably the silliest thing we've ever done, and Greg brings total commitment to it, which makes it even sillier.
Richard: I'm always amazed by John's ability to come up with utterly useless products for spoof advertisements. At the start of every series he says to me, "Let's not do so many ads this time around", yet by the end of the series we usually have even more commercials than there were in the previous series. I'm very proud of the Inflatable Car Park ad. And Trip Advisor Peter Pilbeam's always a joy, although I wouldn't invite him away with me on a weekend break.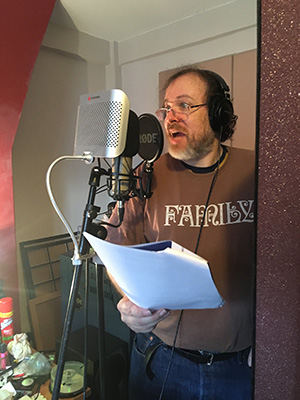 What was the hardest bit to record in the new series? One of the impressions?
John: Impressions are often tricky, but I think the most difficult thing we did this series was a sketch in which every sound added to the final mix was louder than everything already in the mix. It's difficult to go into more detail without ruining the premise of the gag - but, as you can imagine, it took a bit of work to balance all the sounds with the dialogue. Getting a decent vocal performance was also challenging... as is the end result.
Richard: If a particular sketch requires an impression in order to work, we'll usually make sure that one of us can make a decent fist of it before we waste a lot of time writing something we know won't sound good. The toughest sketch for me was probably Twig Harper, but more from a point of assembling about 30 fragments from several sessions into a final, longer-than-usual edit and trying to make it sound like it all happened in real-time. The George Martin segment in the music magazine ad had to be redone twice - first because I was unhappy with my initial attempt, and then because I realised the segment as part of the final edit made the whole piece too long.
John: The Strange Game ad has been knocking around since Series 3 and we've only just managed to nail a decent take of that one too, so I guess you could say that's had a long gestation.
Richard: That's had a long gestation.
John: Thank you for saying that.
Do you think you listeners could convince you to make a sixth series, or are you burnt out now?
Richard: How dare you! I know I have the body of a Space Hopper, but I have the heart and stomach of Jason King!
John: I am burnt out. But then I always have been.
Richard: A lot depends upon whether we change our way of writing. John tends to write the first draft, so the onus is on him to start the ball rolling. Sometimes he'll have taken an idea of mine or something we've discussed and developed it, or chuck in something I've written almost verbatim, but the majority of each first draft is usually his. I only look to add my own stuff from the second draft onwards, and I'd only suggest the addition of a whole sketch if there's an identifiable gap or I've cut something out in its entirety, not necessarily because it isn't funny but because it's covering old ground, or whatever.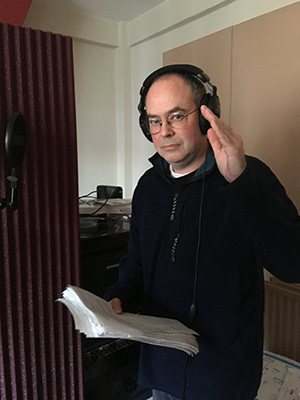 John: It does take a lot of mental effort to come up with the amount of ideas in the show and to take the established characters to more ridiculous places than before, and I admit I have to be in an inspired frame of mind to write it.
Richard: If the BBC waved a large bunch of readies under your nose, I'm sure you'd be inspired enough!
John: Richard was prepared to bring in additional writers, which we've both considered before, but we do have our own strange take on things and ultimately I wonder whether it might be difficult for other writers to hit the ground running.
Richard: We don't disagree on much, but I think our style is now established enough to maybe invite material from others and take a bit of the pressure off ourselves. Sometimes other people can see a future for a character when you or I might think they're past their best. Certainly if I wrote some first drafts or we called up a few favours, it might make the writing of subsequent series less of a burden on John.
John: So might a large bunch of readies from a mainstream broadcaster to develop the show for a wider audience. But I digress. And in that order.
Richard: We've no firm plans for a sixth series yet but there are more than enough sketches and ideas to begin the writing process. We also had at least half a dozen ideas during the recording of this series that made us both laugh enough to scramble for our respective notepads, which is always a positive sign.
If you had to describe TJDNTDWAS in just three words, what words would you choose?
John: Very, very silly.
Richard: It's not Newsjack.