British comedies nominated for international Rose d'Or Awards
British comedies nominated for international Rose d'Or Awards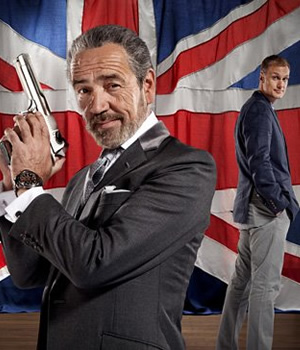 British programmes dominate the comedy related categories for the 2013 Rose d'Or Awards, the international TV awards which aim to "define the gold standard of excellence and achievement in entertainment programming."
The sitcom category is made up exclusively of British programmes this year. Spy (pictured), the Sky1 sitcom starring Darren Boyd and Robert Lindsay, is nominated in the category alongside two BBC comedies - political BBC Two sitcom The Thick Of It, and Olympic Games based mockumentary Twenty Twelve.
Notably, all three of these shows have finished and will not be returning for another series. Despite strong international sales and an American re-make in the works, Sky has already confirmed that it has cancelled family-friendly Spy after two series.
Meanwhile, Armando Iannucci is on record as saying he doesn't want to make another series of The Thick Of It, and with the Olympics now over, Twenty Twelve has come to a natural end.
British comedy also makes up the majority of the nominations in the wider 'Comedy' category. Channel 4 sketch show Cardinal Burns has been selected by judges, as has the politically motivated BBC Three prank show The Revolution Will Be Televised. Both have been recommissioned by their channels and will return later this year for second series. The third programme in the category is What If?, a Belgian comedy format.
In the Entertainment category Let's Dance for Sport Relief, the BBC format involving various comedians, has been nominated alongside The Dino Show from the Netherlands and Gruen Sweat from Australia.
Eurovision director Annika Nyberg Frankenhaeuser says: "The quality and number of entries received in 2013 is exceptional and the judges have chosen top-quality nominees. The Rose d'Or are the awards that programme-makers covet the most because they symbolise the pinnacle of success for entertainment programming."
The winners will be announced at a ceremony in Brussels on Thursday 30th May.
British comedies have a strong legacy of success in the awards, with recent years proving no different. In 2012, Horrible Histories, Friday Night Dinner and Charlie Brooker's Black Mirror all won in their respective categories.
Share this page