John Robins
John Robins: Speakeasy
Stand-up
8pm (1 hour)
5-16 & 18-30 Aug 2015
10 - 12
This is a 2015 show that has now finished.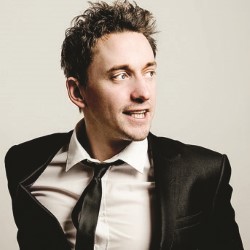 Show details
Stand-up show starring John Robins performed on the following days in August 2015...
Mon
Tue
Wed
Thu
Fri
Sat
Sun
03
4
5
6
7
8
9
10
11
12
13
14
15
16
17
18
19
20
21
22
23
24
25
26
27
28
29
30
31
1
2
Venue details
All new show from comedian, firebrand, sometime DJ and all-time vibe magnet. A festival favourite returns after critically acclaimed, sell-out shows in 2013 and 2014. One half of The Elis James and John Robins Show on XFM. Heard on The News Quiz (Radio 4) Seen on Russell Howard's Stand-Up Central (Comedy Central), Alan Davies: As Yet Untitled (Dave). 'Humane, interesting and consistently funny' **** (Independent). 'Hugely entertaining' ***** (Mirror). 'Comedy in its rawest form: one man, one microphone, one fantastically funny show' ***** (ThreeWeeks). 'Perfectly crafted, intelligently put, cynically hilarious...a sublimely entertaining show' (BroadwayBaby.com). Chortle Award winner.
Share this show
Reviews
Press coverage
Full press release
John Robins, who won Best Compere at this year's Chortle Comedy Awards will be performing his 7th hour at this years Edinburgh Festival. John began writing Speakeasy, the morning he received a text from his girlfriend to say that she'd forgotten to sign out of Google on his computer, and as a result could see "EVERYTHING YOU'VE SEARCHED FOR" (direct quote). It's a show that explores how we present ourselves to the world and how we communicate with others, be it two drunk strangers on a flight to Norway, the people we love most dearly, or untold millions online.
His previous hour-long Edinburgh shows were Skinny Love (2009), Nomadic Revery (2010), Lift Your Skinny Fists Like Antennas To Heaven (2011), Incredible Scenes! (2012), Where is My Mind? (2013) and last year's This Tornado Loves You. After acclaimed appearances in the improvised stand up show Set List at Edinburgh & London, John now holds a regular slot on the show.
He has hosted a weekly show on XFM radio with his pal Elis James for the past 14 months, in the same slot that launched the careers of Ricky Gervais, Jimmy Carr and Adam & Joe! The podcast has a devoted following and is constantly in the Top Ten comedy podcasts in the UK. Last year he performed at New Zealand's International Comedy Festival.
In the next few months you can see John perform on Russell Howard's Stand Up Show for Comedy Central, Alan Davies As Yet Untitled for Dave and on Radio 4's News Quiz. He has previously performed stand-up on Live at The Comedy Store (Comedy Central) and on Russell Howard's Good News (BBC3) and was recently on Radio 4's Dylemma.
---
Tweets by nomadicrevery