See Also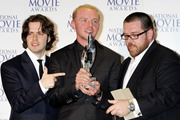 Comedy horror film starring Simon Pegg as a former children's author spooked by the image of his hedgehog creation.
Comedy film about East End bank robbers who get caught up in a zombie infestation.
Rom-zom-com about a man who begins to move on from the sudden, tragic death of his girlfriend, only to find her undead and returning to haunt him and his new partner.
Musical comedy horror about a girl who must fight her way through a zombie invasion.