Three Flavours Cornetto Trilogy
Three Flavours Cornetto Trilogy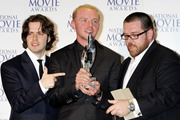 The Three Flavours Cornetto trilogy (also known as 'the Blood and Ice Cream trilogy') is a series of three films starring Simon Pegg and Nick Frost, directed by Edgar Wright and produced by Nira Park. Other actors have also featured in supporting roles in two or three of the films: these include Martin Freeman.
Each of the films features a scene in which a character buys an ice cream. Shaun Of The Dead has a strawberry flavoured Cornetto (the red signifying blood), Hot Fuzz has a blue Cornetto (the colour of police), and The World's End features a green mint choc-chip flavour Cornetto (signifying a sci-fi element).
---
Zombie-filled romantic comedy. When zombies start to roam London, Shaun must kickstart himself into action to save those closest to him.
Hit comedy film from Simon Pegg, Nick Frost and Edgar Wright. PC Nicholas Angel transfers from London's Met Police to the sleepy village of Sandford.
Sci-fi comedy film about five friends attempting to recreate a legendary pub crawl, but the future looks rather bleak for both them and the world.