We have Simon Cowell and The X Factor partly to thank for the new Dad's Army film. "I was in front of the telly on a Saturday evening three or four years ago, not wanting to watch The X Factor," recalls producer Damian Jones of his eureka moment, "so I channel-surfed and there on BBC Two was Dad's Army." Enjoying the re-run of the revered Jimmy Perry and David Croft comedy, The History Boys producer tuned in again the following weekend. "Here it was, still on at prime time and still funny. I thought, 'This is mad for a 30 or 40 year-old television show!'" Intrigued, the filmmaker tracked down the viewing figures. He discovered that nearly three million Britons were still tuning in every week to watch the well-worn, beloved wartime comedy, and even more for Christmas repeats. Viewers were still lapping up the misadventures of Captain Mainwaring and his men.
Interest piqued, Jones approached the Dad's Army estate with the idea for a movie. "They were open to it," he remembers of their first meeting, "so I got (screenwriter) Hamish McColl on board and we shared our thoughts with them. That's how it started to come together." Co-creator David Croft's widow, Ann, her family and Jimmy Perry were each pitched the idea for a big movie adaptation. Each, in turn, gave their approval. "That was the key to the approval process," explains Jones. "Once they'd approved it, the Dad's Army Appreciation Society and the Dad's Army Museum came into the process too and supported us. They reached out to the fans and reassured them we were handling it with the right levels of diligence."
Jones's first choice of screenwriter had also required some convincing. "Damian called me up and said, 'A Dad's Army movie - what do you think?'," laughs McColl of Jones' first pitch, "and I said, 'I think you're crazy!'. It was a national treasure, one of the holy grails, but I knew that if you had a good idea, it's the way into the material that you've got to find. I'd written a very successful play about Morecambe & Wise, The Play What I Wrote, ten years previously so I'd been down this track before."
Ideas for films, explains the writer, "either take hold or fade away". This one quickly took hold. The key decision was to transplant Dad's Army to a point later in the war than viewers had seen in the classic comedy. For McColl, the Allies' real-life subterfuge campaign that had been cooked up to throw the Germans off the scent of their real D-Day targets - Operation Bodyguard - offered the perfect mix of high stakes and rich comic potential. "When I started the research, I saw photos of members of the Home Guard holding up inflatable tanks and balsa wood planes," remembers the screenwriter, "and I thought, 'This is Dad's Army! This is perfect'. It's got all the aspirations of war and all the comedy of an inflatable tank."
Columbia Pictures' 1971 movie adaptation highlighted some of the pitfalls of stretching out the 30-minute sitcom format to feature-film length. "We watched it and it feels like three episodes strung together, rather than a feature film," says Jones. "We felt we could do something different." McColl, in turn, worked to frame all the comic beats within a gripping plot. "Making the movie, we had to get the right amount of story, the right amount of the characters, the right amount of action and suspense and the right amount of comedy moments," he notes. "It's quite a blend getting all those elements into a 90-minute movie."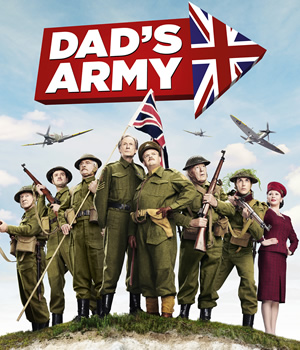 A key story element came in the seductive form of a mysterious Walmington newcomer, and the idea of a spy in the ranks. "The big plot point was this femme fatale who'd turn the heads of the platoon," says the producer of the cat-among-the-pigeon dynamic introduced by McColl's screenplay. This glamorous arrival promised to stir up a classic Dad's Army dynamic. "I really wanted to put her between Captain Mainwaring and Sergeant Wilson," explains McColl. "The frisson of them suddenly seeing themselves as men who could have taken a different route in life was touching as well as strongly comic."
"We wanted to put the men in more jeopardy," he adds of the espionage element, "and give them the chance to prove their worth and protect their country. The TV show had never really gone there. Writing these characters was like spending time with a bunch of favourite uncles: you love one because he shines off the other. I loved the voices of all of them."
Script in hand, Jones contacted Oliver Parker, a director whose work he'd long admired. "He has a track record of being great with comedy," says Jones, "and he and Hamish had done Johnny English together and had a really good comic shorthand." Parker remembers his first reaction to the project. "I was sent the script by my agent," he recalls, "saw the file labelled 'Dad's Army' and thought, 'Ooo, that's a curious idea!'" "Olly's initial reaction was, 'Oh my god, are you kidding me?'" laughs Jones. "Then he called me back later and said he'd read the script and that it was really good."
The director picks up the story. "When I read it, I realised that Hamish had definitely caught the voices, which is the first big challenge in my mind," he explains. "The characters are so etched in our minds, how do you write for them? And the way he'd captured them was uncanny. You could hear the voices reading it." The chance to reunited with his multi-disciplined Johnny English Reborn screenwriter another pull for the director. "Hamish writes, acts and directs, so he saw the project as a whole, rather than just submitting it as a script."
Parker, another diehard fan of the BBC comedy, was also a perfect fit for the role of field commander. "Olly's great with people [and] with ensemble casts," enthuses Jones, "and had a love of the show from watching it with his parents. He was also clear that we were going to be affectionate and do a nod to the original, but also reinvent it and do something new."
"I really bought into what Hamish had done," explains Parker. "He brought the female characters forward, introducing Mainwaring's wife to the story, and had the idea of a spy coming into the town. I didn't love the 1971 film, but what Hamish has given us is the notion that you can push the characters a little further. Because you've got this spy coming in, you're putting them on their mettle and pushing them around a bit, taking them a little further than you could in the TV series."
A further meeting with Jimmy Perry offered a final pre-shoot blessing. "He's in his nineties now," says Parker, "a little frailer but still full of energy. He talked about the characters, about how some of them had been through [the Great War] and some hadn't, and the actors and writers too. Jimmy was a kind of Private Pike figure."
Perry's own early reservations about the project were quickly assuaged when McColl's script landed on his desk. "I thought it was a bloody ridiculous idea," he chuckles, "but when I read the script, I thought it was great. They'd got the idea, they'd got the characters. They'd made some drastic changes, but Hamish is a clever bloke and he'd got it in one. And they'd learnt a lot from watching episodes of Dad's Army."
---
The Making Of Dad's Army 2016:
Creation
Dad's Army is in UK cinemas now.
Published: Thursday 4th February 2016