A two-week rehearsal period allowed the Dad's Army cast the chance to work through the script, and even offered an impromptu boot camp. "We had an ex-sergeant major figure come and drill them," says director Oliver Parker, "which was enormous fun". Those in attendance were treated to the irresistible sight of Michael Gambon, Tom Courtenay and other acting luminaries drilling in character. "You can boss Michael Gambon around all you like, but he's doing what he wants," laughs Parker, "even if you think he's doing what you want!" Rather than Trooping The Colour, the men learnt the rather more haphazard drilling style of Walmington's finest. "It was chaotic," chuckles Tom Courtenay. "Who was the best bad marcher? I think it was pretty even. None of us were very good."
As the squad leader, Toby Jones was exempt from the drills. "All I had to do was sashay forth and get things wrong in the right way," he points out. "But I was present watching them and they all did very, very well. Michael played Godfrey is dream casting - he has such beautiful vulnerability and frailty in the role - and Tom too."
The rehearsal process was invaluable, not least in bonding the cast into the tight-knit unit they'd be playing on screen. Some, like Gambon and Paterson, were old friends. Others were meeting for the first time. For the younger cast members, there was some mild trepidation to shake off. "I was quite nervous turning up to rehearsals," recalls Blake Harrison, "but everyone was really, really lovely. You're talking about fantastic actors with decades of brilliant work under their belts, and it was incredible to watch the way they rehearse." The commitment of his experience cast mates made an impression on the actor. "Normally you sit at a read-through and don't expend any more energy than you need to," adds Harrison, "but Toby [Jones] would act things out and physicalise them in the rehearsal room. To see him getting up and searching for something was impressive."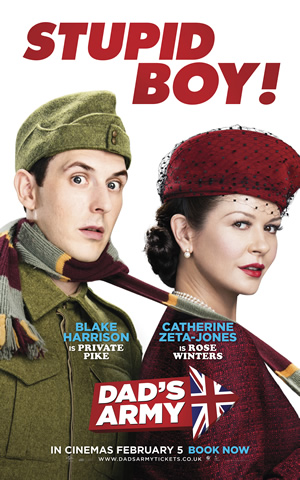 As the cast and crew headed to Scarborough to start the shoot, there was, concedes Parker, "still a degree of nervousness" at tackling this revered property. "It's a hell of a thing and you don't want to mess it up," he reflects, "but at the same time, there was something very exciting about it, so it felt like it was worth that gamble." Danny Mays recalls the days the casting announcement hits the papers. "It was all over the media," he laughs, "and in one newspaper our heads had been cut out and put on the bodies of the original cast, which was a bit disconcerting! That was the first thing we all commented on: 'Oh my god, have you see the paper today?' But very quickly, because Ollie was a fantastic director and Toby [Jones] was so confident and didn't put a foot wrong, we put that to one side and made it ours."
The alacrity with which Toby Jones reinvented the central character of Mainwaring offered a powerful example for the cast. "We were all saying on set what a fantastic job he's done," enthuses Blake Harrison. Mays agrees. "Toby has given a slightly more endearing performance than Arthur Lowe, but he just showed absolutely no fear and we all latched onto that." The spectres of James Beck, Le Mesurier, John Laurie et al gradually faded, while the spirit of their performances lingered. "We tried to make it our own as much as we could," says Mays, "but obviously you do have the ghosts of those other performances rolling around in your head so you have to embrace that as much as possible." As for Private Walker: "Jimmy Beck's portrayal of him was so on the money," says Mays, "that I realised that was the way to go about it. I know there are other actors who've attached some sinister edge to him, but I don't think he's like that at all."
"You have to find an authenticity in what you do rather than copy," stresses Bill Paterson, "otherwise you'd find an impersonator for it." The actor followed his fellow Scotsman John Laurie in playing the gloomy Private Frazer. "John has a face chiselled out of the sandstone of Dumfriesshire. Nobody else has that face and if I'd made any attempt to do rolling, googly eyes, it wouldn't have worked."
The introduction of new female characters, including Mrs Mainwaring, a hitherto off-camera presence in the TV show, helped bring freshness to the well-established relationships. "Here's a controversial point: should we see Elizabeth Mainwaring?" ponders Oliver Parker. "Even my 13-year-old son said, 'Dad, you can't do that!' But suddenly you see what the home life of this fellow is like and what it means to him. There's a lot to be mined from that." Jimmy Perry, Dad's Army's co-creator, initially shared Parker Jr.'s reservations about introducing Mainwaring's wife on screen, but quickly came round to the idea. "If people have got new ideas, show 'em!" he enthuses. "Don't say, 'You can't do this, you can't do that'."
Joining the fray as Mrs Mainwaring was Felicity Montagu, while Sarah Lancashire plays Mrs Godfrey and Annette Crosbie is Mrs Godfrey. Holli Dempsey plays Private Pike's long-suffering girlfriend, Vera, while Emily Atack plays Private Walker's other half, Daphne. As with the TV series, Pike's paternity remains veiled one of the story's mysteries. "There's a lot of suggestion but nothing concrete," hints Blake Harrison. "I'd like people to see what they see when they go to the cinema."
"There's no women in the TV series but we've opened up the characters' wives and girlfriends," adds Zeta-Jones, "and my character Rose is a different creature. They're competing for her attention, which is always fun. She's flirtatious and plays around with these guys, which happened off set as well. All those fabulous old boys flirting with me in the make-up trailer at 6am! It made my day."
---
The Making Of Dad's Army 2016:
Rehersals
Published: Thursday 4th February 2016