With the storyline and script locked down, the casting process kicked into gear. Rather than looking for facsimiles of the original Dad's Army cast, director Oliver Parker, producer Damian Jones and their experienced casting director, Alex Johnson, looked for actors capable of making characters their own. "We were very clear that we were casting Captain Mainwaring, not someone doing Arthur Lowe doing Captain Mainwaring," stresses Jones, "and that was the same for every character". Finding the right Mainwaring was crucial. "His shoes were the hardest to fill of the lot," concedes the producer, "but Toby Jones was always our first and really only choice to play the role. He's an actor who lends gravitas to a project and he made the role his own wonderfully." Unusually, Hamish McColl also had the actor in mind while he was penning the screenplay. "I could hear Toby's voice very clearly for Mainwaring," he reveals. "He just seemed right to me, and I couldn't think any more highly of him as an actor. The fact that I've cast a smaller guy is not to do with Arthur Lowe," stresses Parker, "but because this idea of Mainwaring as a little Napoleon leading the platoon seemed intrinsic to the original creation."
Despite a long-standing friendship with the screenwriter, the actor had some initial doubts. "Hamish told me he'd written the part for me, which is very flattering," he remembers, "but at first I thought it would be a bad idea. Then I saw the script and the cast started to come together and I found it a very, very funny one. I thought I'd just try to have a really good time with it, not be distracted by the responsibility of it, and see where that took me."
Recreating Mainwaring and Wilson's relationship in a way that offered a new, but equally hilarious slant on the Arthur Lowe/John Le Mesurier dynamic required another actor of similar stature. "Bill Nighy was always first choice for Wilson, and thank god we got him," says Damian Jones. Adds Parker: "It had to be Toby and Bill. The next thing I knew they were up for it."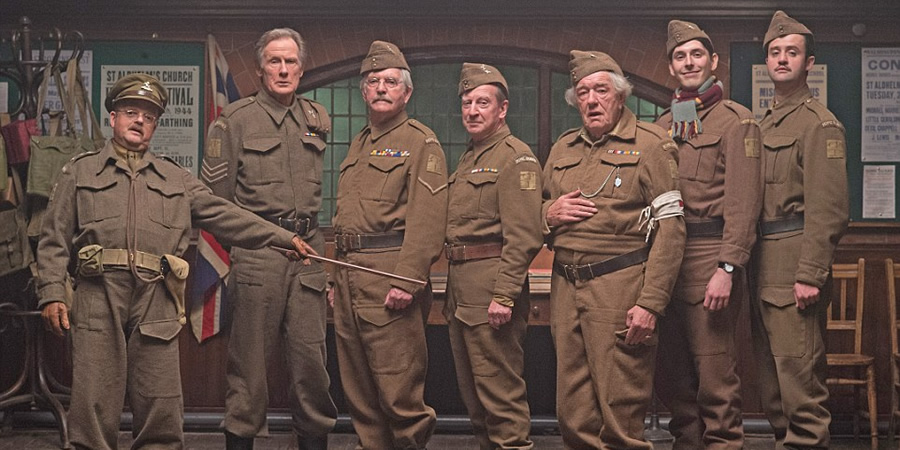 From there the rest of the stellar cast began to fall into place. "We were so fortunate," says Damian Jones. "We couldn't have thought of anyone else, which is a credit to Oliver and Alex Johnson. Michael Gambon was brilliant as Godfrey, Tom Courtenay was wonderful as Corporal Jones. Pike's a hard one, but Blake Harrison? Done. Danny Mays plays Walker beautifully, and the same with Bill Paterson as Frazer. And Catherine Zeta-Jones does this type of comedy so well."
Persuading the actress to give up the glamorous surrounds of Manhattan for winter on the North Sea turned out to be surprisingly simple. "It was only tempting because of my absolute love and nostalgia for the original TV series, and the plethora of fabulous actors who were going to recreate it," Zeta-Jones laughs. "I met Oliver Parker in London before I gave a definite 'yes' and just thought, 'You know what? With Oliver at the helm and me and these guys and gals, it was an opportunity I didn't want to miss."
Like Zeta-Jones, Michael Gambon's decision to step into the boots of Private Godfrey, a role filled with distinction by Arnold Ridley, was born of his love of the classic comedy. "I've always loved Dad's Army and I liked that character," explains the actor. "He particularly appeals to me. He's extremely funny so I thought, 'Ooo, I'd like a bit of that.'"
For Mays, it was a similarly straightforward. "My agent told me to go and meet Olly," he recalls. "He'd seen me in another spiv-type role [on stage] in Mojo in the West End and you couldn't have had a better audition for Walker. He sat down and said, 'Danny, I want you to do it.' He told me the cast and I said, 'Where do you want me to sign?'"
Tom Courtenay, a Yorkshireman raised in nearby Hull, was immersed in another project when the script first landed. "I was working on [Andrew Haigh's marital drama] 45 Years and I couldn't even think about it then," he expands. "But then Olly [Parker] very sweetly approached me again. That time my head was clear of 45 Years and I thought it'd quite nice to have a bit of fun. It was also in a part of the world I know and like very much, East Yorkshire."
"They could have cast purely comedic actors, which would have been a different approach to it," points out Mays, "but you have to apply pathos to this story and flesh the characters out as three-dimensionally as possible and they've done that through the casting. You don't want it to be one note. It's certainly a classy cast to be involved in."
---
The Making Of Dad's Army 2016:
Casting
Published: Thursday 4th February 2016