The support of Screen Yorkshire was a lure for taking Dad's Army north. The coastal town of Bridlington doubled up as the Sussex seaside town of Walmington-on-Sea, while the nearby countryside and beaches provided ample terrain for the unit's manoeuvres. There was even a handy beach for the men to storm in the final showdown with the Germans. "We were able to find Bridlington Old Town, which the wonderful people of Bridlington allowed us to transform into a 1940s high street," says producer Damian Jones. He recalls a shoot highlight that came during the parade scene on the town's high street. Joining the jamboree as extras were members of Dad's Army fan clubs from across the country. "When we shouted 'cut' at the end of a marching take, they spontaneously started singing Who Do You Think You Are Kidding, Mr. Hitler?," Jones remembers. "It was a lovely moment." "They all started cheering when we came out of the pub in costume," grins Danny Mays. "I was a bit taken aback when they started singing the theme tune! It cemented in my consciousness the affection the public have for Dad's Army. I thought, 'We've really latched onto something here.'"
Shooting a summer-set movie in the short winter days in Yorkshire presented some obvious challenges. "It was a fast shoot," says Parker, "35... 36 days, which is quite fast given that we're in Yorkshire, the days are closing in and we had to move everyday and dodge the elements quite a lot. Ideally, you'd be doing it during a bucolic English summer."
If the heavy-duty khaki of the Home Guard uniforms offered a useful bulwark from the elements, the standard issue webbing had a nifty secondary use. "It's a great place to store your phone," laughs Blake Harrison. "The last thing you want is your mobile to drop out when you're running around on the beach. It's there in the webbing, so when they call 'cut' you can see what's going on Facebook and Twitter." The Bill Nighy webbing, meanwhile, hosted "probably a couple of Yorkshire tea bags, my mobile phone [and] maybe a tangerine here and there". Occasionally even the rugged period uniforms couldn't keep the cast warm, as when the story required Toby Jones and Catherine Zeta-Jones to take a bracing dip in the North Sea. "I was so gung-ho, I was actually looking forward to it on the first day," laughs the actress. "I threw myself in and it was actually rather wonderful. Then I had to go back in the next day and it was not so wonderful. I said, 'Okay, I'm going in but you've got one shot!'"
Despite the wintry climes and the pressures of short filming days, the cast's can-do attitude would have impressed even Mainwaring himself. "Unless you're working on a big studio movie, shoots are always too short," says Nighy. "You always have to work against the clock and Olly was exemplary. To quote Corporal Jones, the thing is not to panic and he never did. He was very classy."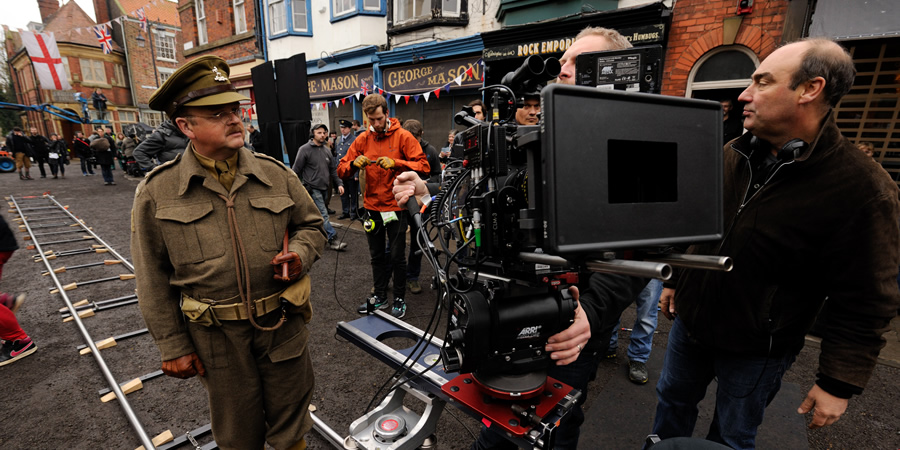 Oliver Parker modestly demurs. "There were times filming when we didn't have enough money to create lovely trailers and lunches," he says, "so we'd have to have lunch on our knees while we were filming the forest scenes and these elderly guys, who could have really kicked up a fuss, really went with it. They could see what we were trying to do and were hugely supportive. I put some of that down to people's complicity to the original: there's a connection to that that fuels people's generosity." "They had a shelter for us on the coast," remembers Courtenay, "but we were altogether in it in rufty-tufty. It was part of the charm." At one point, even some maverick sea life joined in the fun. "I was standing on a cliff with Michael Gambon, and this sea lion kept popping its head up to see what was going on and who all these people were," laughs Danny Mays.
The director sought a balance between meeting the shooting schedules and allowing his gifted cast room to stretch the material. "I like to play," Parker explains, "and you're trying to find those bits of magic, to let Toby Jones chuck the ball and see what happens. For instance, we did a scene where Blake Harrison, a really intelligent and natural [comic actor], is left in charge of the bank as Pike, and we had an extra we hadn't used so I sent her in at the end." Harrison takes up the story. "The little hanging doorbell in the bank rang," he laughs, "and I was really confused - there's genuine fear in my eyes because I wasn't expecting it. The cast and crew were all cracking up. You'll see pure Pike in that bit!" Adds Parker: "It was a beautiful moment."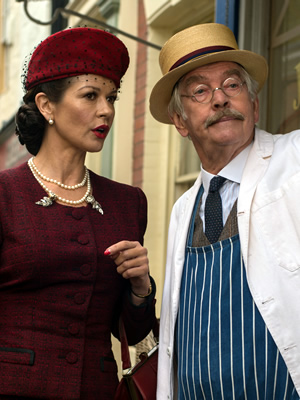 The cast's professionalism kept the corpsing in check. Mostly. "There was one moment when it was, 'Okay, we've still got a bit to do'," laughs Parker, "but on the whole it was never too much. They were all clued up as to the pressure we were under, so they were never really naughty." Even the director wasn't exempt from the occasional fit of giggles. "Oliver actually ruined some takes because he burst out laughing!" recalls Catherine Zeta Jones.
There were plenty of off-camera laughter too, much of it emanating from Michael Gambon's direction. "A large part of why I joined up was because I knew Michael would make me laugh every morning," says Nighy of his old Harry Potter cohort, "and he did. My fondest memory was sitting huddled on a beach in Bridlington, usually in bitter winds, asking Michael to tell me more stories about is early life. He is hysterically funny." "Every minute spent with Mike is a pleasure," agrees Bill Paterson. "I was his psychiatrist in The Singing Detective and we've worked together a few times, and the big pleasure of Dad's Army for me was spending so much time with him. We were constant companions on all the journeys to set."
"I remember seeing Michael Gambon in The Caretaker when I was at RADA," enthuses Mays, "and seeing Tom Courtenay in The Loneliness Of The Long Distance Runner at secondary school, and Toby Jones in anything he's done. They've got such weight and calibre, and they're all so professional. We had such a laugh on set. It didn't really feel like work. We didn't stop laughing."
Catherine Zeta-Jones is quick to praise her co-stars' professionalism. "I love working with real pros, British actors of this calibre," she enthuses. "You expect it when you read the cast list, then you get on set and it's bloody freezing and these are just standing in costume ready to rock and roll. No moaning, no not-coming-out-of-the-trailer, just a real sense of camaraderie. I sit and listen to my father-in-law, Kirk Douglas' old stories for hours, and it was the same with Courtenay and Gambon."
After-hours time saw the cast reconvening to offer Scarborough, home of the cast's nightly accommodation, an unlikely dusting of star wattage. "Scarborough is quite close to my heart because I worked for Alan Ayckbourn in the theatre there," remembers Gambon. "We stayed in a lovely big hotel and got treated very, very well. We'd just get together and go to restaurants, eat too much and make each other laugh." Adds Zeta-Jones: "When the cameras stopped rolling, we'd say, 'Okay, where shall we meet up tonight? Shall we go downstairs to the restaurant?' Making movies shouldn't be torturous, and this one was a blast morning, noon and night."
---
The Making Of Dad's Army 2016:
On Set
Published: Thursday 4th February 2016