Bottom's Up - Looking Back at Bottom
It's fair to say that the key to a great double act is simplicity, and although a talented ensemble cast are essential and many a great duo are featured in decorated sitcoms - the best double acts really pop when it is just the two of them. This could be said of many duos, but it has never been truer of a pair than Rik Mayall and Adrian Edmondson. It was in the early nineties, buoyed by their earlier success starring in The Young Ones, alongside Nigel Planer and Christopher Ryan, that they set out with their own series, Bottom.
Bottom, nearly called 'Your Bottom' in order to facilitate such conversations as "I saw Your Bottom on television last night" or "I love Your Bottom" is not so called just because it's a juvenile, rather silly title and probably the rudest word you could get away with calling a series on the BBC at the time (although Rik and Ade obviously appreciated that element of it - and apparently the then head of BBC Two, Alan Yentob, also took a dislike to the name) it is because, as Rik Mayall explained: "It's about two guys at the bottom of the heap... We called it Bottom to make people think we were doing bottom jokes," before adding, "It's rude, stupid, and a waste of license payers' money".
But to dismiss Bottom as a vulgar, off-the-cuff escapade would be doing the series a great disservice. In truth, Bottom was carefully crafted by the duo around the same time the pair were preparing to star in an adaptation of Waiting For Godot at the Queen's Theatre in London's West End.
Waiting For Godot, Samuel Beckett's classic tragicomedy focuses on two desperate and deluded down and outs, frequently depicted on stage as tramps, who sit and ruminate while they wait for a person who will never appear. Godot is an unattainable figure, a deluded hope. it's really not hard to see that this was where Bottom drew its inspiration. Deluded hopes are in abundance - Rik's Richie is a grubby, sleazy, hopeless man who constantly tries to convince himself that things are going better than they really are, meanwhile Ade's Eddie is an alcoholic lunatic, and although he is far more self-assured than his flatmate, he is still oblivious to the pair's dire situation. They live in squalor and their only "friends" are the terminally bewildered Spud Gun (Steven O'Donnell) and Dave Hedgehog (Christopher Ryan) who are of the secret suspicion that Richie is in fact insane.
Waiting For Godot's influence was never more present than in the Ferris Wheel confined series three episode, Hole, which was crammed full of nihilistic humour and meandering conversations, all with that essential and all-important core focus on the double act stuck together in one extremely confined location.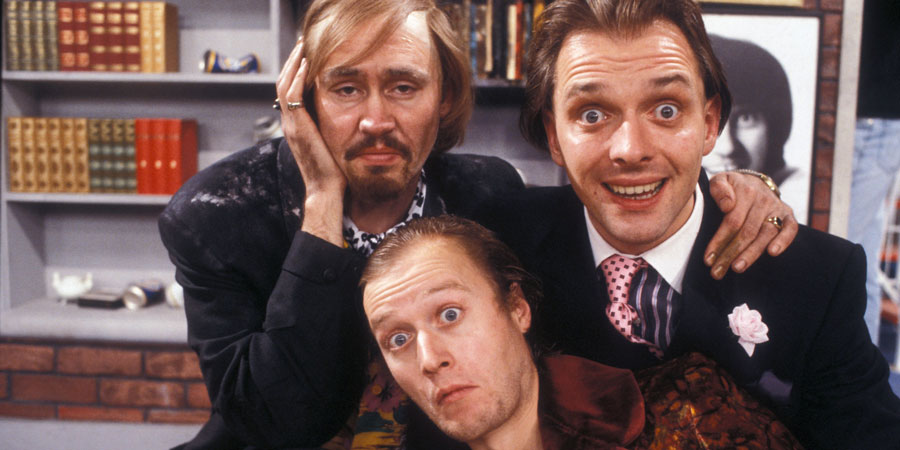 Of course, classic theatre wasn't Rik and Ade's only inspiration. Bottom in essence, is a stripped back version of a series that the duo worked on with Ben Elton in 1987, Filthy, Rich & Catflap. The show, itself an off-shoot from The Young Ones, told the story of Gertrude Richard "Richie" Rich (played by Rik Mayall), a character identical in almost every way to his Bottom counterpart of the same name, and Edward Didgeridoo Catflap (played by Adrian Edmondson); again, very similar to Eddie Hitler in Bottom. However, the series also featured Ralph Filthy (played by Nigel Planer), Richie's scummy showbiz agent. Richie's quest for fame and his fruitless attempts to become a star were the driving force behind Catflap.
Although different, these characters were in essence a maturing of their The Young Ones counterparts. They were also partly based on characters that Adrian Edmondson and Rik Mayall used to perform while at Manchester University in the mid-seventies. The names 'Eddie' and 'Richie' were actually the nicknames the pair would often use for each other. These names for their alter egos would continue to crop up again and again over the years, such as in their ambitious TV and Stage Act - The Dangerous Brothers. One of these early sketches involved Richard Dangerous setting fire to Sir Adrian Dangerous's trousers. It went so disastrously wrong that Ade was left with serious burns and singed eyebrows and surprisingly much of this was left in the original Saturday Night Live broadcast.
Slapstick violence and slightly more safety conscious stunts continued to be a fixture for the duo, perhaps less so in Catflap than later in Bottom. However, Filthy, Rich & Catflap was still a great series; all the elements of a classic were there, although in stark contrast to Bottom the show was full of guest stars. It drew on the fame of The Young Ones in much the same way that Ricky Gervais and Stephen Merchant's Extras drew on The Office's success to bring in a vast body of celebrities that were an essential ingredient of the show; simply, one could not have existed without the success of the other.
At the time, Catflap must have felt closer to The Young Ones in style; however, in retrospect it was in fact the blueprint for Bottom, even down to the episode Dead Milkman which sees Eddie and Richie accidentally kill a milkman (played by Arthur Smith) and then panic about what to do with his body. This was doubtless the inspiration for Bottom's most famous episode, one whose fame may even transcend the success of the series itself - Gas.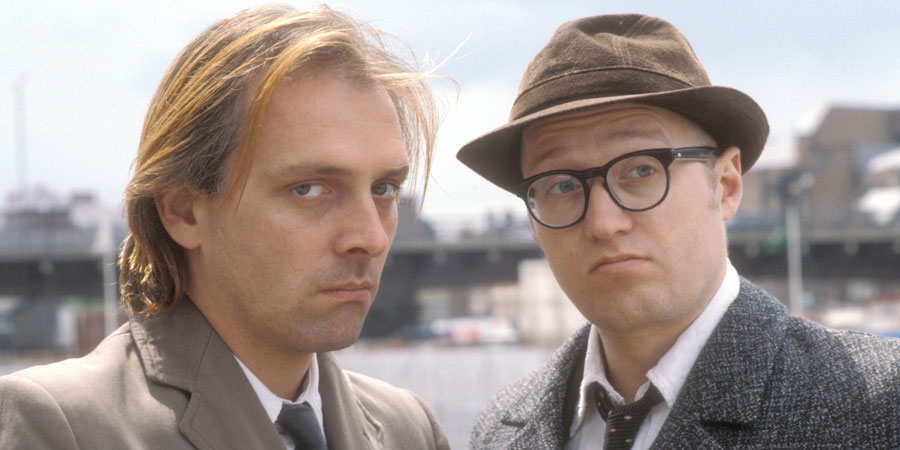 Why has it become so iconic? It's simple really. It's just one of those rare times in comedy where all those things you need to work - the script, the performances, the audience, the atmosphere, and fine direction by Ed Bye, all come together in perfect harmony and as a result every line hits the mark. There are so many moments you could list that play out absolutely perfectly, such as when Eddie holds a bat over the gasman's head whilst asking, "Do you want a cup of tea?". It was simply a masterclass in comic timing.
Eddie has a lot of classic lines, such as when he is handing over the cold tea - "Better drink it before it gets warm". Naturally there's no shortage of great moments from the incredible Rik Mayall either; such was the love for this episode that Richie's nervously told story about the pair of trousers that lived in the forest called "Dave" was even incorporated into a Jackanory episode that Rik later narrated.
Rik put everything into his performances and you can clearly see that here. His wide-eyed stares at the gasman amid the rising panic were all performed to perfection, as were his manic shouts of "GASMAN, GASMAN, GASMAN!" as he first answers the door. Could any other performer have carried off a character like Richie?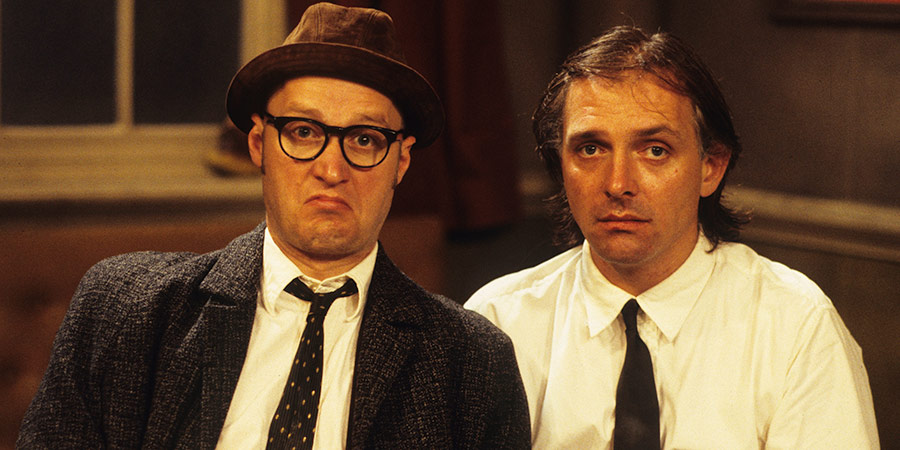 It was an episode of two halves. We get some Tom And Jerry style humour, as the gasman finally gets away, and we meet Eddie and Richie's unhinged neighbour Mr Rottweiler and his sexy girlfriend. There's even a retro 1950s fridge in Mr Rottweiler's kitchen where Eddie steals some food, stacking it all up on the table in a fashion that replicates the playful imagery of Hanna-Barbera's sixties animations. But the slapstick itself is never overdone; it's just pushed far enough. Audiences were enjoying a return to physical comedy in the nineties, as Mr Bean achieved world domination, while Vic Reeves and Bob Mortimer incorporated cartoon violence into their shows, frequently employing the same long-winded frying pan fights that were also such a trademark of Eddie and Richie's.
In Gas, there's a particularly great moment as Richie is walking down the stairs, there's an explosion and the audience erupts into a spontaneous round of applause; there was nothing in particular happening on screen to felicitate this, it was almost as though the audience was applauding the episode's achievements, albeit halfway through the show. They must have known that they were watching a piece of comedy history in progress.
Reflecting on making the series in an interview with the Radio Times in 1991, Adrian Edmondson stated: "These days we've lost all interest in popular culture. Bottom has nothing to do with pop music or people under 30. And there's nothing fashionable in it - hopefully."
Rik added: "We're more interested in the things that have always been there. In Bottom, the gas man comes round from the gas board. We have postal orders, post offices and telephone boxes. These are things that have lasted since before 1955 - before Elvis really got going and rock 'n' roll started. But all that stuff didn't happen for these guys. Like it doesn't happen for us anymore. We're too old.'
Yet despite a determination to move away from the trendy nature of The Young Ones, Bottom succeeds in carrying over its 'cool' spirit. The music choices are smart too. Bottom opens with a tune performed by The Bum Notes, a band Adrian Edmondson used to play with - it's a seemingly random and chaotic bit of Saxophone improvisation, but it is in actuality an expertly performed bit of riffing - it's a perfect analogy for the show. What on the surface seems impromptu is performed and written with great skill and minute attention to detail. It's no wonder the series is still adored by fans - a Halloween never seems to go by without at least one reinterpretation of Eddie and Richie's classic Devil and Banana-man combo cropping up on social media.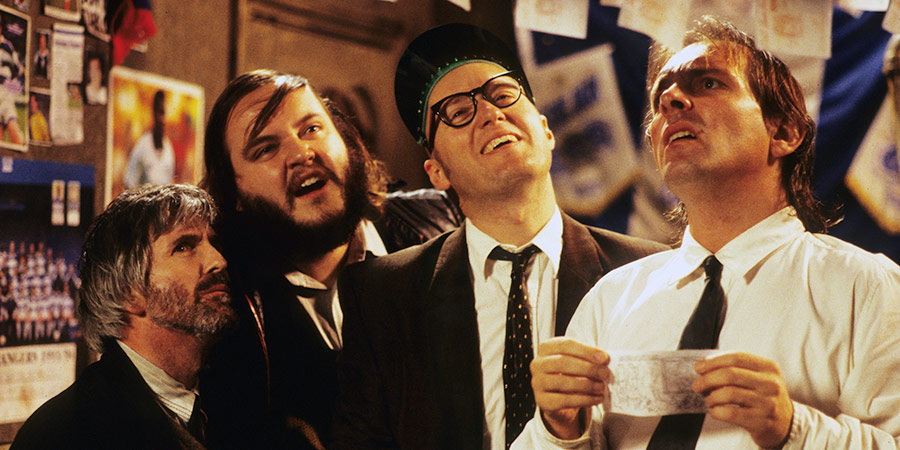 Bottom ran for eighteen episodes across three series, by which time the popularity of the characters had become so immense that they were able to embark on tour after tour - five in all, over ten years. There was even a spin-off movie: Guest House Paradiso.
Then of course there's 'the bench'. Located at the junction of Queen Caroline Street and Hammersmith Bridge Road, London, it became famous purely for its brief appearance in the opening titles, where the pair can be seen messing about on it before Rik unexpectedly disappears. In the late 2000s the bench was removed which upset Rik Mayall deeply. In 2010 he told BBC News: "If you were to come to the end of King Street where it meets the big roundabout to get to the Hammersmith Apollo, you'd find that same bench on a traffic island - until one day they took it away and put a pelican crossing in its place. That for me is the worst journey I ever made, discovering what had happened to that bench."
It was following Rik's untimely death in 2014 that, thanks to his legion of fans, the bench was reinstated. This time it was made of metal, upgrading the original more insubstantial wooden bench, and was adorned with a beautiful plaque in tribute to Rik. Nigel Planer came to unveil the bench in November of that year, where it now stands for all-time. A perfect tribute to a legendary man, a classic double act and a masterpiece of a sitcom.
Where to start?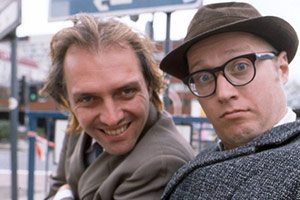 Series 1, Episode 2 - Gas
Where else could you start? In an episode that is a candidate for one of the greatest in all of British comedy, a poor unsuspecting gas man has a brush with death at the hands of Eddie and Richie, after which the duo hasten to disconnect an illegal gas connection without disturbing their half-crazed neighbour.