Alan Partridge: The story so far
With Alan Partridge's big screen debut - Alan Partridge: Alpha Papa - just days away from opening across the country, Chris Hallam takes a look back at twenty years of a modern comedy legend.
Sports casual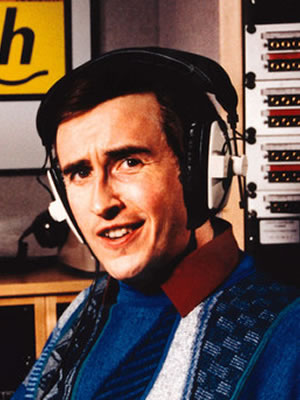 "A friend of mine said recently: 'What do you get if you cross a ballerina and a bastard?' - 'Ballesteros, was his answer.' I guess, if you analyse it, Seve combines the qualities of both those animals. He has the lithe sophistication and nimbleness of a ballerina, combined with the hard-nosed, ruthless thuggery of a bastard." - Alan Partridge, The Day Today, 1994.
It began as a voice. A nasal, slightly John Motson-esque voice. A voice with a clear inferiority complex amidst the cleverer, sharper, younger, more middle class (and equally fictional) characters of spoof news radio show On The Hour in the early 1990s.
The sports reporter was one of many to appear on the news parody show and was improvised by Steve Coogan (then in his mid-twenties) on the spot. As Armando Iannucci puts it in Lucian Randall's Disgusting Bliss, the biography of On The Hour front man Chris Morris: "Steve opened his mouth and Alan Partridge flew out". The name, character and Norwich origins, sexism, right wing views and bizarre proclamations ("I'm a homosceptic") all seemed to flow naturally from Coogan's initial characterisation. No one would have dreamed the character would become the basis for a film, twenty years later.
By the time the show transferred to TV as The Day Today in 1994, Alan's character was fully developed: a badly dressed, local news anchor promoted above his station and seemingly pre-programmed to always say the wrong thing.
Partridge always seemed ill at ease in the newsroom environment, Chris Morris's anchorman typically utterly baffling him:
"Do you support the law, Alan?"
"I certainly do, I support the law fully. Not too keen on those that break it, though."
"What, just generally turn up on a Saturday afternoon and wave at it from the touchline?"
If Alan was still more bullied than bully at this point, all this was set to change. Coogan had already hosted spoof chat show Knowing Me, Knowing You... With Alan Partridge, on the radio and had insisted on dressing in character as Alan for the first time for the benefit of radio audiences (and perhaps himself). The show had been well received despite apparently prompting complaints from Radio 4 listeners who had not realised the show was a spoof (Alan had mocked an obnoxious fictional child actor guest for his lack of pubic hair).
But with this format also set to transfer to television, in 1995, both Steve Coogan and Partridge were set to go "stratospheric." Or as Partridge would joke, "chatospheric".
Chat attack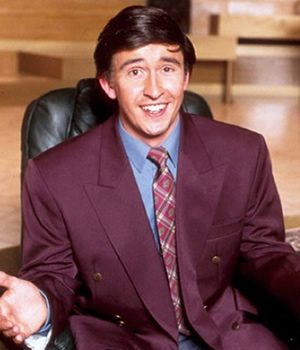 With his own chat show Alan Partridge's ego was given free rein to develop monstrously. Alan used the show to shamelessly impose his love of the music of Abba on his guests and audience ("He's a trooper, I think he's super..."), attempt to make endless appalling puns, forge creaky catchphrases, and insert his name into any interview as often as possible.
The show also mercilessly mocked the conventions of the chat show format. Chat shows were in fact at a very low ebb in 1995. Wogan had finished, whilst Jonathan Ross and Michael Parkinson were yet to stage their comebacks. Graham Norton was still unknown. The past decade had witnessed such spectacles as Oliver Reed dancing drunkenly on Aspel & Company, George Best swearing on prime-time Wogan, and countless other tremendously awkward interviews with monosyllabic guests and excruciating live TV moments.
But KMKY pushed things further. Every episode featured a brand new "regular" item ('Alan's Big Pocket' or 'Partridge Over Britain'), which would be silently ditched after one week. Further struggles behind the scenes are hinted at with Alan's efforts to get the format retitled "The Alan Partridge Show". And his mimes toward the audience on entering the set at the start of each programe grew progressively more aggressive - initially he would pretend to fire a gun. Later he would mime machine-gunning them or even throwing a grenade.
By the end of the series, Alan had insulted numerous guests and seen the show over run by (in turn) a rebel punk band, a troupe of male strippers and representatives of Lieutenant Colonel Kojack Slaphead III's Bald Brummies Against The Big Footed Conspiracy Party. Alan had, in turn, sacked Glen Ponder's house band, allowed himself to be hypnotised and reveal his most private sexual fantasies on air by magician Tony Le Mesmer (David Schneider) before ultimately accidentally (or not?) shooting and killing one of his guests with an antique pistol. Improbably, Partridge returned from this setback to record Knowing Me, Knowing Yule..., a festive special that climaxed with Alan apparently suffering an on-air breakdown.
Little wonder, then, that when chat shows did make a comeback later in the decade they were generally more comedic than what had gone before, or out and out spoofs.
But more urgently, by the end of the series, one thing was clear. Alan Partridge was a huge comedy hit. Steve Coogan, still in his twenties, was a star.
Steve Coogan and Alan Partridge: their names would be linked forevermore.
Radio Ga Ga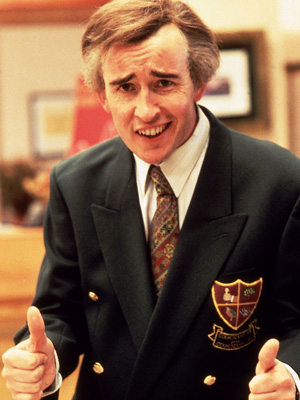 The first series of I'm Alan Partridge, broadcast in 1997, marked a career low for Partridge but remains probably his finest comedy moment to date.
The sitcom sees Partridge, now visibly ageing, banished to a small local radio station's graveyard shift following the failure of his TV series. Partridge further exacerbates his decline by assaulting BBC Commissioning Editor Tony Hayers (David Schneider again) with some cheese during a meeting, having already hit him on live TV during the Christmas special.
Partridge's personal life is now in serious decline too. He is relegated to living in a roadside 'Travel Tavern' following the failure of his marriage, and generally leading a rather parasitic existence, trading on his already fast-fading celebrity status.
Alan undergoes countless indignities during the series including being kidnapped by a crazed fan, enduring an awkward one night stand, having a dead cow dropped on him by irate farmers and almost being arrested for moving traffic cones around.
The format of the series was somewhat risky; filmed in front of a live studio audience and including bizarre fantasy sequences (featuring Alan lap dancing), it was in other respects similar to the spoof fly-on-the-wall/reality style later popularised by The Office.
Alongside Coogan, Kevin Eldon, Barbara Durkin, Doon Mackichan and Phil Cornwell all made appearances in this second Partridge world, whilst Patrick Marber (by then a playwright) and David Schneider were both gone for good, and Rebecca Front only appeared briefly in the second series (in a role reversal, she interviewed Alan on the radio about his pulped book Bouncing Back).
Newcomers to I'm Alan Partridge included Simon Greenall as loveable Geordie Michael, and Felicity Montagu as Alan's long-suffering personal assistant, Lynn. There was also a cameo for Chris Morris and early roles for Sally Phillips and Simon Pegg, plus Stephen Mangan, Julia Davis and Peter Serafinowicz in the second series.
The second series - which saw Partridge very slightly in the ascent, now living in a caravan with new Eastern European girlfriend Sonja (Amelia Bullmore) whilst awaiting the building of their house - perhaps does not quite scale the heights of the first. Yet it certainly comes very close, and is probably the most rich for the quotes beloved by Partridge fans: "These are sex people, Lynn!", "Jurassic Park!", "Cashback!", "Dan... Dan!".
It was also eleven years ago and the last series we would see of Alan Partridge on the BBC.
Steve Vs Alan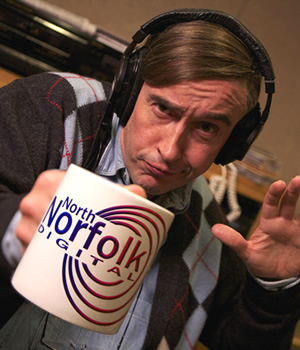 Reviving the character in the late 2000s, the title of Coogan's 2008 live tour spoke volumes: Steve Coogan As Alan Partridge And Other Less Successful Characters.
It is a fact. None of the other characters in that show - neither Paul nor Pauline Calf, Saxondale (who actually comes across as very similar to Paul on stage), nor Duncan Thickett - have been as successful as Partridge. (Paul Calf is arguably the closest, and yet still by quite a distance.) Tony Ferrino, the spoof Portuguese Eurovision winner Coogan debuted in 1997, was deemed such a flop that he has never appeared since. This is perhaps unfair, although Ferrino fell into the trap avoided only very narrowly by Partridge in many live performances, of becoming not so much a parody of bad entertainment, but simply bad entertainment itself.
In Michael Winterbottom's A Cock And Bull Story and again in The Trip, Steve Coogan (playing a version of himself) often seemed annoyed by the Partridge persona, particularly his co-star Rob Brydon's continual failure to distinguish between Partridge and Coogan when impersonating him.
Some of the irritation is probably real. But Coogan seems generally not to begrudge Partridge's success on the condition that he still gets to play other roles. It's true that Tony Wilson, the real life local news presenter turned music entrepreneur who Coogan played in 2003's enjoyable film 24 Hour Party People evokes memories of Partridge, both sharing his local news origin and "excess of civic pride". But the similarities are only skin deep. The city is Manchester not Norwich, and Wilson was a far more successful, sophisticated and intellectual (if somewhat pretentious) figure than Partridge has ever been.
We'll likely find out more in September 2014, which is when Steve Coogan will release his autobiography, but back on topic for now...
The Partridge revival really kicked off with Alan Partridge's Mid Morning Matters, originally a web-series that introduced us to Sidekick Simon (Tim Key), who, along with long-standing characters Michael and Lynn, appear in the new film, Alan Partridge: Alpha Papa.
Following the success of Mid Morning Matters, the Sky Atlantic special Welcome To The Places Of My Life and spoof high-brow literature programme Open Books With Martin Bryce, plus fictional memoir I, Partridge: We Need To Talk About Alan, it currently seems only too plausible that Alan could follow Borat and The Inbetweeners into the annals of small screen UK TV stars who have gone onto big screen success.
The signs are good. The reviews have been largely favourable. The word "moribund" has not been used. Let's hope it's true. As Alan himself would say, "the mind plays tricks".
Whatever the case, the film won't be the last we see of Partridge. There's at least another series of Mid Morning Matters coming to Sky Atlantic later this year.
Partridge amongst the pigeons: The best of Alan
"He's down, Peter Elliott. No relation to the late Denholm." (The Day Today)
"The boys are back in the barracks" (After extricating himself from an awkward situation with Lynn).
"You are a big posh sod with plums in your mouth, and the plums have mutated and they have got beaks. You make pigs smoke. You feed beef burgers to swans." (To local farmer Peter Baxendale Thomas).
"Yes! It's an extender!"
"Lovely stuff. Not my words, Michael, the words of Shakin' Stevens."