Steve Coogan to publish his autobiography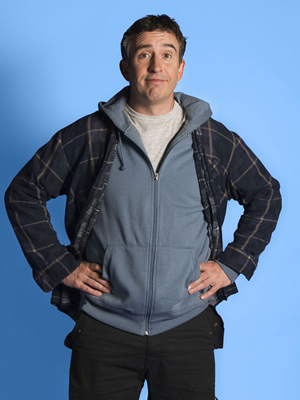 Steve Coogan has announced that he is writing his autobiography.
The actor, who is best known for playing socially unaware radio DJ Alan Partridge, will publish his book with Cornerstone next year.
The currently un-titled volume is likely to generate much interest amongst comedy fans as cult hero Coogan has attempted to keep most of the details of his personal life out of the public eye. The actor has been the subject of numerous tabloid stories during his career, particularly regarding his love life, but has never personally spoken at length on the subject. Last year he settled a £40,000 High Court claim after his phone was hacked by the News of The World, and he's previously appeared at the Leveson Inquiry to explain how actors' private lives should not be intruded upon by the press.
Ben Dunn, the publishing director at Cornerstone, says: "I am absolutely thrilled to be publishing Steve's autobiography; it's the book I've always wanted to work on and I absolutely can't wait to get started."
Coogan, from Middleton in Greater Manchester, won the Edinburgh Fringe's prestigious Perrier stand-up award in 1992 and went on to have TV success with characters including Pauline Calf, Tommy Saxondale, Duncan Thicket and, most notably, Alan Partridge.
The comic actor says: "I'm delighted to be writing my memoir. It promises to be a sojourn through the faltering first steps of a lower middle-class boy who watched television to the dizzy heights of a man who achieved not only a multi-Bafta-winning status on television but also became fully middle-class and managed to annoy the Daily Mail at the same time. Wow."
This will not be Coogan's first book. He's previously co-written I, Partridge: We Need To Talk About Alan, a best-selling spoof memoir of his most famous alter-ego.
Coogan recently appeared in new film The Look Of Love, and his next big screen outing is in the highly-anticipated Alan Partridge: Alpha Papa (trailer below). Coogan is currently in Italy with Rob Brydon filming a second series of The Trip.
His book will be published in hardback in September 2014, with a paperback the following year.