The Sitcom Mission 2013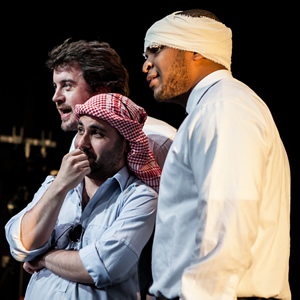 With an emphasis firmly on script development, The Sitcom Mission is an international sitcom writing competition, 'The X Factor for sitcoms'. It showcases 15-minute sitcom scripts at The New Diorama Theatre in London in front of the British TV and radio comedy industry.
The 2010 winner was Bryn Mills for his sitcom Thunderer; in the 2011 contest it was Emma Edwards and Abigail Dooley with their sitcom What Next?; and last year Snez Naik's Yo Valet (pictured) walked away with the prize.
The last three Grand Finals have been judged by a who's who of British comedy commissioning, including Shane Allen (Channel 4/Head of BBC Comedy), Jane Berthoud (BBC Radio), Sarah Farrell (Comedy Central), Lucy Lumsden (Sky), Myfanwy Moore (ITV), Gregor Sharp (BBC TV) and Paul Schlesinger (Hat Trick).
One of the runners-up in 2011, In The Meantime, by Ciaran Murtagh and Andrew Jones, was optioned by Hat Trick Productions. Andrew says, "This is a great opportunity to have your work read and assessed by lots of very useful people!" Previous winners Thunderer by Bryn Mills, What Next? by Emma Edwards and Abigail Dooley and Yo Valet by Snez Naik were all optioned by Hat Trick.
The Sitcom Mission has the central aim of getting a situation comedy commissioned either on TV, radio or online. We've evolved: this year's competition and the central theme is script development. We're looking for writers who can take notes, are tenacious, thrive on feedback, love re-writing and adore the process just as much as the end result.
The entry for the 2013 contest has now closed, and we are currently looking at the scripts. We'll be working with up to four writers (or writing partnerships/groups) in order to develop their sitcoms and take them to an industry showcase at the New Diorama Theatre in central London. We've got the ear of the independent production companies, and the four winners will get feedback from, and have group meetings with, development officers at companies such as Avalon, Bwark, Left Bank and others that are coming on board all the time.